By The Black Alliance for Peace – Feb 13, 2023
The Final Deathblow to Imperialism Will Only Come Under The Leadership of  The Organized Colonized Masses
Efforts to marginalize, disregard, and erase the presence of radical Black-, Brown-, and Indigenous-led anti-imperialist organizations, as well as our political positions, is proving to be endemic to the politics of too many who consider themselves radical anti-imperialist and anti-war activists. For this reason, the Black Alliance for Peace (BAP) reiterates that the peoples who bear the brunt of the brutal and lethal practices of U.S. imperialism are at the forefront of the struggle to dismantle the global system of white supremacist, patriarchal capitalism.
The colonized within the U.S. settler state see more clearly than the privileged the holistic nature of the system as well as the interdependencies between our domestic repression and U.S. wars abroad. Some forces that claim to be anti-war have an unsophisticated understanding of peace.
We understand that peace is not the absence of conflict, but rather the achievement, by popular struggle and self-defense, of a world liberated from the interlocking issues of global conflict, nuclear armament, and unjust war. A condition for real peace is the defeat of global systems of oppression that include colonialism, imperialism, patriarchy and white supremacy. Anyone with genuine concern for the well-being of humanity and the planet should be deeply concerned that some supposed "leftist" forces consider it easier to find common cause with right wing libertarian forces than with the Black radical movement, as BAP Coordinating Committee member Jacqueline Luqman writes in this Black Agenda Report piece.
And as Chair of the BAP Coordinating Committee, Ajamu Baraka points out:
"The white left in the U.S. is deeply delusional. Elements of the left actually believe a radical movement leading to revolutionary change will be led by white activists with Black & colonized people as backdrops. #AntiWarSoWhite"
We cannot afford any confusion, complicity, silence, or outright collaboration with some "liberal/left" forces on armed intervention into Haiti, the reactionary role of NATO, the intensification of state repression in the United States, the plight of the working class being subjected to an induced recession, and austerity. For BAP, all of these contradictions reaffirm why it is absolutely necessary for colonized people to be organized or face an inescapable subjugation and eventual annihilation. The comfortable will dismiss this as hyperbole.
BAP Haiti/Americas Team Opposes Apparent CELAC Support for Foreign Military Intervention Into Haiti
We—the colonized, the exploited, the oppressed—are in the midst of a war. It is clear that the colonial-capitalist rulers will continue to deceive, mislead and co-opt to maintain their dominance. Our responsibility in opposition is to keep the focus on the imperialists and not be confused by the machinations of their supporters. That task and responsibility will continue to inform our work in 2023.
BAP in the streets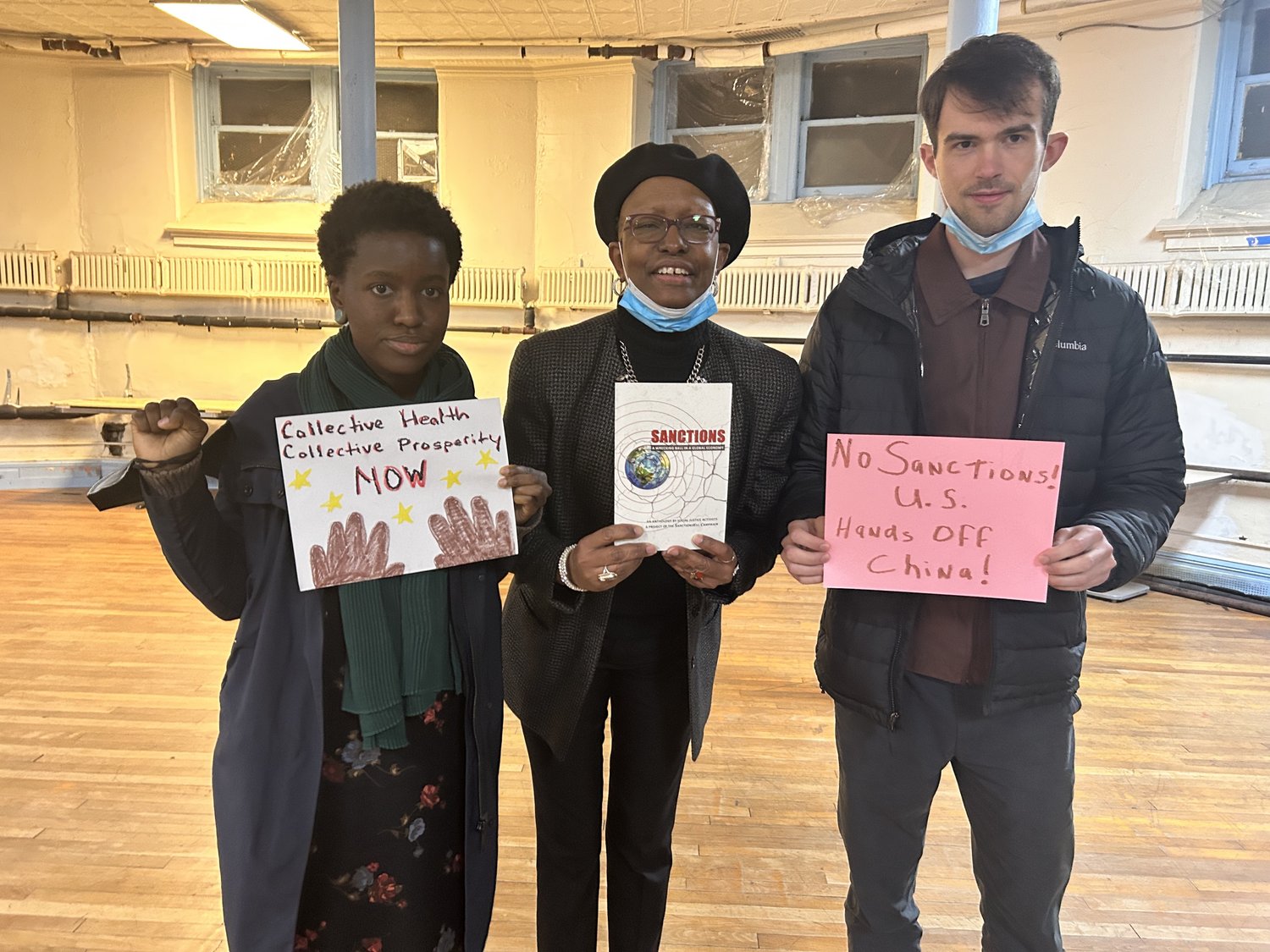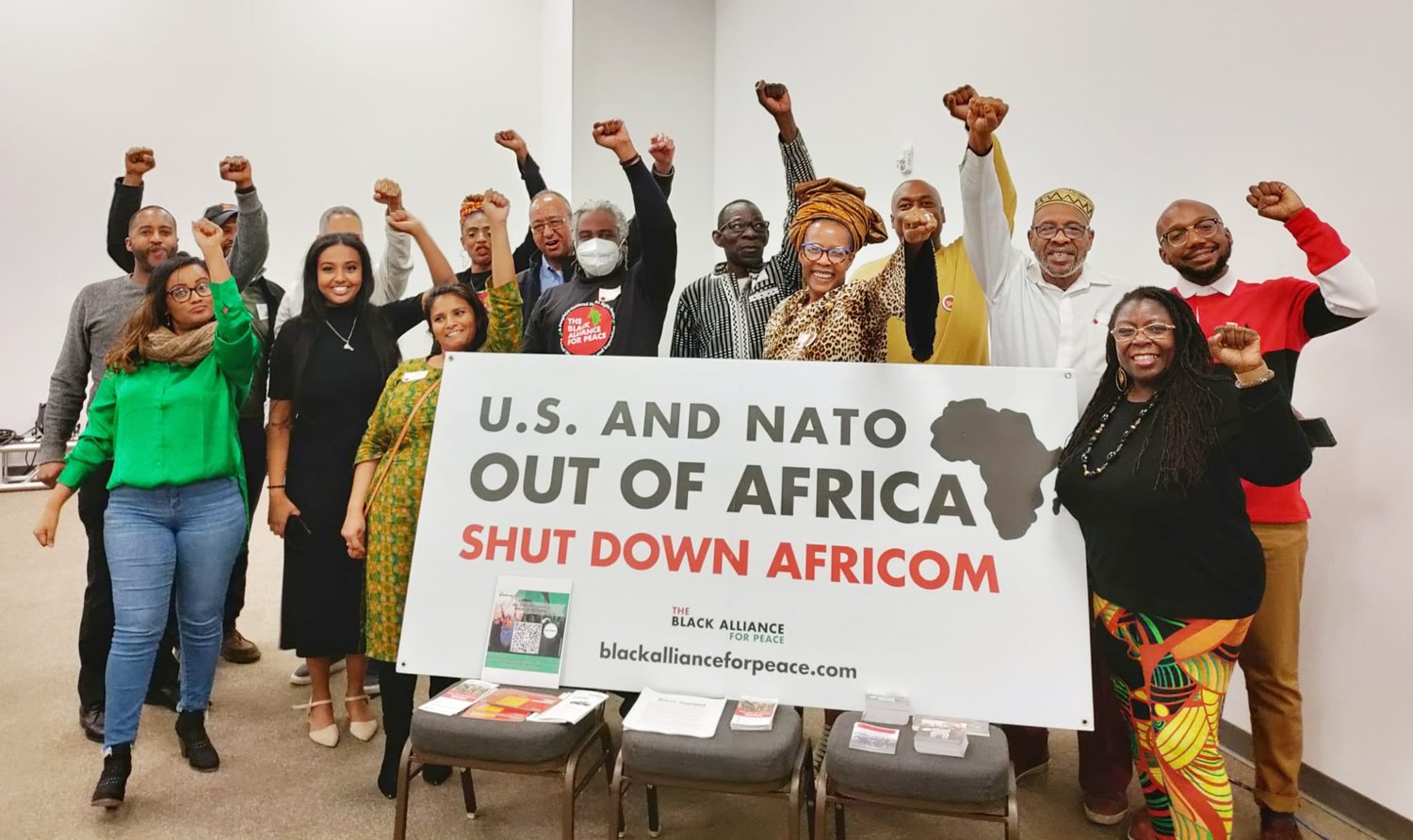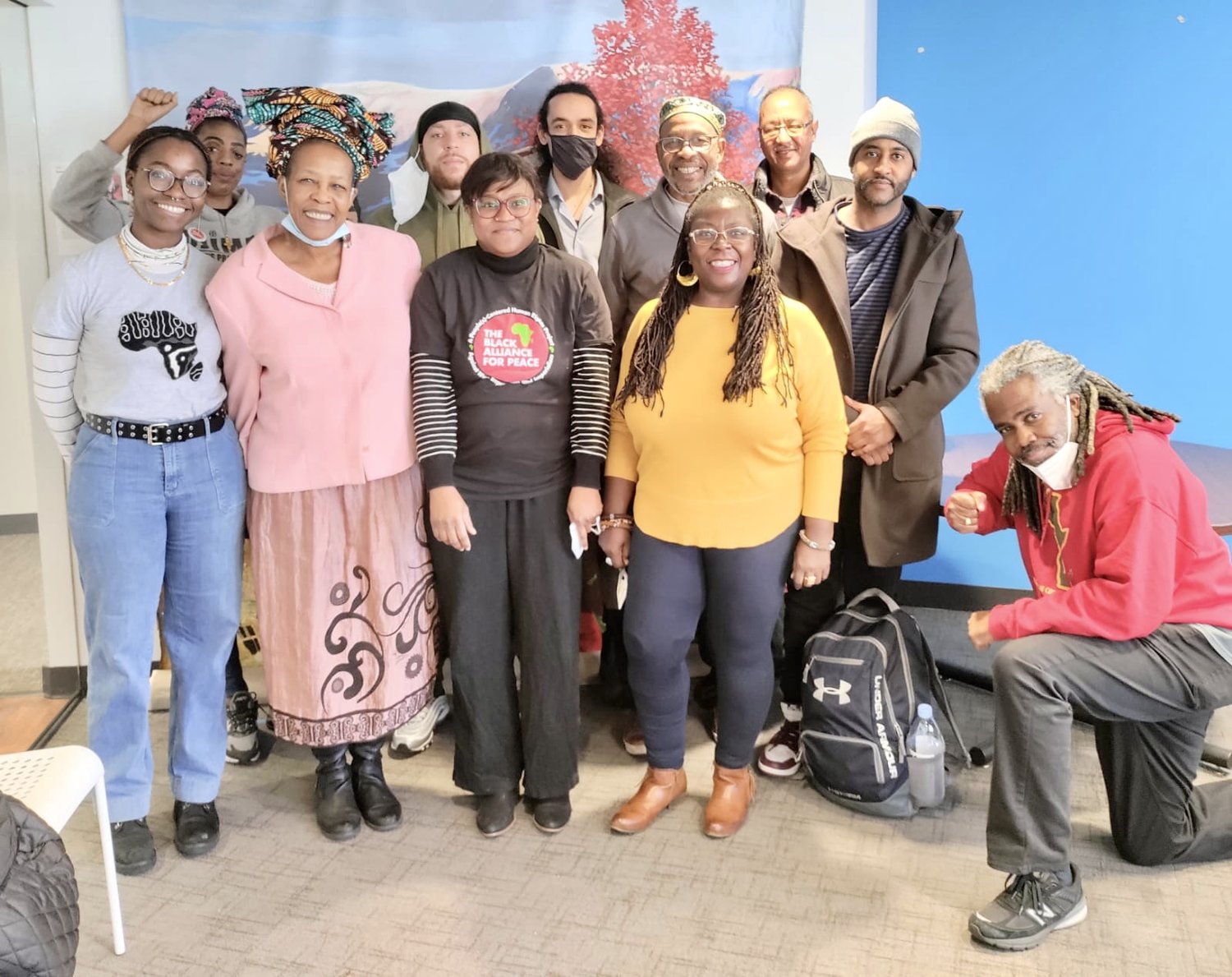 BAP's December 16 press conference on the Meeting of Uncle Tom and Uncle Sam, also known as the Biden administration's U.S.-Africa Leaders Summit, took place at the Institute for Policy Studies in Washington, D.C. Watch it here. View and share the above photo on Facebook, Instagram and Twitter.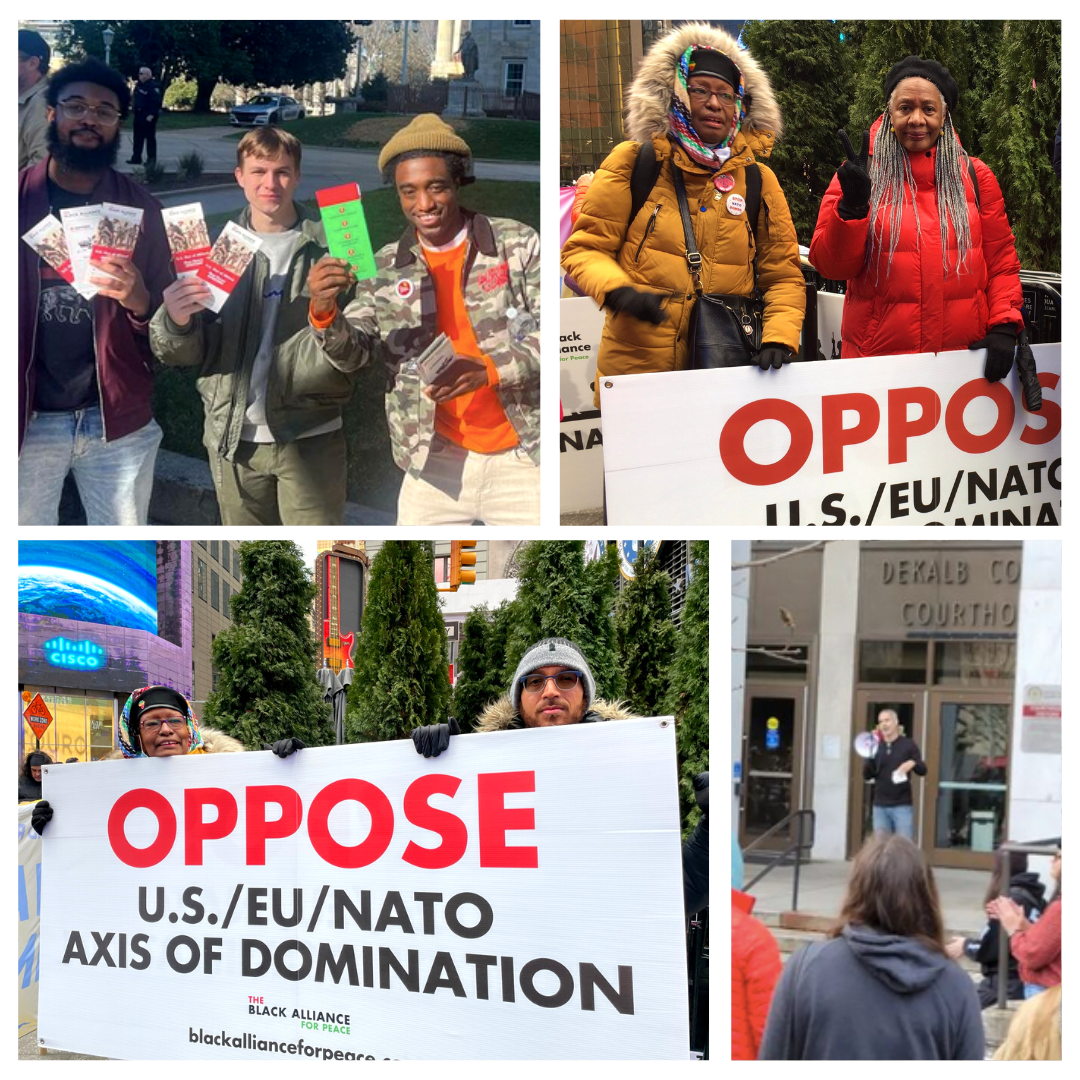 To commemorate the Rev. Dr. Martin Luther King, Jr.'s birthday, BAP members took the streets. More photos can be seen of our members throughout the country on Facebook, Instagram and Twitter.
BAP-NYC members (Jose Monzon and Margaret Kimberley) and BAP-Philly's Asantewaa Mawusi Nkrumah-Ture participated on January 14 in New York City for an anti-war rally the Answer Coalition and the People's Forum organized to answer the U.S.-based United National Antiwar Coalition's call for an MLK Week of Actions. BAP members John Parker and Margaret spoke. Check out Margaret's talk.
Kamau Franklin of BAP member organization Community Movement Builders spoke out on January 16 at Dekalb County Courthouse in Atlanta, Georgia. Check out his talk.
Dedan Waciuri, who represents BAP member organization Black Workers for Justice on BAP's Coordinating Committee, rallied with BAP member org Mapinduzi on January 16 at the state capitol building in Raleigh, North Carolina. Watch his talk.
In Colombia, BAP Coordinating Committee Chairperson Ajamu Baraka joined a 100-person delegation to learn about the impact of the decades of violence.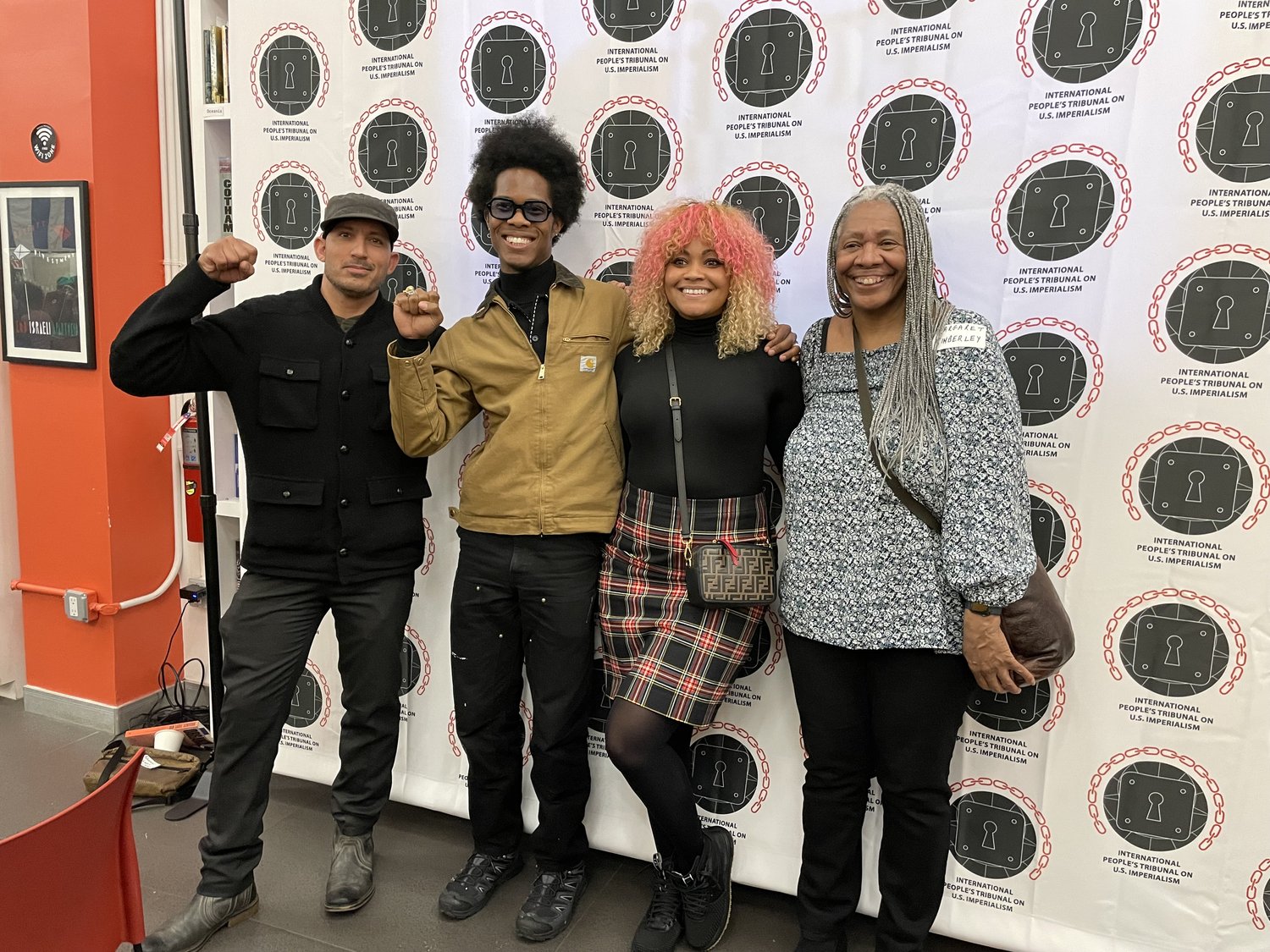 Press and Media
On the January 31 episode of Voices With Vision, a radio program BAP Coordinating Committee member Netfa Freeman hosts with Craig Hall and Latrice Vincent on WPFW (89.3 FM in Washington, D.C.), two voices from the frontline, Rebecca Haynesworth and Anthony Djali of the DC chapter of BAP member organization We Charge Colonialism, discussed Howard University signing a $90 million contract with the U.S. Department of Defense. That would turn the university into a U.S. Military Research Center. Then BAP member organization Community Movement Builders (CMB) founder Kamau Franklin spoke about a proposed $90 million police-training facility, dubbed "Cop City," in Atlanta, Georgia. But first, Margaret Kimberley of Black Agenda Report and a BAP Coordinating Committee member, kicked off the interview with a reading of her Black Agenda Report commentary, "Cop City Kills Before It Starts." Brother Mumia Abu Jamal weighs in on the murder of Tyre Nichols with a commentary he calls, "Straight Out of Memphis."
Kamau had also been called on to address the issue of Cop City on the January 20th episode of DemocracyNow. CMB's Jasmine Burnett is also interviewed about Cop City by Roy Wood Jr. on Comedy Central's "The Daily Show".
Voices With Vision's February 7 episode unpacked the U.S. hypocrisy in trying to expel Russian private military company Wagner Group from Libya in an interview with Libyan Ph.D. student at the University of Illinois at Urbana-Champaign, Essam Elkorghli, who is also part of the Global Pan-African Movement, and Djibo Sobukwe a member of both BAP's Africa Team and Research and Political Education Team. Then BAP-Baltimore as well as BAP member organization Ujima People's Progress Party of Maryland members Petros Bein and Erica Caines explain what can be expected from the latest member of the Black misleadership class, new Maryland Governor Wes Moore. The show features an audio mix of a reading of "U.S. Surrounds China With War Machinery While Freaking Out About Balloons" from Caitlin's Newsletter against the backdrop of the 1984 song, "99 Red Balloons," by Nena.
Ajamu Barak and Jacqueline Luqman on BAP's CC "Call Left Collusion With US Imperialism What It Is!" on The People's Power Hour! On Black Power Media.
Julie Varughese, co-coordinator of BAP's Solidarity Network, wrote in Toward Freedom, "U.S.-Based Africans Organize Events to Counter Biden Administration's U.S.-Africa Leaders Summit," about BAP's week of action countering the summit. Then Julie penned a follow up explaining why BAP called the Summit "Meeting of Uncle Tom and Uncle Sam"
On Chicago's WCPT's The Santita Jackson Show, Netfa Freeman took on 3 other show guests about the U.S.-Africa Leaders Summit.
After the Dutch prime minister recently apologized for his country's colonial past, PressTV's Africa Today interviewed BAP's U.S. Out of Africa Network Coordinator Tunde Osazua, who noted the Netherlands has not made any "material impact or change" through reparations. Check out the whole interview. On KPFA's Area 941 Podcasts Tunde confronts Cop City.
Struggle La Lucha covered a talk on Ukraine given by BAP member John Parker at the Covert Action Magazine fundraiser in New York City at the People's Forum.
BAP Coordinating Committee member Margaret Kimberley was interviewed on MintPress News' YouTube channel by Lee Camp about how "The Empire Controls the Narrative" and corporate media's bias toward Kiev. And PressTV's "Africa Today" asks Margaret about the massacre of African migrants from Ethiopia in Yemen by Saudi troops and is quoted in New York Amsterdam News about BAP's analysis on the U.S.-Africa Leaders Summit.
Upon her return from Nicaragua, BAP Coordinating Committee member, founder of Liberation Through Reading and editor of Hood Communist Erica Caines did several interviews: One with BAP Solidarity Network member Ramiro Sebastián Fúnez's YouTube show, Unmasking Imperialism, about socialism in Cuba and Nicaragua; another with Black Agenda Radio; as well as one with By Any Me,ans Necessary on Radio Sputnik with program co-host and BAP Coordinating Committee member Jacqueline Luqman. Erica also wrote "Black University, White Power: Howard University Covers for US Imperialism" in Black Agenda Report.
Orinoco Tribune's Editorial Talk #6 spoke at length with Clau O'Brien Moscoso, a member of BAP's Haiti/Americas Team and originally from Barrios Altos, Lima, in Perú, now living between New York and Lima. They discussed the parliamentary coup that ousted President Pedro Castillo Terrones.
On the webinar launch of the book "Sanctions: A Wrecking Ball in a Global Economy", Ajamu Baraka, a contributing writer, joins other notables to unpack these illegal unilateral coercive measures imposed on a third of humanity by the US and its allies.
Events
February 15: "Why and How to END the WAR in Ukraine: Stop the Insanity," a webinar by Chicago Area Peace Action, and co-sponsored by Black Alliance for Peace-Chicago and others, 7-9 p.m. ET. Register here.
February 15: "Women in Nicaragua: Power & Protagonism," a delegation reportback webinar, 6-7:30 p.m. ET. Register here.
February 19: The Canada-Wide Peace & Justice Network will hold the webinar "No to War, No to NATO: North American Perspectives on Ukraine, Russia and NATO", with BAP's Margaret Kimberley as one of three panelists. Register here.
February 22: Topic of BAP member organization PACA's next Assata Shakur Study Group, now hybrid (in-person and online): "Revolutionary Suicide: Lessons from Huey P. Newton," 7-9 p.m. ET, at Black Workers & Wellness Center, 2500 Martin Luther King Jr. Ave. Southeast DC. Register here.
February 25: "Black Power in Atlanta: Black Misleadership, Militarism, Repression and Internationalism," 1-3 p.m. ET at Little Five Points Center for Arts and Community,
1083 Austin Avenue, Harlon Joye Community Room (Room 105), Atlanta, Georgia 30307. More info.
No Compromise, No Retreat!
Struggle to win,
Ajamu, Austin, Dedan, Erica, Jacqueline, Jaribu, Jemima, Julie, Margaret, Matt, Netfa, Nnamdi, Noah, Paul, Rafiki and Tunde
Coordinating Committee
P.S. Freedom isn't free. Consider giving today.
(The Black Alliance for Peace)