Attorney General in "Here With Ernesto Villegas": "In Three Years, 140 Law Enforcement Agents have been Sentenced for Human Rights Violations" (Interview)
The Venezuelan Attorney General, Tarek William Saab, affirmed that, during his tenure, which began in 2017, the conviction, with definitive sentences, of 140 State security agents, due to human rights violations (HR) has been achieved. He added that the Public Ministry (MP) has charged, with processes to convict for the same crimes, a thousand officials, including police and military. This statement was made this Sunday during the TV show "Here with Ernesto Villegas", a space for interviews conducted by the head of the Culture portfolio, Ernesto Villegas, through digital platforms and broadcast by Venezolana de Televisión and Alba Ciudad .
Between rock, gym, poetry and Buddhism
The interview began with a review of the human aspects of this poet and lawyer who, from the age of 15, when he joined the left-wing political organization "PRV Ruptura", was already leaning towards the defense of human rights.
He was born in El Tigre, Anzoátegui state, 58 years ago. He is a rock lover and between 1985 and 1990 he practiced karate in the La Trinidad neighborhood where he lived. He reached a green belt and thinks he may have reached a black belt. For health reasons, he continues to cultivate his body daily in a gym. He confesses that he does not drink liquor, he has never used psychotropic substances and, except for the occasional cigar from time to time, he does not smoke.
As a philosophy of life, he also practices Buddhism, when from a very young age he began to read Hermann Hesse.
But among those youth interests, the main one is poetry. "It is an instant, automatic and permanent inspiration in life. Poetry is first, because it is also literature, it is reading, it is writing. Remember that poetry, according to my criteria, is the mother of all arts, because you get poetry in a painting, in a sculpture, even in images that have to do with cinema, with photography, with dance," he pondered.
Politicization of Human Rights
After acknowledging that during the Fifth Republic there have been violations of human rights, he stressed that the Venezuelan Justice System does work and has demonstrated it, in the sense that it has accused and obtained the sentence for those guilty of human rights violations, mainly under his tenure. He stressed that these figures cannot be shown by the attorney general of Colombia, nor that of Peru, nor that of El Salvador, nor any of the countries belonging to the so-called Lima Group, which recently issued a report through an alleged Independent UN Mission, in which they accused the Bolivarian Government of human rights violations.
About this report, he said that it was done with a high political bias and he also rejected that the issue of human rights is being politicized.
He affirmed that "when talking about crimes against humanity so politically and recklessly, I think there is a supreme ignorance about it. A supreme ignorant is one who, being able to read, study, access information, transmits clumsiness, lies, half-truths and compulsive mythomania in a chronic way. When they say that the Venezuelan State commits crimes against humanity they show ignorance of the concept of crimes against humanity. For there to be crimes against humanity, unfortunately, as in Colombia, there must be a policy of extermination of a political, social, ethnic group. Colombia has done it against the dissidence to the neoliberal oligarchic State that practices State terrorism that has practically annihilated and exterminated it… there it is possible to speak of crimes against humanity."
He explained that the commission that made the aforementioned report is an ad hoc commission created by the UN Human Rights Council, parallel to the Office of the High Commissioner for Human Rights of that organization, which is directed by Michell Bachelet and is the UN office that really covers this issue. He clarified that the commission that made the report is not a commission that can replace the UN High Commissioner for Human Rights and cannot replace the Human Rights Council.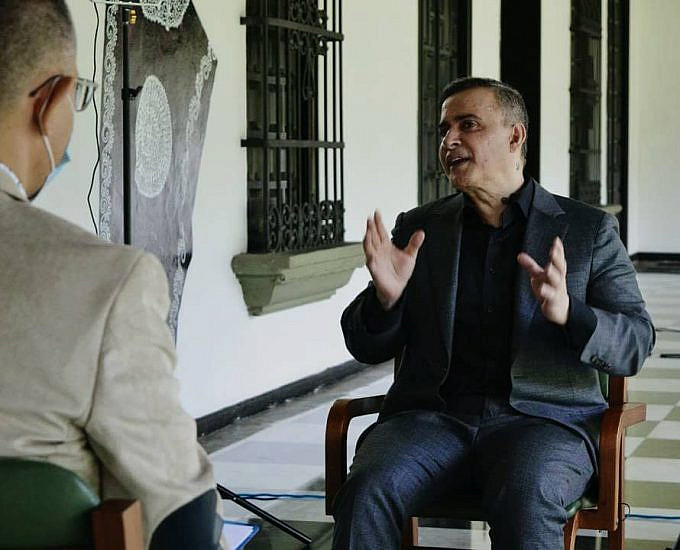 The official stressed that none of these multilateral human rights bodies can replace the Justice System of a country, or its Public Ministry, or its courts.
"There is something much more delicate, he stressed, said office or commission never issued the formal communication to the MP to ask about the cases. What they did? 80% took sources from social networks. They requested to visit the country, the Venezuelan State replied that there was already a resolution approved by the Human Rights Council that gave the UN High Commissioner for Human Rights the authority to investigate cases of human rights violations in Venezuela. And that office exists and is operating in Venezuela. It has already been visiting police forces for a year, the border; works directly with the organs of the justice system; there is a permanent interview with the MP, with the Ombudsman's Office, with the Venezuelan justice bodies; requests reports and they are delivered to them. They do not mention that in the last three reports by the High Commissioner, Michell Bachelet,
Regarding this, he indicated that before his tenure, during the Fourth Republic, when the State did allow the violation of human rights, there were daily shootings of students with rifles, left dissidents or workers were murdered; or in cases of massacres such as those of Cantaura, Yumare, El Amparo, El Caracazo or the Retén de Catia, which occurred under the management of Mayor Antonio Ledezma, the figure of the attorney general did not act and the reports of human rights defenders were thrown away, without there being any person pointed as responsible or sentenced by the justice system.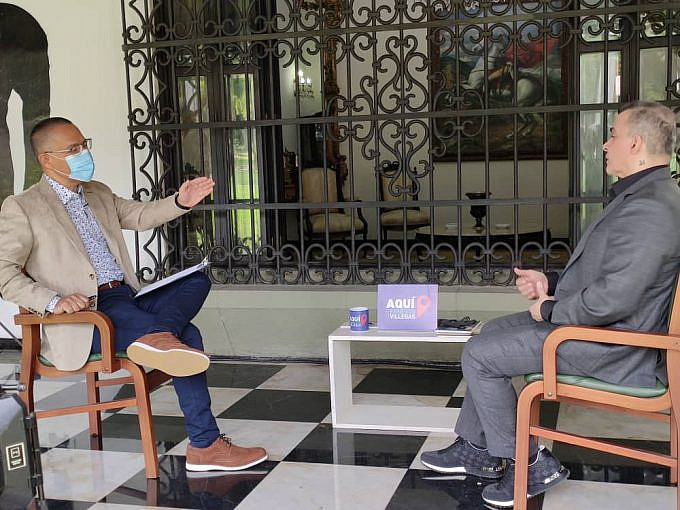 Specifically, he stressed that in the management that preceded him, that of Luisa Ortega Díaz, for about 15 years while she was director of State legal action, director of the office and then attorney general, there "the MP imploded … there was an inaction of that management against the violators of human rights ".
Yes justice is done
Tarek William Saab emphasized that, starting with the 1999 Constitution, which contains a whole title, the Third, dedicated to the different types of human rights: civil, political, social, cultural and educational, economic, of indigenous peoples and the environmental, gives prominence to human rights, mainly due to the progressive nature of said rights.
As a legal professional, dedicated from a young age to the defense of human rights, the head of the MP thanked President Hugo Chávez, for his total dedication to the defense of that Constitution, and the continuity that President Nicolás Maduro has given to it, his attitude towards such crimes, whose attitude, according to the attorney general, has always been "whoever falls."
And he gave as an example the so-called Barlovento Massacre (2016), where there were 12 disappeared whose bodies were found in mass graves, and after a coordinated work with the Ombudsman's Office, they managed to arrest 10 soldiers.
Regarding the complaints against the action of the Special Actions Force (FAES), body of the Bolivarian National Police (PNB), the attorney general affirmed that there are dozens of accused of human rights violations and said that "it is time for a restructuring not only of the FAES, of the PNB, but of various police forces, because every action has a reaction. In this sense, it is important for public health itself that, cyclically, not due to conjuncture, these types of policies should be made, such as purification and restructuring (of law enforcement agencies) to improve them."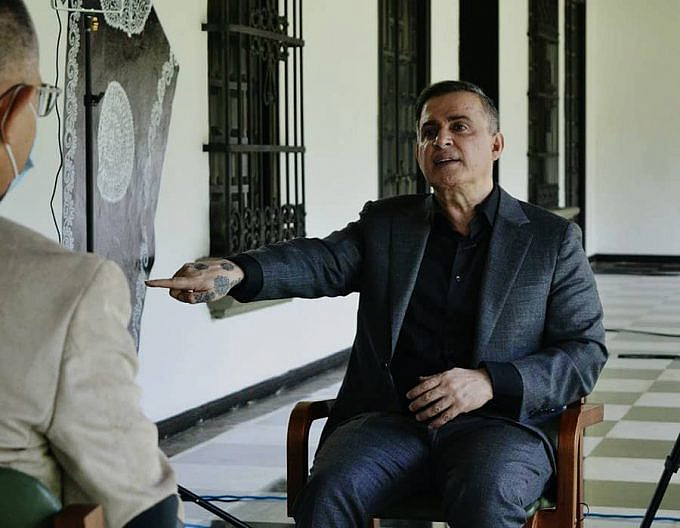 Minister Villegas insisted on the possibility of arresting deputy Juan Guaidó, accused of committing several crimes, to which Tarek William Saab replied that the MP has dismantled, very meticulously, his international criminal organization to maintain peace in the country and he mentioned that only for the misnamed Operation Gideon there are 17 mercenaries convicted; in addition to those investigated and charged in cases such as the assassination attempt of August 2018 and the attempted coup of April 30, 2019.
"We have made an effort in the middle of a war, because it should very nice to be attorney general in times of peace and prosperity, but being attorney general or ombudsman during a war has added value and I congratulate our teams who have to fight in a court to accuse these criminals amidst this media war," he concluded.
Featured image: Photo courtesy of Alba Ciudad.
Translation: OT/JRE