By Jean Saint-Vil – Jun 6, 2023
I greet you in the name of each common ancestor whose bones remain restless at the bottom of the Caribbean and Atlantic Oceans. I hope this brief note finds you in excellent health as it deals with an urgent crisis which requires that we summon superior collective wisdom, intelligence, and above all, courage.
As you read this note, in the town of Jeremi (South-West Haiti/ Grandans), corpses are being pulled from under collapsed rubble. The region was hit by a 4.9 magnitude quake early this morning. This occurred a few hours after floods had devastated large parts of the North, West, and South of Haiti, causing loss of human lives, animals, and property.  None of these calamities can be attributed solely to "natural disaster." It is the absence of a Haitian State apparatus to help prevent, manage and recover from natural phenomena which caused such extensive damages in my ravaged native land. Therefore, we must address two key questions: 1) How come Haiti does not have a functioning government? 2) How could such an entity get established as soon as possible, with, by, and for the individual rights?
I understand that CARICOM convened a meeting, later this week, to discuss these timely issues in Kingston, Jamaica.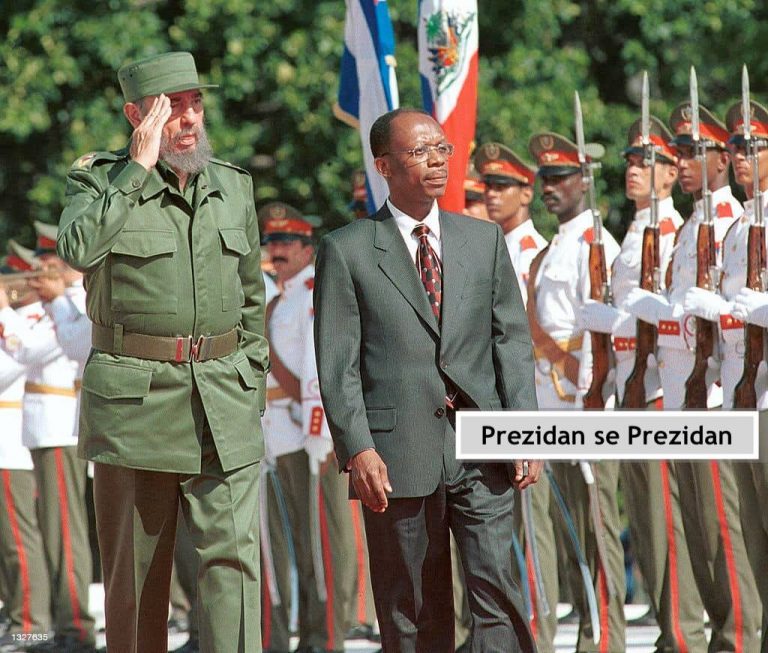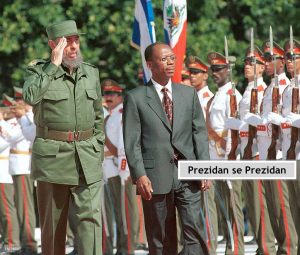 Due to the Ottawa Initiative on Haiti and resulting 2004 coup d'état, which CARICOM rightfully and courageously denounced, the people of my native land went from having 7000 duly elected officials, 20 years ago, to none, today.
How many treacherous conferences must be organized, all around the world, to "Fix Black Haiti"?
Surely, CARICOM members are well aware of this basic truth: Haiti's real government did not self-dissolve. It was attacked and overthrown by a US-led gang of racist imperialists who, subsequently, mobilized cholera-infested UN troops on the island to cover up their odious crime. Our late brother Randall Robinson, who left us 3 months ago, lived and reported extensively on the nightmarish 2004 coup.
Our equally beloved brother, the late veteran Jamaican journalist John Maxwell also covered the deadly 2004 US coup d'état against Haiti. In April 2008, he wrote in the Jamaica Observer:
"…the starving people in Haiti have been trying to get the world to listen to their anguish and misery… Mr. Bush and Mr. Colin Powell and a mixed gaggle of French and Canadian politicians had decided that freedom and independence were too good for the black people of Haiti… the US, Canada, and France, acting on behalf of the so-called 'civilized world,' decided on the basis of lies that… a free and independent people had no business being free and independent when their freedom and independence was seen to threaten the economic interest of the richest people in Haiti and, by extension, the wealthiest countries in the world."
Indeed, "the richest people in Haiti" of which John Maxwell spoke are the very criminals I dub "white warlords in Haiti." As described in a recent Black Agenda Report article, neutralizing the nefarious activities of said warlords is absolutely necessary and most urgent.
Haiti's Political Solution Must Be Revolutionary, as Proposed by G9: Interview With Kim Ives
By all honest accounts, modern-day Haiti is an international crime scene, where Africans inhabiting that beautiful Caribbean Island are fighting against a vicious gentrification project. Black Haitians have been and are still maligned by deliberate, organized, multinational white terrorism.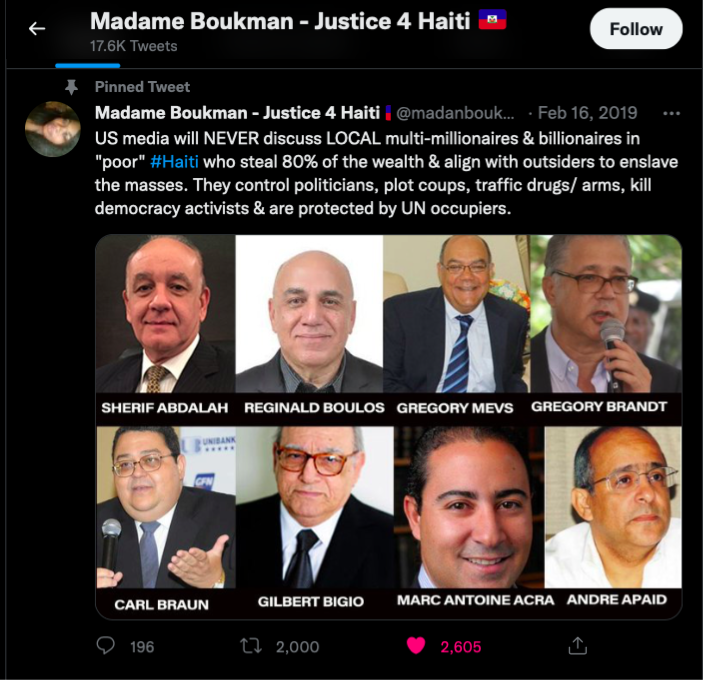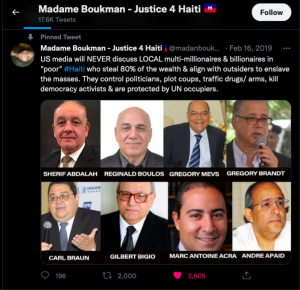 The historical record solidly demonstrates that, time and again, Haitians have chosen visionary leaders to help their nation progress: founder Jean-Jacques Dessalines, Lysius Félicité Salomon Jeune, Dumarsais Estimé, Daniel Fignolé and Jean-Bertrand Aristide. Systematically, these beloved leaders were attacked, sabotaged, and kidnapped by regional and global white powers.
"Every time I plant a seed, you say kill it before it grows" – I shot the sheriff, Bob Nesta Marley.
The war that self-described "white nations" wage against the people of Haiti has effectively never stopped! For instance, the 1825 ransom collected by France until 1947 (effectively, Haiti's breastmilk) represents well over $115 Billion US, even if calculated at minimal interest rates. Please see: Haiti an International Crime Scene. Yet, it must be remembered that this outrageous hate crime was only one of several such episodes dubbed "gun-boat diplomacy," where Europeans mobilized their military might to deprive the Black Caribbean nation of everything precious that it owns. Please consult also: Time to stop resisting Haiti's Resistance.
Haiti never had an opportunity to build its physical infrastructure. To reverse the situation, our efforts must be bold, courageous, and rooted in truth. Those efforts must effectively force the known culprits to cease their ongoing attacks against Haiti. Hosting countless conferences where well-fed delegates beat around the bush will only prolong the suffering of Black Haitians.
HAITIANS are the only individuals qualified to establish a Haitian government which would act for and be accountable to Haitians! (sorry for feeling a need to state the obvious!)
Ben Dupuy, the Revolutionary Whose Vision and Organizations Radicalized and Formed a Generation in Haiti
The organization with which I have worked over the past 4 years, Solidarité Québec-Haiti, insists that justice, dignity, and reparations are core principles which must always guide genuine efforts to permanently solve the crisis in Haiti.
Concretely, this entails that everyone acting in good faith would help force the US and its allies to stop sending weapons of war to the illegal puppet regime (currently led by Ariel Henry, an impostor) which is linked to criminal paramilitaries and respect genuine justice and peace processes and initiatives, undertaken sovereignly by Haitian society.
◦ Haitian criminals who were placed in power through fraud, violence and foreign interference (US, Canada, France, Core Group), must no longer benefit from shelter by their sponsors.
◦ Haitian criminals and their foreign accomplices must be prosecuted, condemned, punished, and dispossessed of all stolen properties they have hidden in complicit institutions, all around the world. The Haitian people need and deserve access to all their resources to help build the infrastructure of their country. Support should also be given to efforts by the People of Haiti to obtain long overdue reparations from countries and entities that took part in the brutal and disastrous overthrow of the Haitian State (February 2004), followed by contagion of the population by cholera (October 2010).
Dear CARICOM brothers and sisters, as our rock-solid sister Mia Motley, honourable Prime Minister of Barbados, underscored at the UN podium, our Caribbean people are inescapably engaged in a frantic race to mobilize maximum strength and intelligence as we face multiple disastrous effects of climate change.
No society can afford to exist without a functioning state apparatus. Haiti is no exception.
Our African ancestors arrived on this continent in the same European slave boats. Nowadays, we often find ourselves side by side, walking the dangerous bushes of the Amazon, seeking a path to refuge somewhere in North America or elsewhere. What a disturbing stain on our human species that, decades after the formal abolition of racial slavery, decolonization, and Caribbean and African national independence, whether it is across the Mediterranean or across the Atlantic, white terror remains at the heart of millions of contemporary Africans' forced migration. Hypocrisy and cowardice will not get us out of this deadly quagmire. As I am certain esteemed brothers Sir Hilary Beckles, Prime Minister Ralph Gonsalves and David Comissiong would all agree, long overdue REPARATIONS to the native peoples of Africa and of the Americas are both urgent and indispensable remedies.
Brothers and sisters, tirelessly, we shall strive for and bring long awaited good news to our beloved ancestors. Thus, in tackling the current crisis, we categorically refuse setting ourselves up to sing David Rudder's "Haiti I am sorry", one too many times. Rather, I urge us all to follow the examples of John Maxwell, Harry Belafonte, Sydney Poitier, Nanny the Maroon, Winnie Madikizela Mandela, Lieutenant Sanite Bélair, Maurice Bishop, and our eternal Dessalines. Let us summon superior collective wisdom, intelligence, and above all, courage to do the right thing.
The only appropriate role for CARICOM is to deploy every effort necessary in support of the People of Haiti's ongoing struggle against white terrorism. Anything else would be evil and cowardly betrayal!
(JAFRIKAYITI)
BLA