The Foreign Ministry of China has repeatedly accused Washington and its allies of efforts to further militarize East Asia and sow the "seeds of a new Cold War" in the region, while peddling the narrative of the "threat" ostensibly emanating from Beijing.
China does not welcome an "Asia-Pacific version of NATO" that persistently stokes "bloc confrontation," Foreign Ministry Spokesperson Hua Chunying has tweeted, in reference to the NATO's expansion in the region.
"We haven't forgotten the debt of blood NATO owes the Chinese people in bombing Chinese embassy in Yugoslavia," the spokesperson added.

The post on Twitter was accompanied by photographs of NATO bombings carried out in Afghanistan, Iraq, Libya, and Yugoslavia.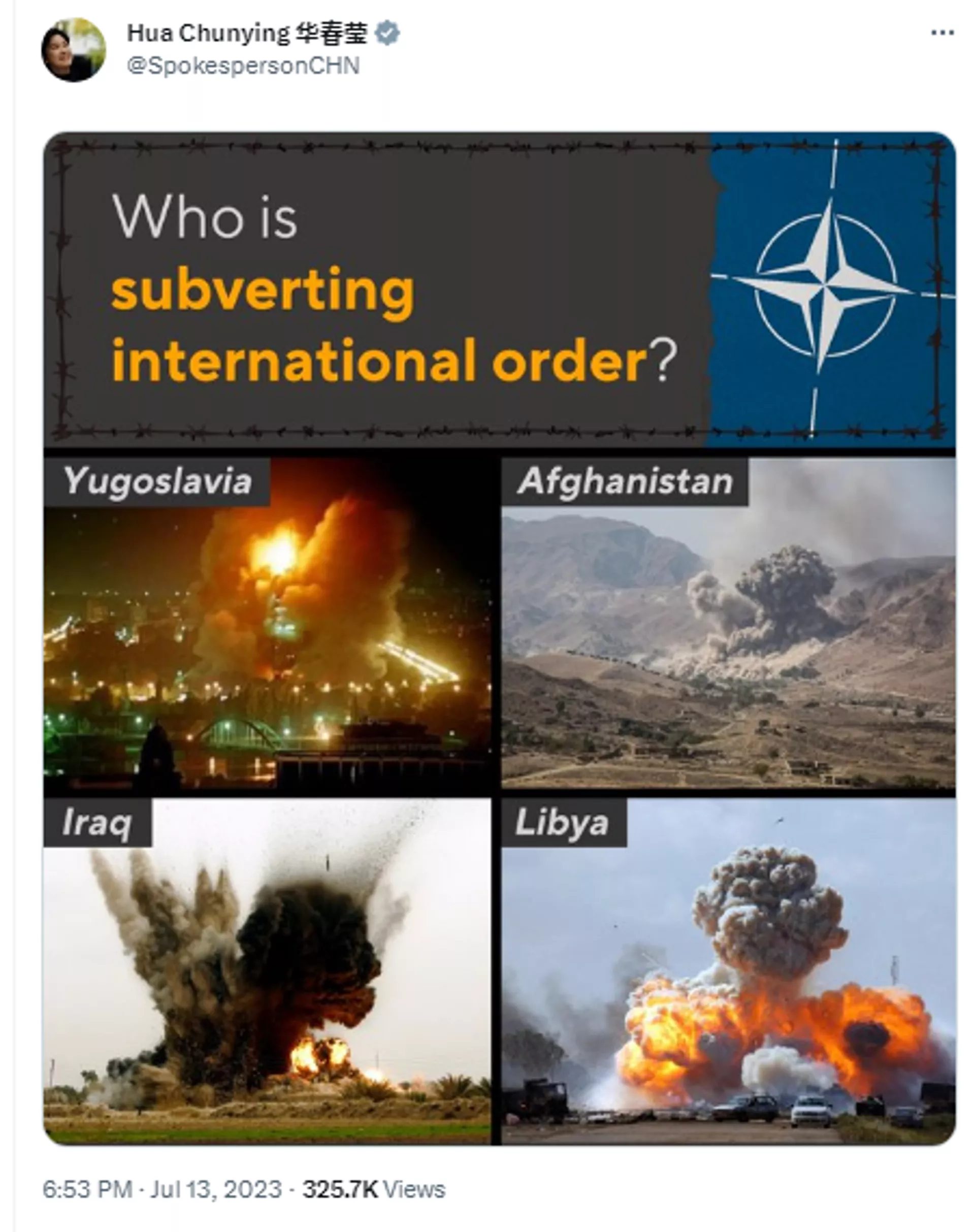 On March 24, 1999, NATO forces launched an airborne military operation against the Federal Republic of Yugoslavia. The alliance acted without the UN Security Council's approval, basing its decision on allegations of Western countries that the FRY authorities carried out ethnic cleansing of Albanians in Kosovo. According to the Serbian authorities, about 2,500 people died, while some 12,500 were injured during the NATO bombing.
Former Australian PM Criticizes NATO Chief as 'Supreme Fool,' 'American Agent' for Plaguing Asia
On May 7, 1999, during the NATO bombing, five US-guided bombs hit the People's Republic of China embassy in Belgrade, killing three people. Then-US President Bill Clinton, when offering apology for the bombing, had stated it was an accident.
NATO similarly arbitrarily waded into countries like Afghanistan, Iraq, and Libya, instigating civil strife, or "color revolutions" to violently overthrow governments, generating chaos and pillaging those countries' resources.
Earlier, Permanent Representative of China to the United Nations, Ambassador Zhang Jun slammed NATO as the real troublemaker during a meeting of the UN Security Council on Thursday. Zhang voiced Beijing's condemnation of the communiqué issued at the recent NATO summit in Vilnius, Lithuania.
The alliance had declared that China's "ambitions and coercive policies challenge our interests, security and values." It also accused Beijing of "confrontational rhetoric and disinformation," and using "its economic leverage to create strategic dependencies and enhance its influence."
The bloc's statement was denounced by Zhang as permeated with Cold War mentality, ideological prejudice, disregard for facts and unwarranted accusations against China.
Beijing voiced determination to protect its sovereignty and security, and resolutely rebuff any NATO action that harms China's legitimate rights and interests, according to a statement by China's diplomatic mission to the European Union. The statement added that China opposed NATO's expansion in the Asia-Pacific region.
Citing the alleged "China threat," Washington has been creating new exclusive politico-military blocs in the Asian-Pacific region, such as AUKUS (comprising Australia, the UK, and the US) and QUAD (Australia, India, Japan, and the US). In response, China has reiterated that such military buildup can only "further exacerbate regional tensions."
"The Asia-Pacific is an anchor for peace and development, not a wrestling ground for geopolitical competition," Foreign Ministry spokesman Wang Wenbin said in a regular press briefing earlier in the year.
(Sputnik) by Svetlana Ekimenko