The president of the Bolivarian Republic of Venezuela and commander-in-chief of the Bolivarian National Armed Force (FANB), Nicolás Maduro, announced new appointments in the military high command of the country during the joint graduation ceremony for the different categories of technical commanders, troops, and the passing to active reserve of the 1990 promotions of the FANB, held at the Bolivarian Military University of Venezuela (UMBV), also know as the Military Academy, in Caracas.
During the event on Friday, July 7, the president ratified Vladimir Padrino López as the minister for Defense "for his values of honesty, morality, professionalism, and military leadership."
President Maduro described Padrino López as "a loyal, hard-working, honest, self-sacrificing fighter," and asked for the support of the entire Bolivarian National Armed Force for him, "who is the target of the daily attacks of the scoundrels, the ultra-right, imperialism."
Nearly 2,000 Illegal Miners Evicted from Venezuela's Amazonas State
President Maduro also ratified General Domingo Hernández Lares as Strategic Operational Commander of the FANB, "who is leading the fight to recover Venezuela's forests and national parks, the battle against criminal gangs, and the liberation of the Venezuelan coasts."
Moreover, the president announced the annual new appointments in various divisions of the FANB.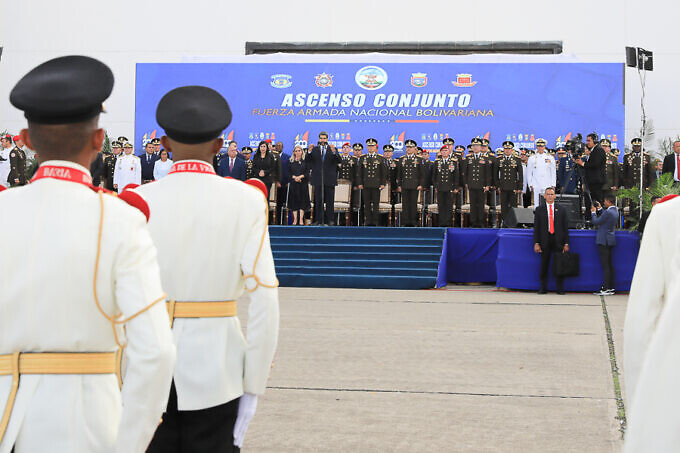 General Murga Baptista was named the new commander general of the Bolivarian Army of Venezuela, who previously served as Commander of the Central Integral Defense Region (REDI). President Maduro thanked the outgoing head, General Félix Osorio, for his service. "I thank General Félix Osorio, for his great work at the head of the Bolivarian Army, Mission Accomplished!" he said.
Admiral Villamizar Sánchez was named as the new commander of the Bolivarian Navy, "a patriot with an excellent career."
General Santiago Infante was ratified as the commander of the Bolivarian Military Aviation, "who has been carrying out an exemplary work."
President Maduro: Venezuela Is and Will Always Be a Free Nation
At the head of the Bolivarian National Guard, President Maduro appointed General Elio Estrada, "who has done a great job in the consolidation of the Bolivarian National Police (PNB)."
The president appointed General Marcano Tábata as the new commander general of the Bolivarian National Militia.
"We have excellent leaders in the Bolivarian National Armed Force," President Maduro stated after announcing the new appointments. "A leadership that is always alert; a moral, patriotic and hardworking leadership that knows what the word sacrifice means, what effort, loyalty and values are … They know it, they practice it, they preach it with their example, with their word, and they spread the message."
Translation: Orinoco Tribune
OT/JRE/SC