On Monday, February 8, Cuban newspaper Granma published a review of US government financing for subversive programs against the Cuban government.
In the last two decades, the United States has allotted about $250 million to subversive programs targeting Cuba, reported Granma.
Those millions, distributed through agencies, companies, and organizations such as the United States Agency for International Development (USAID) and the National Endowment for Democracy (NED), finance activities whose purpose is to overthrow the Cuban Revolution.
RELATED CONTENT: Venezuelan NGOs Summoned to Parliamentary Hearings to Account for 'Humanitarian Aid' Use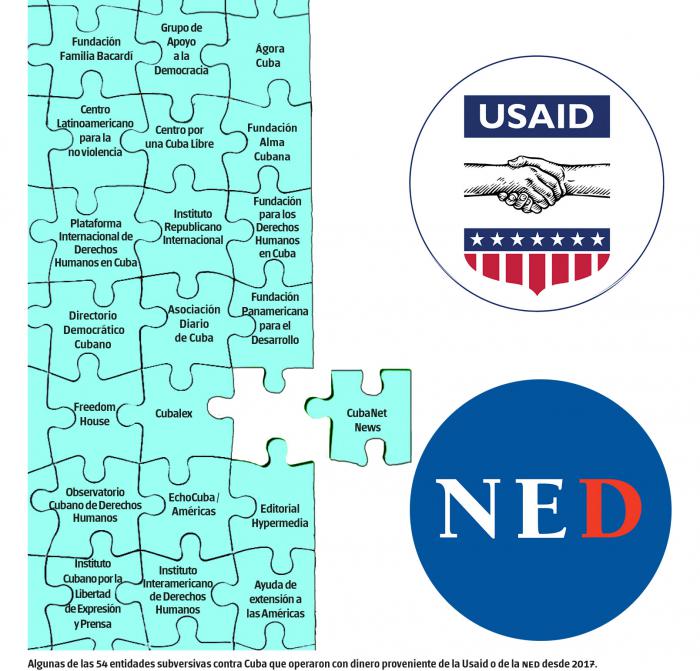 The report by journalist Tracey Eaton, entitled "The business of democracy in Cuba is booming," and published in Cuba Money Project, details that in 2020 alone agencies such as USAID dedicated around $2.5 million to subversive activities, among them those of the San Isidro Movement, with the aim of generating internal conflict.
The actions of various media outlets have also been financed with gringo money, as revealed by Cuban media. These include the media show of ADN Cuba blogger Nelson Julio Álvarez in front of Cuba's Ministry of Culture on January 27, for which he received between $150 and $200, according to a video posted by Álvarez himself on the Telescopio Cubano Facebook group. The Cuba Money Project reported that the ADN website, administered from the United States, received over $400 thousand last year through the United States Agency for International Development (USAID).
RELATED CONTENT: US Report Recognizes Impact of Sanctions on Venezuela's Economy and Human Rights
Eaton notes that since Donald Trump took office in 2017, at least 54 groups operated programs with funding from USAID or the NED in Cuba.
The data was gathered from information that North American organizations have made public on their websites. As such, it is considered a partial figure, as there are many secret programs funding unknown recipients.
The combination of these actions and the economic pressures generated by the intensification of the economic, commercial and financial blockade of Cuba, and the establishment of other unilateral coercive measures against Cuba, reflected the Trump administration's commitment to destroying the social fabric and political stability of the Caribbean island.
Featured image: USAID and NED dollars are behind the San Isidro Movement, among other anti-Cuban programs (Photo: José Luis, Cuban cartoonist).
(Mision Verdad) with Orinoco Tribune content
Translation: Orinoco Tribune
OT/JRE/SL