With 90.4 percent of the ballots scrutinized, the president of the National Electoral Council (CNE) of Ecuador, Diana Atamaint, announced that Andrés Arauz, candidate of the Unión por la Esperanza platform, had won the first round of the presidential elections this Sunday, February 7, with 31.5 percent of the vote.
However, this was not enough for the final victory, so there will be a second and final Ballotage between Arauz and one of either Yaku Pérez or Guillermo Lasso, who both registered around 19 percent of the vote. Pérez maintained a slight advantage with 19.8 percent to Lasso's 19.6 percent, with 97.5 percent of the ballots counted at press time.
Arauz's total had risen to 32.2 percent at last count.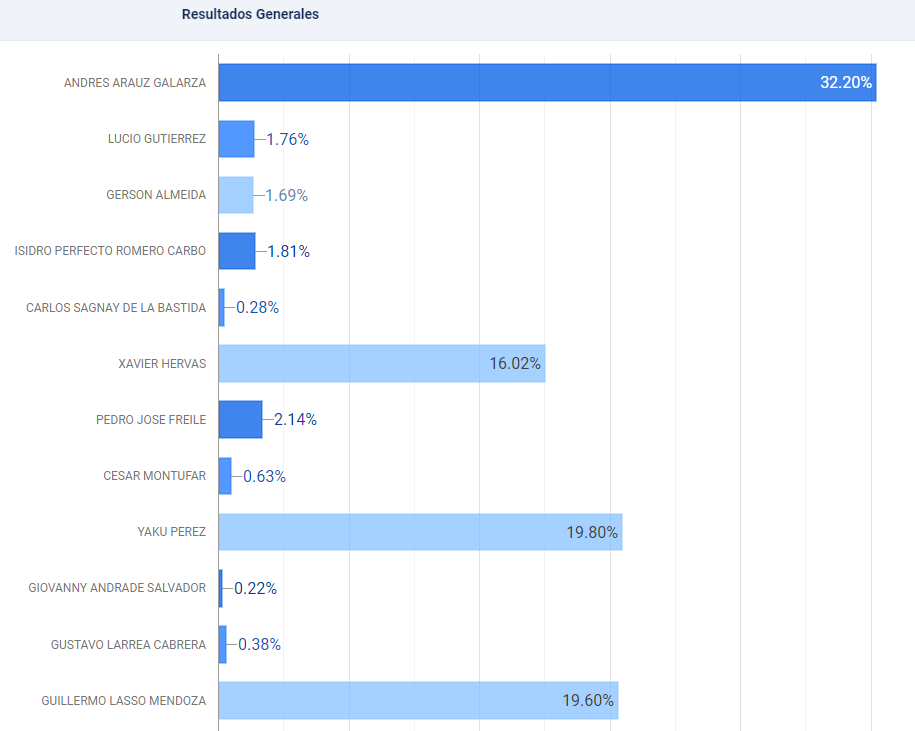 RELATED CONTENT: An Indigenous Voice Against Neoliberalism, Imperialism & Fascism: A Review of 'Volveremos y Seremos Millones' by Evo Morales
The businessman Lasso assured that he will be on the ballot for the runoff, although some analysts believe that the indigenous candidate Pérez has a better chance of advancing. One candidate with a surprise showing, and who divided the vote, was businessman Xavier Hervas, who received 16 percent of votes cast.
In any case, the candidate from the Correísta Union for Hope, Andrés Arauz, consistently led voting results, polls and exit polls.
RELATED CONTENT: Streets Blocked in Madrid by Demonstrators Supporting Anti-Monarchist Rapper Pablo Hasél
Analysts on social media networks denounced proceedings on voting day, arguing that the CNE had manipulated the results to create the perception that Arauz would face a strong challenge from his contenders.
La manipulación del CNE es flagrante, dan los resultados parciales del conteo rápido (90% de actas del 8,2% escrutado) , para modificar la realidad y dar la imagen ficticia que buscaban:

RDP:
1º Arauz 31%
2º Yaku 20%

Realidad:
1º Arauz 33%
2º Lasso 19%#Elecciones2021ecuador pic.twitter.com/NvMcqVxJ1V

— Julián Macías Tovar (@JulianMaciasT) February 8, 2021
To win in the first round, a candidate has to achieve an absolute majority of valid votes (50 percent of votes plus one) or at least 40 percent and a difference of more than 10 points over the runner up.
The Ballotage will be held on Thursday, April 11. Following the tallying of 100 percent of the votes—likely within the next few hours—the CNE will announce whether Arauz will face Pérez or Lasso in the runoff, with the numbers currently favoring Pérez. In the eventuality of a very close call, either of the candidates can request a recount, which remains a strong possibility.
Featured image: Andrés Arauz received 32 percent of the votes so far (Photo: Johanna Alarcón/Reuters) 
(Mision Verdad) with Orinoco Tribune editorial content
Translation: Orinoco Tribune
OT/JRE/SL