The most recent report from the Food and Agriculture Organization of the United Nations (FAO) has revealed positive news for Venezuela. According to the report, the number of people suffering from undernourishment in the country has decreased significantly compared to previous years. This trend reflects slow but steady economic progress, despite the challenges imposed by US illegal sanctions.
Researcher Clara Sánchez mentions this finding with the aim of dismantling the narrative that Venezuelan opposition candidates are currently using in their political campaigns, in which they refer to an alleged "food crisis" in the country. One of them, María Corina Machado, recently swore in a group of entrepreneurs from the agri-food sector who have joined a team called Voluntariado Agroalimentario de Venezuela to support her candidacy.
President Maduro: Venezuela Produces 95% of Products Distributed in CLAP Program
According to Machado, the food situation, as well as other transformations in the country, will not occur without an "open market." This opinion aligns with the neoliberal vision she wants to implement if she is elected president.
Returning to the statistics presented by FAO, the Undernourishment Prevalence Index (IPS) has been progressively decreasing in Venezuela, although in 2022, it comprised 17.9% of the population. Clara Sánchez recalls that, in 2019, the organization stated that 31.4% of the population was suffering from hunger, which created material for the anti-Venezuelan propaganda calling for foreign intervention, supposedly to address the emergency generated by the "food crisis."
FAO Removes Venezuela from List of Hunger Hotspots, Incorporates Colombia
The percentage was later corrected: in 2022, it was stated that the IPS percentage for the country in 2019 was actually 24.9%.
When analyzing the FAO data concerning the initiation and increase of unilateral coercive measures against Venezuela, the correlation between the two can be clearly observed, as shown in the graph prepared by Sánchez. It also shows how the Venezuelan government has implemented effective policies to mitigate the consequences of the illegal sanctions in the food sector, despite the fact that the attacks on the economy from abroad have not significantly diminished.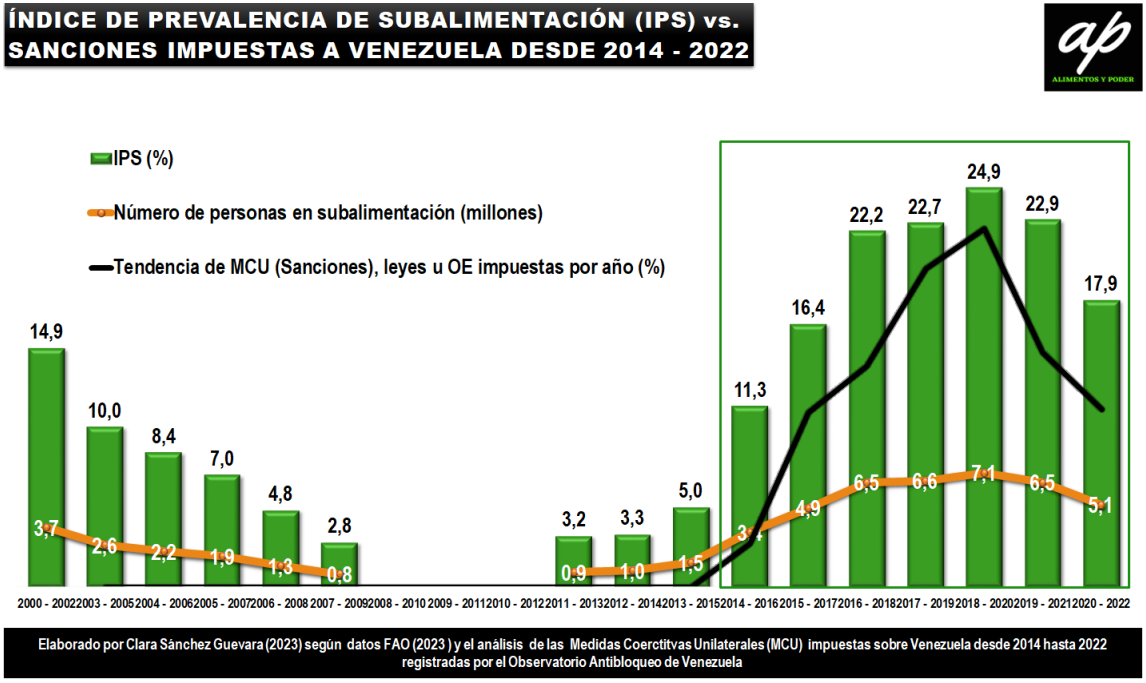 According to the FAO report, 1.4 million Venezuelans have been lifted out of undernourishment in one year.
At this point, politicians who use the issue of "hunger in Venezuela" as a banner in their presidential campaigns face a contradiction. As Sánchez points out, if they rely on the information provided by multilateral agencies, they would have to admit that the Venezuelan government has managed to lift 4 million people out of hunger between 2019 and 2022 (considering the GPI of 31.4% mentioned in 2019).
Otherwise, they must recognize that the figures were manipulated with the political objective of pressuring for regime change, as demanded by the United States.
Translation: Orinoco Tribune
OT/JRE/SF