On Thursday, January 12, the president of Venezuela, Nicolás Maduro, in his Annual Address to the Nation, announced the six lines of work his government will implement in 2023.
The lines are:
1- Consolidate economic growth, diversification of the economy and generation of wealth with equality.
The president stated that progress must be made in "healing the wounds" and "the inequalities that have been created as a result of the economic war and illegal sanctions."
2- Expand protection and social security to all the Venezuelan people, especially the victims of the economic blockade.
Misiones and Grandes Misiones for social welfare will be relaunched. President Maduro announced that there will be a special plan for social investment, social infrastructure, the fight against poverty, misery and needs, combined with the 1×10 Good Government program. It will be launched in the first quarter of 2023.
3- Expand the presence of popular power.
The president announced that a special effort will be made to expand the presence of the popular power in the border areas with Colombia and Brazil.
President Maduro Annual Address: 'I Am Before the Legitimate Legislative Power of Venezuela'
4- Execute a comprehensive security plan for the nation.
The plan will "guarantee the revolution of the justice." It will secure peace, moralize the police and security forces. He pointed out that the peace quadrants must be strengthened. Peace quadrants are geographic areas that cover between 2 and 5 square kilometers, demarcated in sectors of the entire Venezuelan territory where crime occurs more frequently and security agencies target their strategies.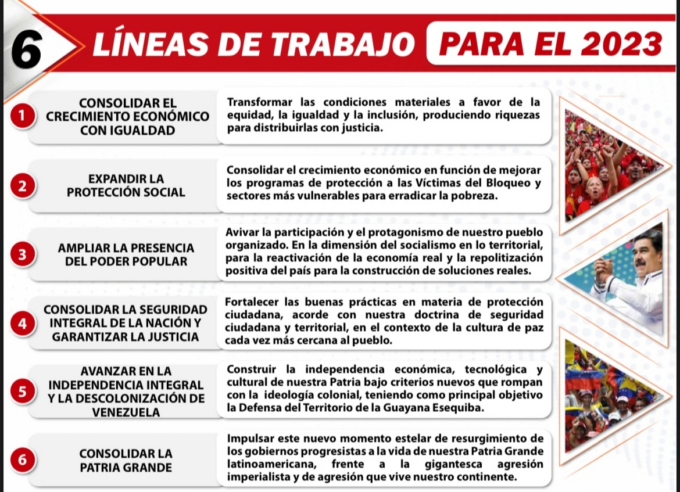 5- Progress towards comprehensive independence and decolonization of Venezuela.
"A people without identity is a people that loses its way, that strays, that begins to turn around itself. It loses perspective of its construction and its history," President Maduro said. "For this reason, it is necessary to strengthen the processes of the educational and cultural revolution in Venezuela, move towards a process of decolonization and construction of new values ​​in culture, in social life. We must move towards a comprehensive independence that considers all dimensions of national independence: economic, scientific, technological, educational, cultural. All the dimensions of an independent country, which strengthen its identity and values. A people with values, independent. We will work hard for it!" In this regard, he requested that everything be produced in Venezuela, so that the nation can provide for itself with its own efforts, generate the wealth that the people need, and feel happy about their identity.
Diosdado Cabello: Workers' Salary is a Priority for President Maduro (+PCV)
6- Progress for the consolidation of a new regional geopolitics, a new integration, the consolidation of the Patria Grande.
President Maduro stated that he has discussed regional integration with the president of Brazil, Luis Inacio Lula Da Silva; of Colombia, Gustavo Petro, and of Argentina, Alberto Fernández. "A new, special wave is coming to unite the efforts of Latin America and the Caribbean, and form a powerful bloc of political forces, of economic power, which speaks to the world, invites the world to integrate and build new poles of power," he said. He quoted Xi Jinping, president of the People's Republic of China, and Vladimir Putin, president of Russia, and pointed out that for this new world to arrive, a cohesive and united Latin American and Caribbean bloc is needed. "Venezuela is at the forefront of the battle for the construction of that world," he said.
President Maduro concluded by highlighting that the overwhelming majority of Venezuelans have bravely resisted in the face of adverse circumstances. "In Venezuela we will go through better times," he stated. "There may be difficulties, but we will face them. Someone might try to manipulate them, but we will face them."
"Our people deserve a better Venezuela, and we are going to build it! Times of rebirth are coming, rebirth of a united, hard-working people, who deserve victory," he said in his closing remarks.
Translation: Orinoco Tribune
OT/JRE/SC