Venezuela Launched a Survey on US Sanction and its Effects Using the Patria System
Starting this Sunday night, September 28, the Sistema Patria (Patria Sytem) activated a new survey to collect the opinion of the people of Venezuela about the "sanctions" or coercive and unilateral measures imposed by the US government against Venezuela, and their effects on the inhabitants of the country. This was announced by the Venezuelan President, Nicolás Maduro, who invited the general public to participate in this survey, to find solutions to the financial and commercial blockade that affects the daily life and basic needs of our population.
"We are going to publish a special survey on the issue of the blockade to consult the opinion of the 20 million Venezuelans -registered- in the Patria System, to know their proposals, their vision, their state of mind above all, on these criminal sanctions and the suffering they have caused in the country."
RELATED CONTENT: Freddy Bernal: We have Chinese and Iranian Experts in Some Refineries (Gas Shortages)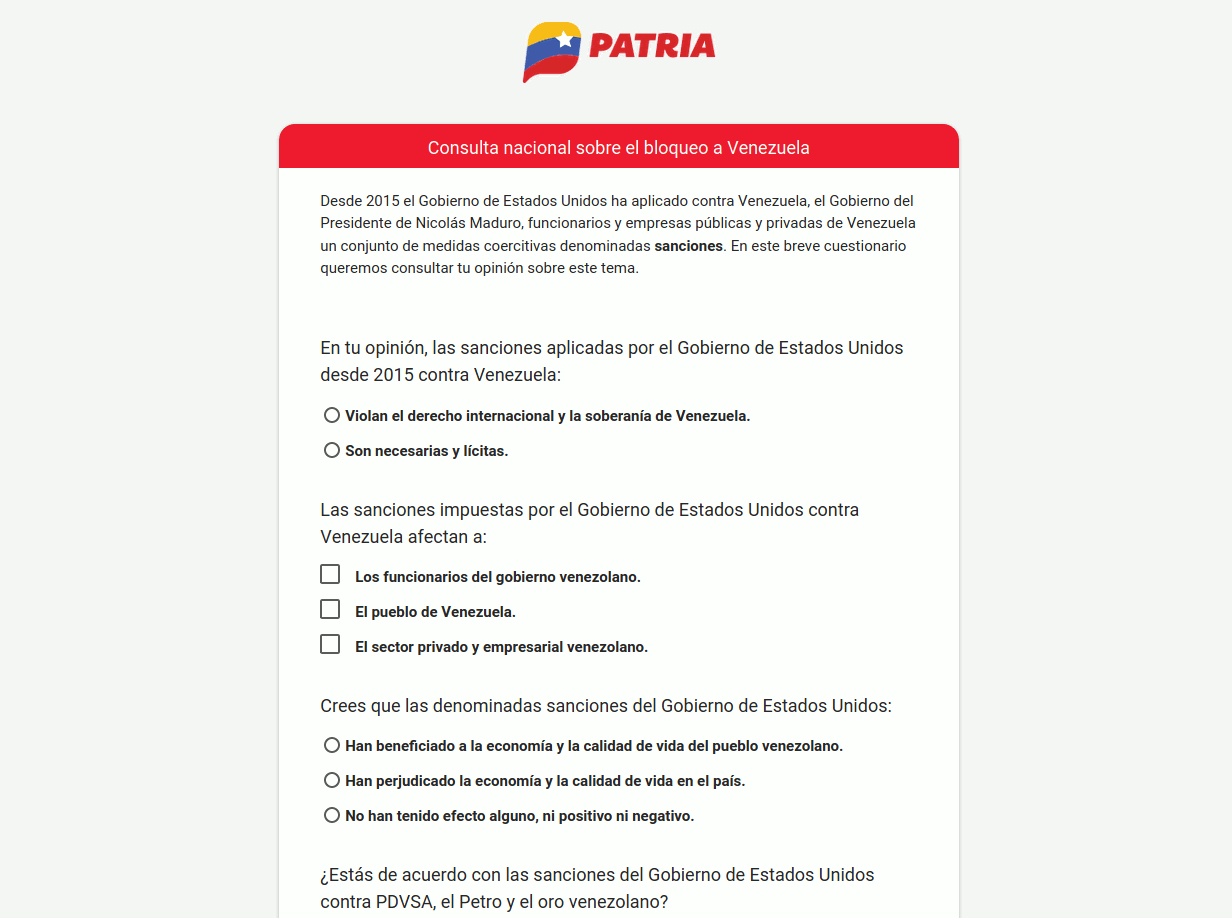 One of the main characteristics of the Revolution consists in obeying the will of the people, as the leader of this process, Hugo Chávez Frías, professed so many times, and so today President Nicolás Maduro carries on.
RELATED CONTENT: We Need an International Committee to Free Ilich Ramirez Sanchez – Chavista Chronicles from Caracas Interview with Mark Burton – Simon Trinidad's Lawyer
If you ask yourself "How does the Bolivarian Revolution, the Military Political High Command, do politics? How does President Maduro take decisions? I tell them: listening to the people, consulting the people," stressed the dignitary.
The people and the government combine in a perfect binomial to diagnose and seek solutions to the people's problems, through popular assemblies, Communal Councils, Bolívar-Chávez Battle Units (UBCh) and now with the use of technology, as is the innovative Patria system.
Featured image: File photo.
Translation: OT/JRE