The Venezuelan health authorities reported 1,125 new cases of Covid-19 of community transmission, as well as 46 imported cases, which adds up to a total of 1,171 infections in the last 24 hours, Venezuelan Executive Vice President Delcy Rodríguez reported on Wednesday. The state most affected in the last 24 hours was Miranda, accounting for 287 cases.
The total number of infections has risen to 36,868, out of which 25,416 have recovered, which is equivalent to 69%.
This was announced by Rodríguez this Wednesday during a phone interview with Venezolana de Televisión (VTV), at the conclusion of the meeting of the National Commission for the Control and Prevention of Covid-19.
Regarding community cases, Delcy Rodríguez highlighted:
RELATED CONTENT: Latin America Looking Towards Russia and China Amid US Operation Warp Speed
Miranda: 287 new cases

Capital District: 198 new cases, in the 22 parishes, the largest number of infections concentrating in the parishes El Valle, Sucre, Coche and Antímano.

La Guaira: 162 new cases

Nueva Esparta: 102 new cases

Sucre: 101 new cases

Zulia: 89 new cases

Aragua: 37 new cases

Bolívar: 33 new cases

Apure: 24 new cases

Táchira: 20 new cases

Delta Amacuro: 17 new cases

Anzoátegui: 16 new cases

Lara: 14 new cases

Yaracuy: 11 new cases

Monagas: 9 new cases

Cojedes: 3 new case

Falcón: 2 new cases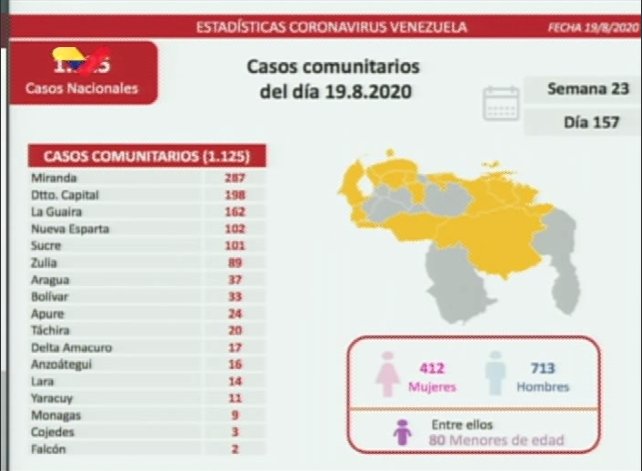 Regarding the cases in the Capital District by parishes, she specified the following: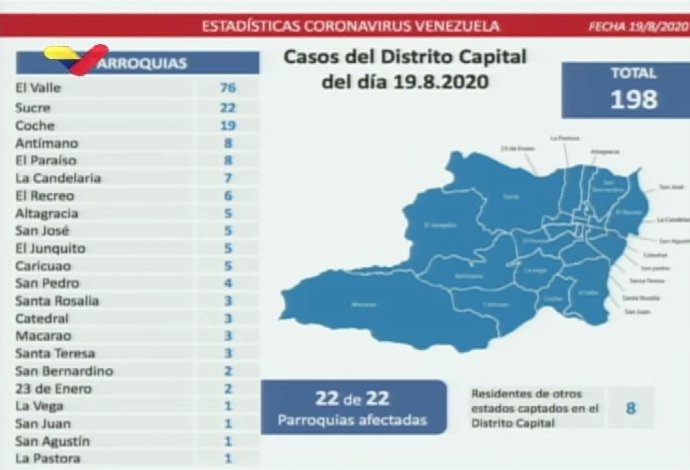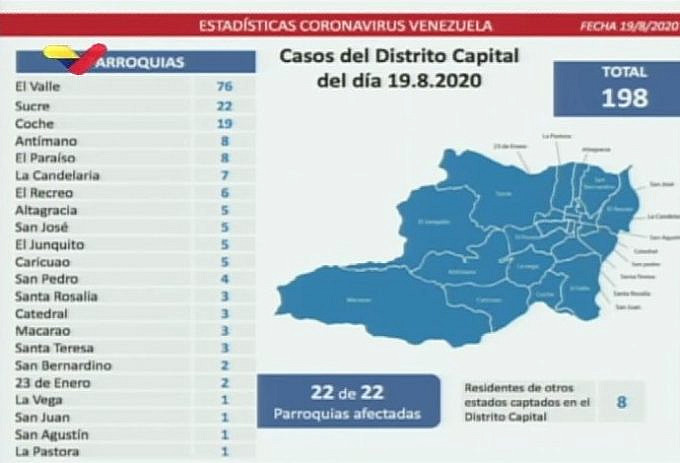 Regarding imported cases, the Executive Vice President of the Republic announced that 41 are from Colombia, while 3 cases are from Brazil, 1 case from Peru and 1 from Ecuador. She added that 5,257 cases in Venezuela are of people who returned from Colombia.
RELATED CONTENT: Protests on the Rise in Latin America: Towards A New Uprising?

The vice president added that today there is a total of 11,149 active cases, of which 6,871 patients are asymptomatic, 3,856 have mild respiratory failure, 337 present moderate respiratory failure and 85 are in Intensive Care Units due to serious respiratory failure.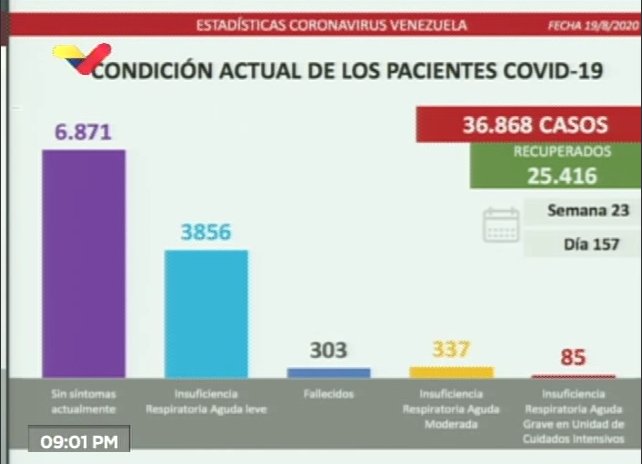 For her part, Rodríguez regretted reporting the death of six people due to the Covid-19 infection, to raise the number of fatalities to 303:
2 men from Carabobo, 59 and 45 years old.

2 men in Sucre, 74 and 53 years old

73-year-old woman from Cojedes

63-year-old man from Zulia
In this sense, when referring to the number of Covid-19 screening tests applied to date, she specified that 1,669,982 tests have been done, which is equivalent to 55,666 tests per million inhabitants.
Featured image: File photo.
Translation: OT/JRE/EF