By Nick Corbishley – Oct 13, 2023
"The only way for Palestinian children to sleep in peace is for Israeli children to sleep in peace. The only way for Israeli children to sleep in peace is for Palestinian children to sleep in peace. War will never achieve this."
When the former Guerrilla fighter Gustavo Petro came to office in June 2022, becoming the country's first left-wing president since Colombia won independence in 1819, it was clear he would have to tread very carefully in his relations with Washington, especially given all the US military bases on Colombian soil. Today, sixteen months after his election, Petro faces his first major diplomatic standoff, not only with Washington but also Tel Aviv — all the result of his refusal, so far, to condemn Hamas' ruthless attack against Israeli citizens on Sunday.
Instead, Petro, a voracious poster on X/Twitter, wrote the following on the social media platform:
War has broken out again between Israel and Palestinian Gaza. In my speech at the United Nations I showed how world power treated the Russian occupation of Ukraine in one way and the Israeli occupation of Palestine in another, very different way…
From a very young age I studied the Israeli-Palestinian conflict and I know of the immense injustice that the Palestinian people have suffered since 1948. Just as I know about the immense injustice that the Jewish people suffered at the hands of the Nazis in Europe since 1933.
If I had lived in Germany in '33 I would have fought on the side of the Jews and if I had lived in Palestine in 1948 I would have fought on the Palestinian side.
Now the neo-Nazis want the destruction of the Palestinian people, freedom and culture. Now we democrats and progressives want peace to prevail and the Israeli and Palestinian people to be free.
"Unfortunate messages"
Petro has also likened Gaza to Auschwitz as well as to the Warsaw Ghetto, which was destroyed by the German military after an uprising by Jews confined there. None of this, of course, has gone down well with the Israeli or US governments — or for that matter, opposition parties and much of the legacy media at home.
"They are very unfortunate messages," said Israel's Foreign Affairs spokesperson, Lior Haiat. "They demonstrate a lack of knowledge, not to say ignorance, and an enormous lack of respect. After the atrocities that we have seen from this barbaric attack, making the comparison that the president of Colombia made, I am sorry to say, but it is a comparison that has no basis."
In an interview with the Colombian newspaper SEMANA, Israel's ambassador in Bogota, Gali Dagan, called on the Colombian Government to raise its voice forcefully against terrorism.
"It is very difficult to find the common denominator between these two cases [of Ukraine and Palestine]. We hope that a country friendly to Israel will strongly and clearly condemn the terrorist attack against innocent civilians in the State of Israel.
Shortly after the attack on Saturday, Colombia's Foreign Ministry did release a statement strongly condemning "terrorism and attacks against the civilian population." But by the next day, the statement had been replaced by one that no longer mentioned the word "terrorism" or referred to Hamas by name.
Among the dozens of messages Petro has published or shared on Twitter/X since Sunday was a photo montage of some of the Palestinian children who have perished under Israeli occupation, alongside the following text (translated by yours truly):
The only way for Palestinian children to sleep in peace is for Israeli children to sleep in peace.
The only way for Israeli children to sleep in peace is for Palestinian children to sleep in peace.
War will never achieve this, it can only be achieved by a peace agreement that respects international legality and the right of the two peoples to exist free.
These are photos of Palestinian children murdered by the illegal occupation of their land.
La única manera para que los niños palestinos duerman en paz es que los niños israelíes duerman en paz.

La única manera para que los niños israelíes duerman en paz es que duerman en paz los niños palestinos.

Eso no lo logrará jamás la guerra, solo lo logra un acuerdo de paz que… pic.twitter.com/8ZeDHj6oLi

— Gustavo Petro (@petrogustavo) October 8, 2023
To give the message maximum exposure, Petro has pinned it right at the top of his twitter profile. He also posted this graph showing the glaring disparity between Palestinian and Israeli deaths over the past 15 years of conflict: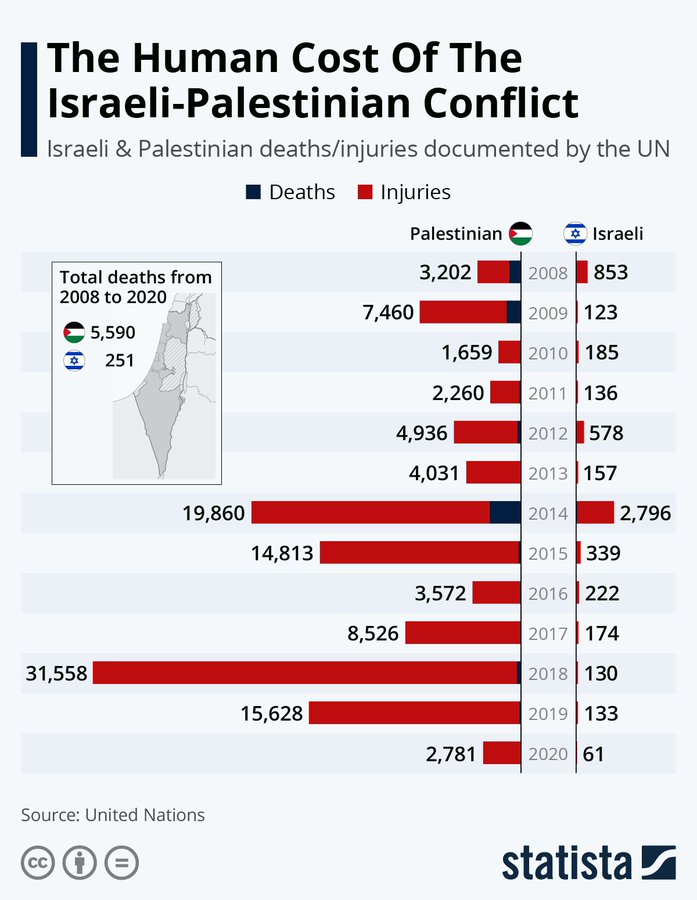 Since then Petro has maintained a running commentary on developments in Israel and Gaza, repeatedly calling for peace negotiations. On Monday, he responded to Israel's Defence Minister Yoav Galant's call for a total siege and blockade of Gaza and his description of Palestinians as "human animals" by warning:
"This is what the Nazis said about the Jews. Democratic peoples cannot allow Nazism to re-establish itself in international politics. Israelis and Palestinians are human beings subject to international law. This hate speech if it continues will only bring a holocaust."
On Thursday, Petro's remarks finally elicited an official response from the US government on Thursday.
"We strongly condemn President Petro's statements and call on him to condemn Hamas, a designated terrorist organization, for its barbaric murder of Israeli men, women and children," Ambassador Deborah Lipstadt of the office of the U.S. Special Envoy to Monitor and Combat Antisemitism (SEAS) said on Twitter/X.
Colombia's President Petro Considers Severing Relations With Israel Over Genocide in Palestine
This is probably no idle warning. After all, Colombia has been Washington's most important client state and forward operating base in South America since at least the '90s. In 2010, Bolivia's then-President Evo Morales called Colombia "an Israel in South America." Colombia's military has close ties not just with the US, largely as a result of Washington's funding of Plan Colombia, but also Israel, which trains Colombian soldiers and furnishes them with weapons and security tech.
In 2017, Colombia became one of NATO's global partners, and the Alliance's first Latin American partner. Five years later, it was designated by the Biden Administration as one of the US's 18 Major Non-Nato Allies (MNNAs). The five original MNNAs, established in 1987, were Australia, Egypt, Japan, South Korea and Israel.
Colombia also has seven formal US military bases on its soil and allegedly dozens of so-called "quasi-bases" — which differ from formal bases in no other way than that they lack a formal lease agreement for use of facilities — scattered around the country, particularly in areas rich in mineral resources and/or close to Colombia's border with Venezuela, according to Schools of America Watch. As if that were not enough of a threat, the US is also amassing troops in neighbouring Ecuador and Peru.
Mixed messages
Colombia is not the only Latin American country to have (so far) refused to condemn Hamas' actions. Cuba, which has not had diplomatic relations with Israel since 1973, the year of the Yom Kippur War, called the current conflict "a consequence of 75 years of permanent violation of the inalienable rights of the Palestinian people and Israel's aggressive and expansionist policies." The government of Bolivia expressed "deep concern" about "violent events" in the "Gaza Strip between Israel and Palestine" while Venezuela's government called for "genuine negotiations" between Israel and Palestine without expressly condemning the attacks.
Most other countries in the region, including Mexico and Brazil, did condemn the attacks, though few, with the notable exception of Nayib Bukele's government in El Salvador, have expressed support for Israel's unbridled retaliation. Some refused to mention the word "terrorism" or Hamas by name. As with the war in Ukraine, most countries seem to want to maintain some degree of neutrality on the issue.
Mexico's Foreign Ministry, for example, said it "unequivocally condemns the unacceptable attacks against the people of Israel on October 7 by Hamas and other Palestinian organizations in Gaza… No cause justifies the use of terrorism… Mexico recognizes Israel's right to legitimate self-defense—which must be governed by the conditions established in international law—while condemning the use of force, regardless of which side uses it, especially when the targets are civilians, in clear violation of international humanitarian law."
The statement condemn both Hamas and the use of terrorism in general, but it also condemns "the use of force" in general, "regardless of which side uses it, especially when the targets are civilians," and that was enough to draw Israel's ire. The Israeli Embassy in Mexico expressed its "dissatisfaction" with President Andrés Manuel López Obrador's statements in relation to the events in Israel and "deeply regretted that the Government of Mexico has not adopted a more energetic and determined position in the face of this situation." It also noted that "maintaining a neutral position rather than taking sides ultimately means endorsing and supporting terrorism."
In other words, despite unequivocally condemning the attacks and acts of terrorism in general, the Mexico government did not go far enough. In response, AMLO said the following:
The Israeli ambassador in Mexico says that she does not agree with our position, she has every right to say so, to express it, because we are free, we respect the Government of Israel and much more so the people of Israel, but we do not want war. We do not want violence. We are pacifists and we don't want any human being of any nationality to lose their life, whether Israeli or Palestinian. We want the most important human right to be guaranteed, which is the right to life.
Brazil's government was slightly more forceful in its condemnation and even projected the Israeli flag on the dome of the country's National Congress in solidarity with the victims. The country is currently UN Security Council President and is leading efforts to negotiate a ceasefire to the conflict, so far to little avail.
"There is no justification for resorting to violence, especially against civilians," the Brazilian Ministry of Foreign Affairs said in a statement. "The Brazilian Government urges all parties to exercise maximum restraint in order to avoid escalating the situation." Brazilian President Luiz Inacio "Lula" Da Silva expressed his "rejection of terrorism in any of its forms" and called for a two-state solution.
But like Mexico, Brazil's Foreign Ministry did not use the word "terrorism" or refer to Hamas by name in its statement, to the consternation of the Israeli Embassy. "One of the things we said to the Foreign Minister is that there is no more serious example of terrorism," said the Israeli ambassador. "It is the personification of terrorism. And the lack of this word in the Ministry's statement is… I can't speak against the government, but it betrays a lack, at least, of sensitivity."
The US presumably feels the same and will be doing everything it can to bring LatAm countries into line. In its joint declaration with the governments of France, Germany, Italy and the United Kingdom, the Biden Administration told the world:
"We make clear that the terrorist actions of Hamas have no justification, no legitimacy, and must be universally condemned."
But will the world listen? After all, the US and the EU do not have the strategic influence or soft power they once had, having squandered much of it on the costly wars they have waged and the brutal sanctions they have liberally imposed. For the past 20 months, the US and its NATO allies have been desperately trying to persuade Latin American countries to endorse their sanctions against Russia as well as furnish Ukraine with Russian-made weapons, to no avail.
Petro to Israeli Ambassador in Colombia: Killing Innocent Children Constitutes Terrorism
At a recent summit in Brussels between the EU and the Community of Latin American and Caribbean States (CELAC), Latin American leaders rebuffed EU requests for Zelensky to attend as well as include in the final summit declaration a paragraph condemning Russia's invasion of Ukraine. It was a PR disaster for Brussels. In his closing statement at the Summit of the Peoples, a parallel event taking place in Brussels, Petro pilloried the EU's obsession with the war in Ukraine, which he described as "a far-removed issue" for Latin America and the Caribbean:
"The EU has basically focused on a topic that was of fundamental interest to itself, but which is far-removed for us: the war in Ukraine. [It wanted] to point to the construction of a block in the world, Latin America and the European Union, coalescing around Zelensky and support for a political, economic and military strategy, obviously. That was its priority."
Now the priority of the collective West is to coalesce support around blanket condemnation of Hamas' hideous war crime while giving carte blanche to Israel to commit a far larger one — one that has so far entailed cutting off all basic services and supplies to Gaza and levelling large parts of the enclave, resulting in the deaths of thousands of innocent civilians and the displacement of hundreds of thousands of others.
The next move in Israel's grotesque game plan, it seems, is to corral around 1.1 million people into the southern half of the enclave in preparation for what is likely to be a substantial ground offensive — with "devastating humanitarian consequences", says the UN. And the ostensible liberal democracies of the West are fully on board while many are in the process of outlawing pro-Palestinian demonstrations.
A quick look at the map below shows just how out of synch the collective West is with Latin America — and for that matter, the rest of the world — on the Israel-Palestine question, and indeed has been for years. As of December 31 2019, every country in Latin America except Panama, Mexico and a few island states had recognised Palestine as a sovereign state. The same goes for 138 of the world's 193 countries — representing over three-quarters of the global population.
Among the G20, nine countries had recognized Palestine as a state by the end of 2019. Seven of them are BRICS members, new and old (Argentina, Brazil, China, India,  Russia, Saudi Arabia, South Africa, and Turkey), the other two being Turkey and Indonesia. Ten G20 countries had not recognised Palestine (and still don't). Six of them are NATO members (Canada, France, Germany, Italy, the United Kingdom, and the United States). Three of them are major non-NATO allies (Australia, South Korea and Japan). The other is Mexico.
But even that changed in June this year when Mexico's AMLO government quietly reclassified the Palestinian Authority's diplomatic mission in Mexico from special delegation to embassy, despite huge pressure from the US State Department.