Venezuela confirmed this Saturday a total of 1,192 positive cases for Covid-19 coronavirus to raise to 52,165 those infected by the outbreak, reported the Executive Vice President, Delcy Rodríguez. Through her Twitter account, Rodríguez explained that out of the cases detected this Saturday, 1,176 infected are community transmission and 16 are imported cases.
The most affected states are the Capital District (188), Nueva Esparta (167), Amazonas (115) and Aragua (108).
In reference to the Capital District – the Executive Vice President explained – the most affected parishes are El Valle (29), Antímano (15), Catia (14), San Juan (14), Altagracia (11) and Coche (9). Cases were also detected in Macarao (7), La Vega (7), Caricuao (7), El Junquito (7), El Recreo (7), El Paraíso (6), Santa Rosalía (6), San Pedro (4) , La Candelaria (4), San José (4), January 23 (4), San Bernardino (3), Santa Teresa (2), Catedral (2), La Pastora (1) and San Agustín (1).
RELATED CONTENT: Tales of Resistance: My Battle With Covid-19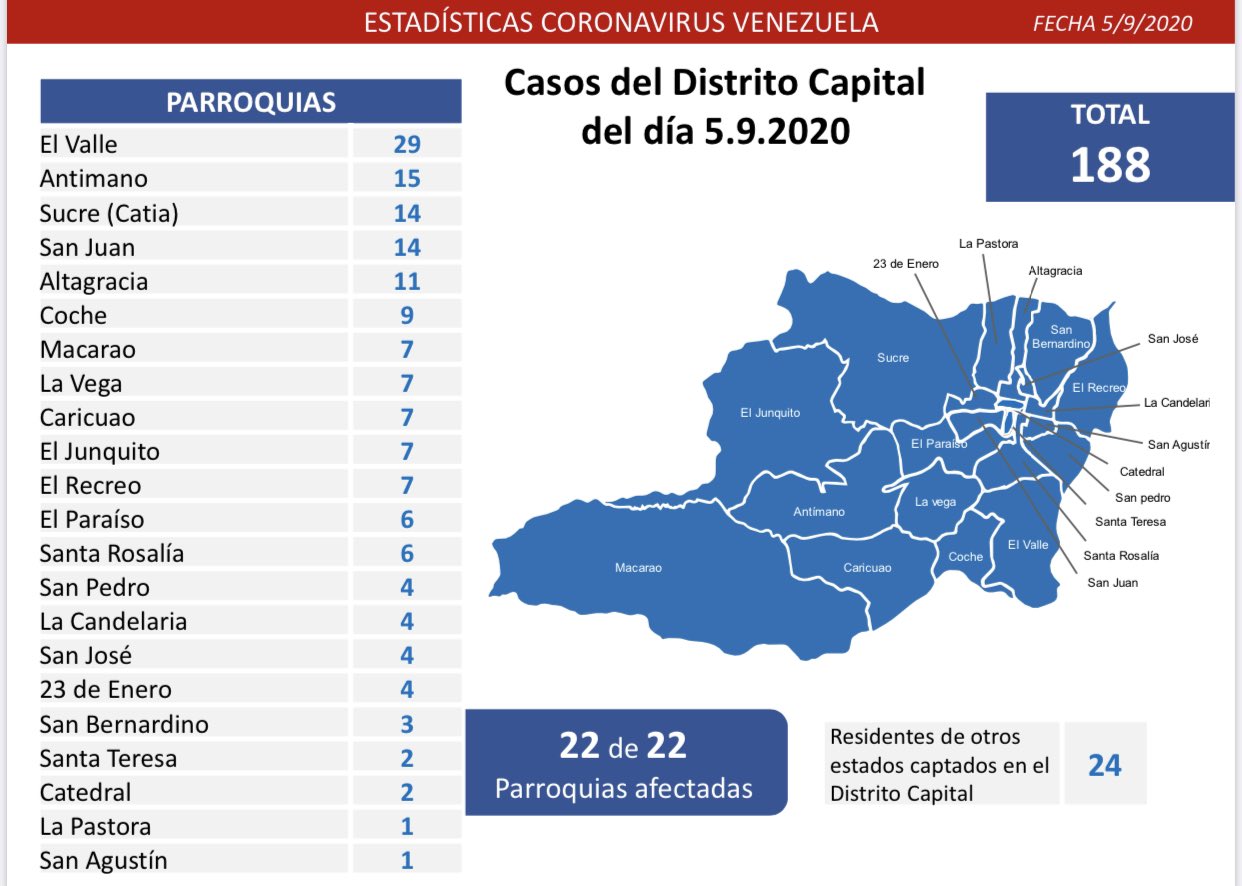 Similarly, they were confirmed cases in the states of Miranda (90), Anzoátegui (74), Bolívar (63), Zulia (57), Monagas (50), Lara (48), La Guaira (42), Trujillo (37) , Carabobo (35), Táchira (31), Yaracuy (27), Apure (19), Portuguesa (8), Mérida (8), Falcón (6), Delta Amacuro (2) and Guárico (1).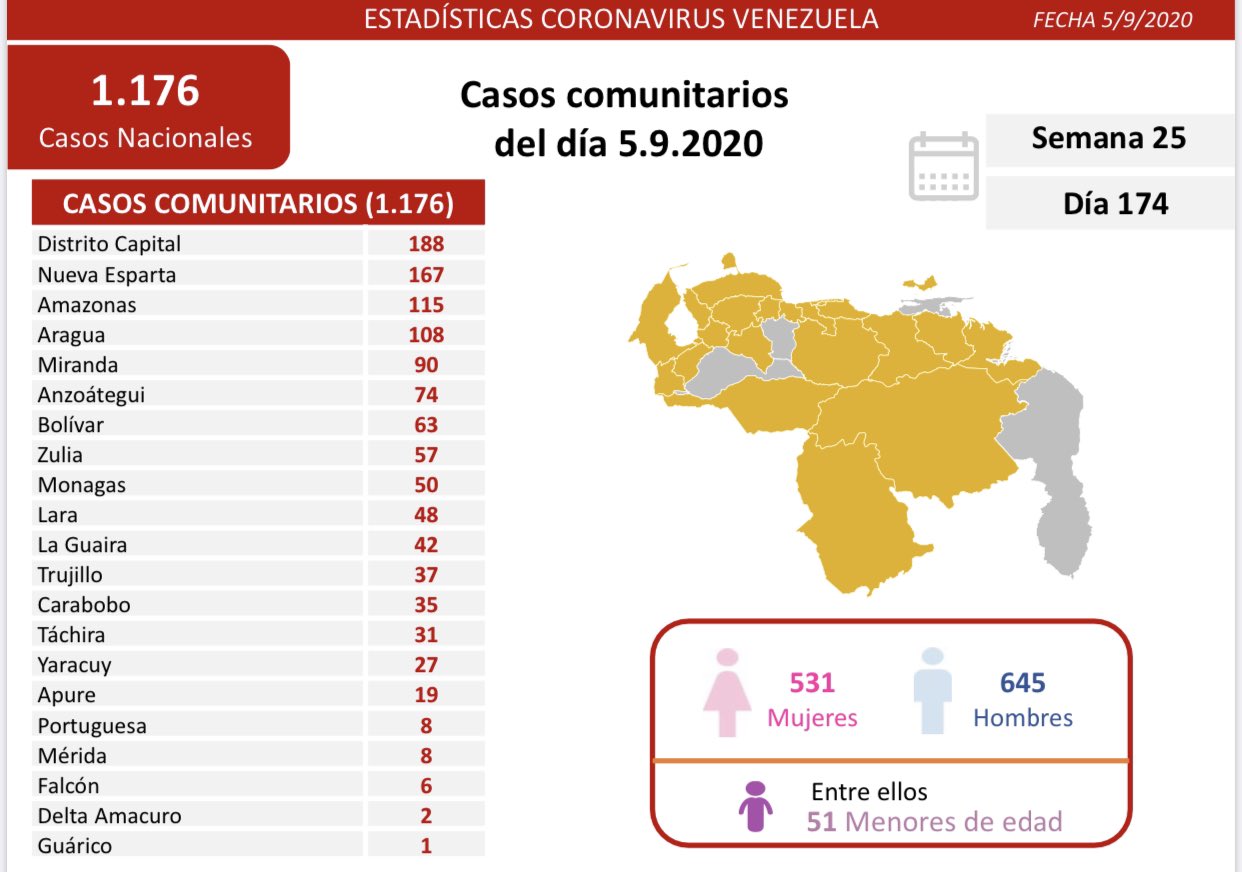 On the community cases detected, 531 are women; 645 males and among them, 51 minors were detected.
In reference to imported cases, Vice President Rodríguez emphasized that the 16 cases detected are from Colombia; of which seven entered through the state of Zulia; five for the state of Táchira and four from Apure.
RELATED CONTENT: US will Impose More Sanctions Against Lebanon and Hezbollah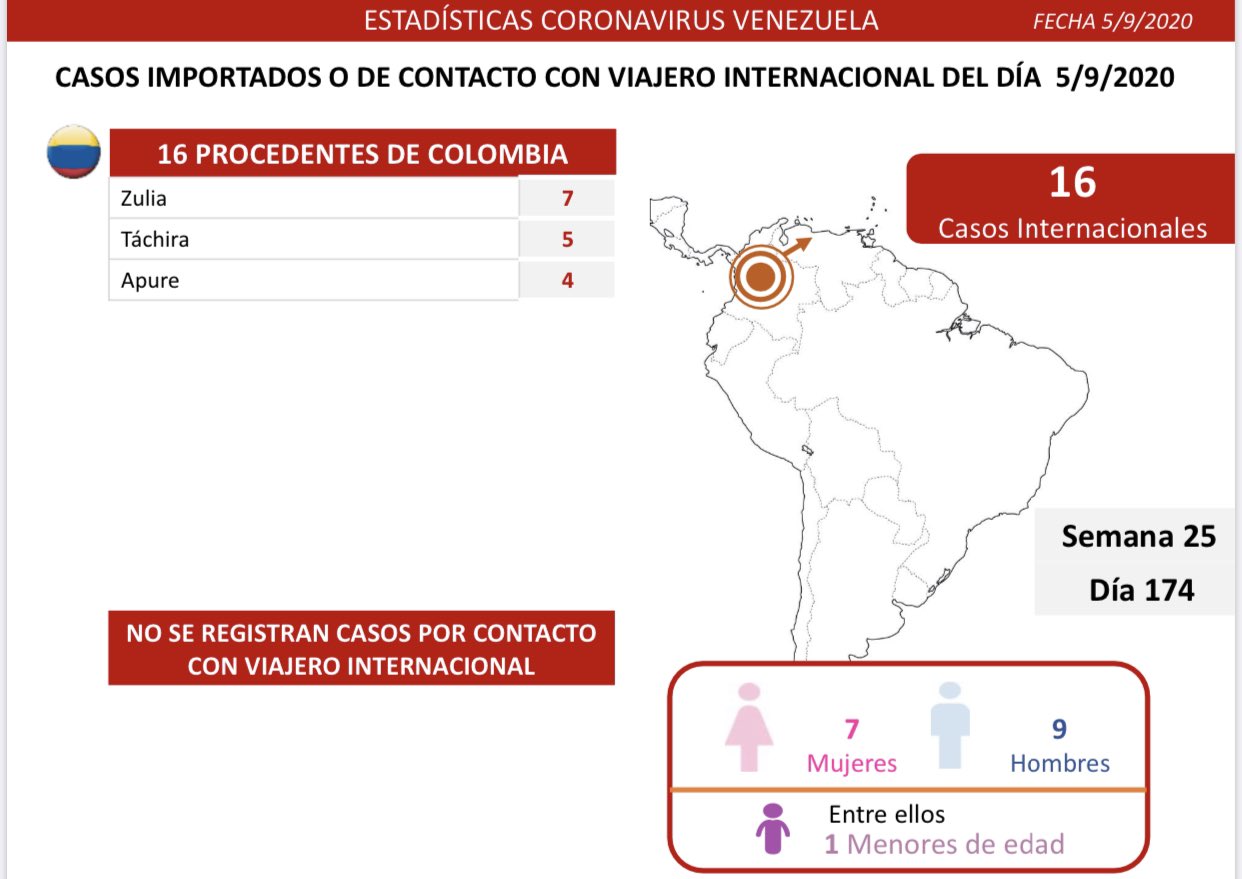 9,739 cases remain active in Venezuela; out of them 4,862 are admitted to hospitals, 4,657 patients are hospitalized in Comprehensive Diagnostic Centers (CDI), 220 patients are in private hospitals.
Deceased
During the balance, Vice President Rodríguez announced eight new deaths from the outbreak, bringing the number of fatalities to 420.
The deceased were registered in the states of Carabobo (2), Mérida (2), Yaracuy (1), Distrito Capital (1), Zulia (1) and Táchira (1).
To date, the National Government has processed a total of 1,805,766 tests for the detection of the Covid-19 coronavirus, which represents 60,192 tests per million inhabitants.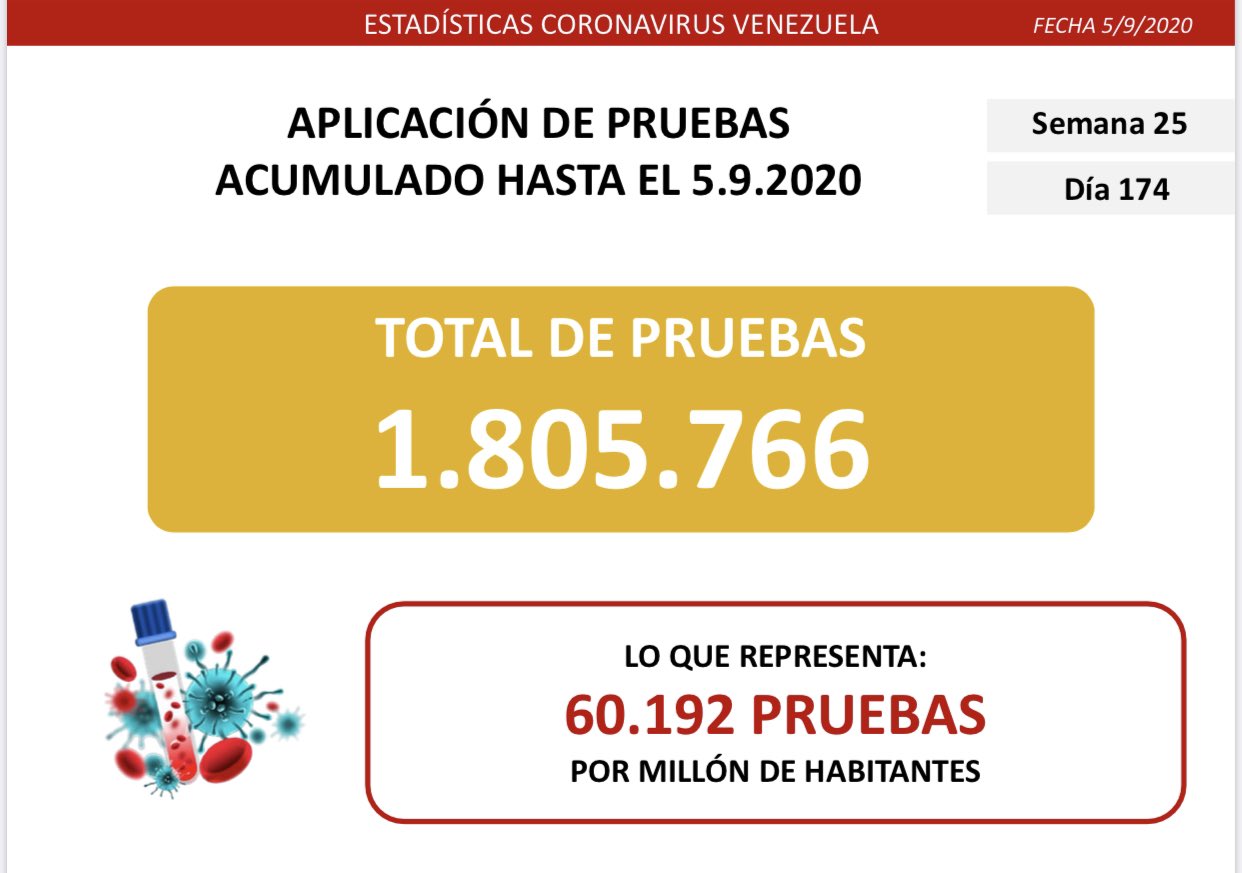 The number of recovered patients already reaches 42,006 people, which represents 81% of the total cases detected.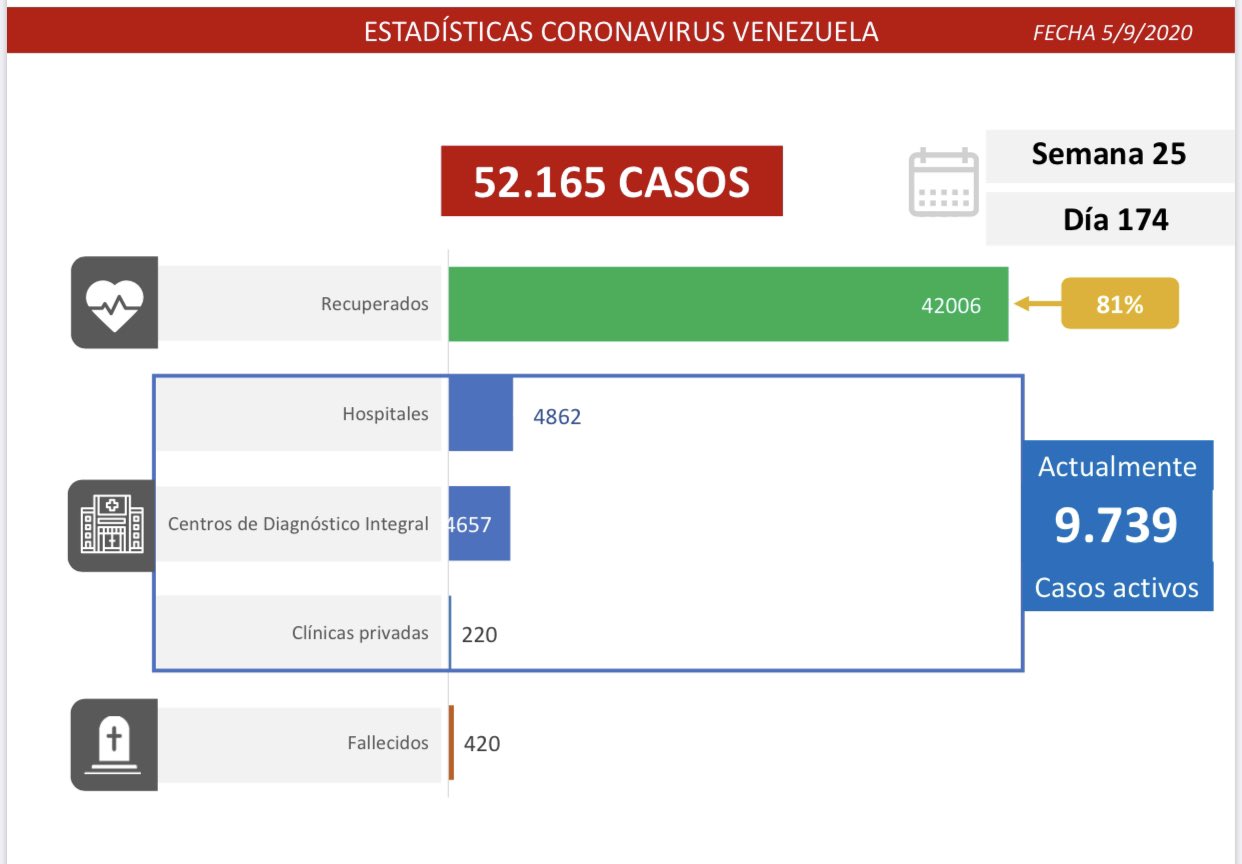 President Maduro will make announcements for the upcoming reopening week
On the other hand, Vice President Rodríguez announced that, "in the next few hours, President Nicolás Maduro will give important announcements about the reopening week, established in the Venezuelan formula of 7 + 7 that has given important results to energize the productive and economic apparatus of the country."
Featured image: File image.
Translation: OT/