Venezuela Reports this Tuesday 159 New Coronavirus Cases and One Deceased (149 are Imported Cases)
Venezuela confirmed on Tuesday 159 new positive cases for the Covid-19 coronavirus and brings the number to 2,632 infected by the outbreak, reported the Minister for Communication and Information, Jorge Rodríguez. He explained that only one is of community transmission, 149 are imported cases and there are nine cases of contact with these international travelers. 147 are Venezuelans returning to the country.
From Miraflores Palace, in Caracas, Rodríguez reported the death of one person due to the outbreak, to bring the total to 23. The patient who died was "one of the first cases of travelers from Spain, the fifth case reported in Venezuela. He was a patient whose case evolved slowly.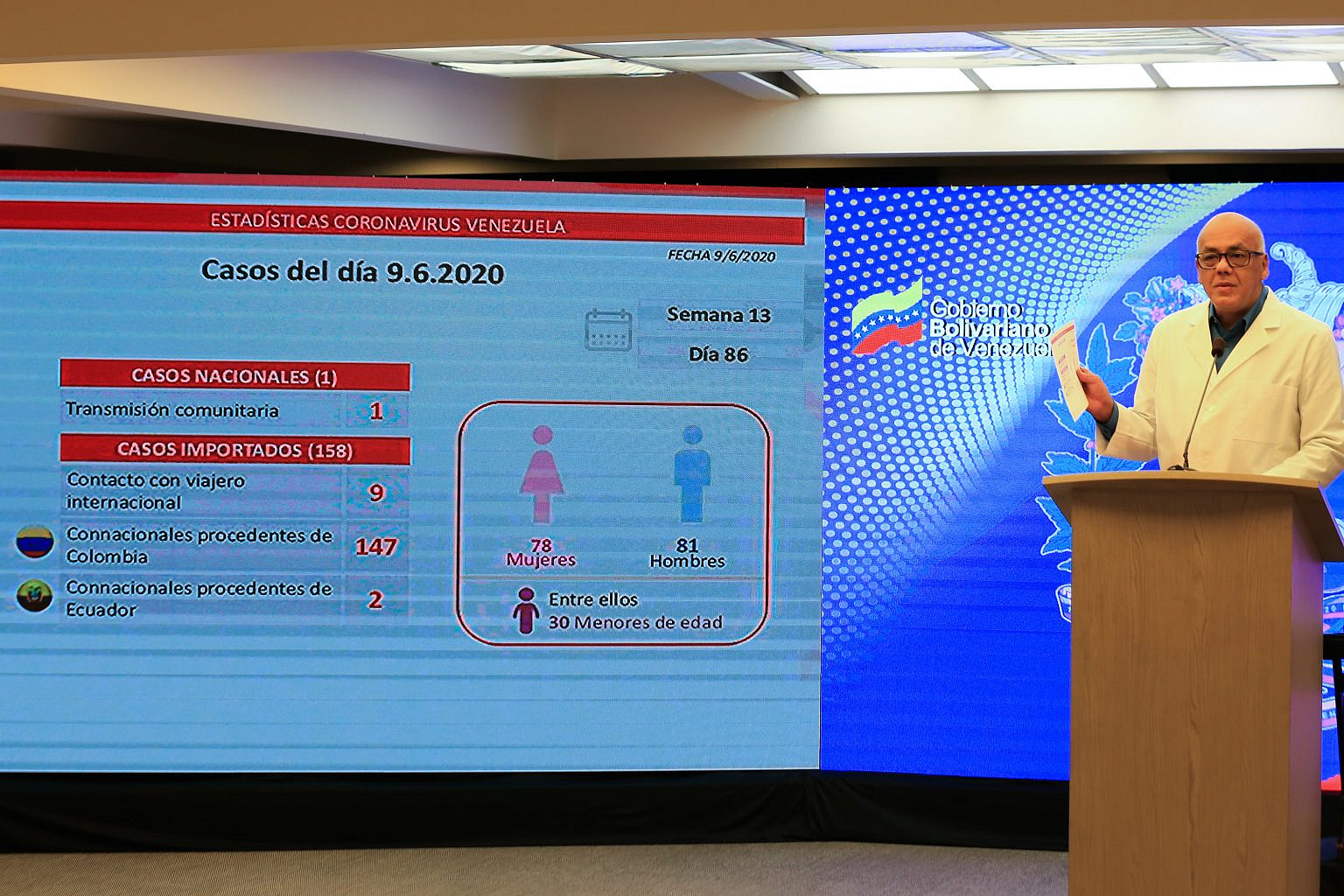 RELATED CONTENT: Venezuelan Central Bank: Accumulated Inflation is 295% in 2020 (Jan-May)
Rodríguez described him as "a fighter", who presented several complications: bilateral pneumonia, multi-organ failure, spent 60 days in intensive care in a private hospital. He improved and left intensive care and remained hospitalized in a private hospital for complications, but died on Tuesday.
The national government sent its solidarity to the entire family of the patient.
During the press conference, Minister Rodríguez noted that of the total number of cases, 1,618 are in sentinel hospitals, 489 in Comprehensive Diagnostic Centers and 15 in private hospitals. Out of the active cases; 1,934 are asymptomatic patients, 179 have mild respiratory failure, eight with moderate respiratory failure and one patient in intensive care for presenting acute respiratory failure.
The number of recovered patients remains at 487.
Colombia: Under-registration of cases
Regarding the increase in cases, Rodríguez explained that "the greatest risk that our Venezuelan homeland has is the existence of a profound lack of control over the Covid-19 pandemic in Colombia and Brazil."
RELATED CONTENT: Three Former DirecTV Executives Charged by Venezuelan Justice System
He pointed out that the number of infected people in Venezuela coming from Colombia make evident that there is underreporting. "There must be seven times the cases they report," he stressed. He noted that, in the last 32 days, there have been 2,244 cases reported in Venezuela, 1,647 are imported (74%). He asserted that the main threat to Venezuela is "those governments, with their selfish nature and their neglect of patients with Covid-19".
In reference to the situation in South America, the minister explained that Brazil ranks first among the countries most affected by the pandemic on a global scale, with 60% of all cases registered in the region. "Brazil accounts for 60% of all Covid-19 cases in South America and is our neighbor, and this will only get worse. In addition, Brazil accounts for 72.3% of all deaths in South America. Venezuela is in last place with 0.04% deaths," he stressed.
Rodriguez also highlighted that countries like China and the United stated do not count what Venezuela labels as "imported cases" into their reports. "If a person infected from China enters the US it is not counted like a US case and viceversa," he said. But he stressed that Venezuela chooses that methodology and it will remain that way.
On the other hand, he highlighted the new reopening scheme to make quarantine more flexible and take care of the whole of society; it aims at avoiding a rebound in cases, as happened in other countries who lifted the measures and are reporting a new wave of cases.
The 7 + 7 strategy "has robustness, the strict and voluntary quarantine has been followed and understood by the Venezuelan people," he said.
Featured image: Minister of Communications Jorge Rodriguez. Courtesy of Prensa Presidencial
Source URL: Alba Ciudad with OT content
Translated and edited by JRE/EF