Venezuela confirms 77 new cases of Covid-19 coronavirus for a 618 total, Vice President Delcy Rodríguez reported Monday. Of these, 64 are from Venezuelan migrants returning to Venezuela from South American countries, representing 83% of the total. Rodríguez stressed that these are people who return and were denied the right to free healthcare in those countries. "They are also persecuted for being Venezuelans in countries that are a locus of contagion, which has meant an increased rate of infection," she said.
After finishing the permanent meeting of the Presidential Commission against Covid 19 in Miraflores Palace, Delcy Rodríguez analyzed the imported cases who are returning to Venezuela from Ecuador, Colombia, Brazil, Chile and Peru.
Of the 64 people who came to Venezuela infected, 47 came from Colombia, 4 from Brazil, 8 from Ecuador and 5 from Peru. "So far, 41,933 Venezuelans have returned to the country. Among them, 220 positive cases have been detected." The epidemiological cordon is being strengthened to guarantee the mandatory quarantine for all those who are coming back to Venezuela.
RELATED CONTENT: Guaido's Strategist (Juan Rendon) Received 300 Million from DEA to Pay the Mercenaries But Only Paid Out 50 Thousand
She reported that a curfew has been decreed in the Páez municipality of the Apure state from 4 in the afternoon until 10 in the morning the following day, on instructions of President Nicolás Maduro, with the aim of avoiding an exponential chain of contagion in the area.
In addition, it was decided that, at all border check points, when a person enters the country they must remain there, in mandatory quarantine for two weeks, without being transferred to their receiving states until their quarrantine ends. There will be permanent communication with the governors of all the entities of these border check points, so that these measures are rigorously respected.
She gave details of the 8 cases of community contagion:
RELATED CONTENT: China and Cuba to Accelerate First Joint Biotechnology Park
A 43-year-old woman from the Guárico state, a farmer. Said case was identified by carrying out a massive screening in the food area. She was admitted to a Comprehensive Diagnosis Center (CDI) with a treatment formula. The 26 people who work with her are also being tested.
Two cases in Santa Cruz del Este, Baruta municipality, Miranda state: A 55-year-old woman and a 55-year-old man. Rodríguez explained that, in the place, they have been doing mass screening of cases.
Three cases in Nueva Esparta state: a 26-year-old Coast Guard man, infected from the focus of the baseball academy; a 38-year-old woman, a supermarket worker in Porlamar, and another 38-year-old woman, a lawyer by profession and a public servant. All were admitted to CDI clinics.
Two cases in Zulia state: a 76-year-old man, a delicate case; and a 3 year old girl. Both are in a sentinel hospital.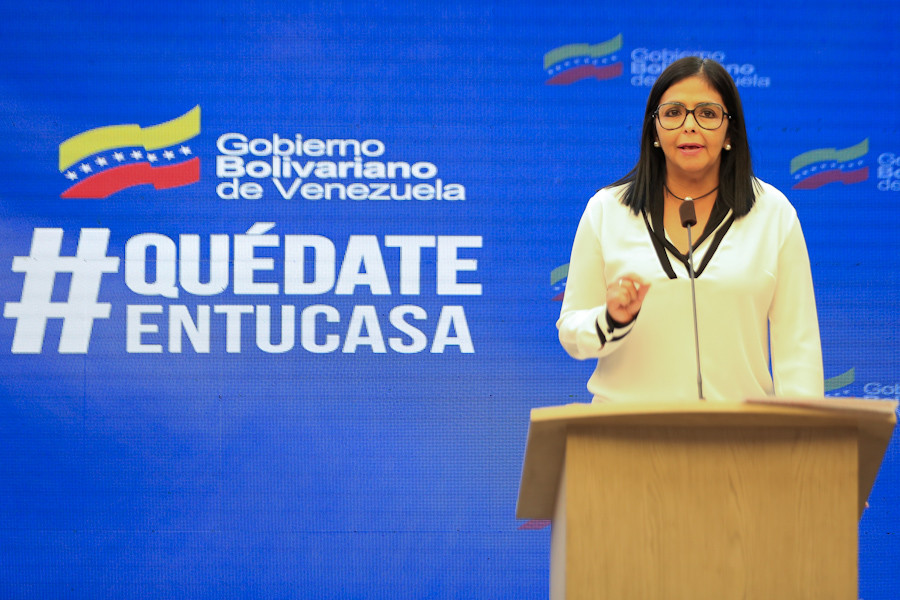 She also gave details on the five new cases are from international contact:
A 1-year-old boy from the Capital District, who had contact with an uncle who came from Colombia
A 41-year-old man from Anzoátegui, who had contact with an international traveler from Brazil.
A 63-year-old woman from Bolívar state, who had contact with a traveler from Brazil.
A 68-year-old man from Bolívar state, who had contact with a traveler from Colombia
A 51-year-old woman from Bolívar state. He had contact with an international traveler from Brazil.
To date, the country has 618 cases in total, 355 active cases and 253 people who have recovered their health. Of the active cases, 144 are cared for in sentinel hospitals, 196 in Comprehensive Diagnostic Centers, 15 in private clinics and the number of deceased remains at ten, since last April 19.
The executive vice president once again warned about the need to wear a mask to definitively stop infections.
Translated by JRE/EF