Venezuela: 981 New Covid-19 Cases and Eight Deaths on Friday
Venezulan Executive Vice President, Delcy Rodríguez, reported this Friday that in the last 24 hours 981 new cases of Covid-19 were detected in the country, of which 900 are of community transmission.
In this sense, Delcy Rodríguez said that the number of community cases are distributed as follows by states:
Capital District 422

Miranda 184

La Guaira 78

Zulia 61

Barinas 31

New Sparta 22

Anzoátegui 20

Guárico 19

Amazon 18

Bolivar 11

Delta Amacuro 10

Yaracuy 7

Carabobo 6

Sucre 4

Portuguese 3

Aragua 2

Merida 1

Apure 1
RELATED CONTENT: Divisions and Threats
In this regard, the Vice President highlighted that the Capital District is the state with the highest peak, reporting 422 cases, "all the parishes increased the number of cases." In this sense, she highlighted that Catia has 62 cases, El Valle 55, Recreo 29, Paraíso 26, San Juan 25, San Pedro 21, Car 20, 23 de Enero 18, Caricuao 17, La Vega 15, Antímano 15, Santa Rosalía 11, La Pastora 11, Altagracia 10, Candelaria 10, Junquito 9, San José 7, Macarao 7, San Agustín 7, Santa Teresa 5, San Bernardino 2.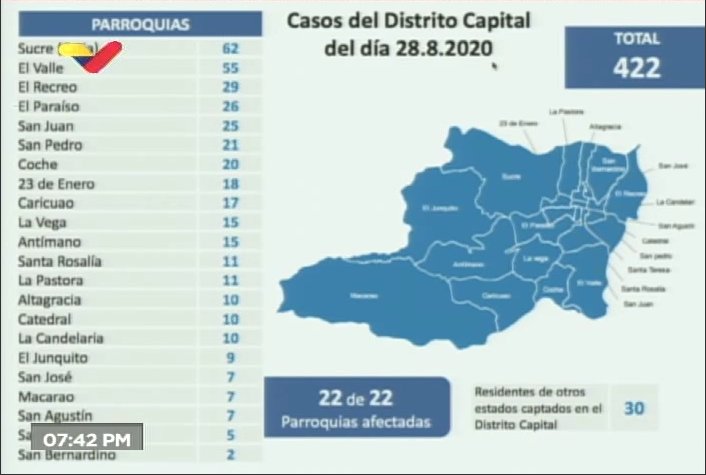 Vice President Delcy Rodríguez also reported 81 imported cases in the country in the last 24 hours, 73 of them from Colombia, 4 from Peru, 3 from Ecuador and 1 from Brazil.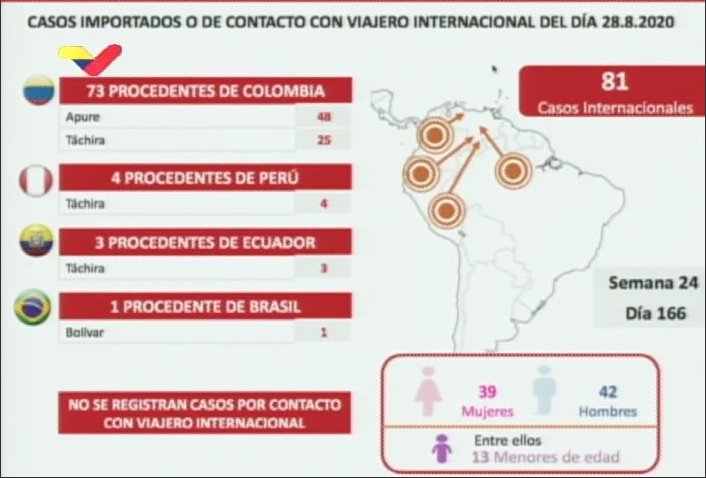 RELATED CONTENT: "I will Not Leave AD": This is How Governor Laidy Gómez Reacted to her Expulsion from the Party
Regarding the unfortunate number of deceased people, the senior official of the Bolivarian government indicated that "8 compatriots died from the virus due to Covid-19: 4 from Apure, 3 from Carabobo and 1 in Miranda, for a total of 366 deaths.
Rodríguez also highlighted that to date, 43,879 cases have been confirmed in Venezuela, with a total of 34,970 recovered patients and 8,541 active cases.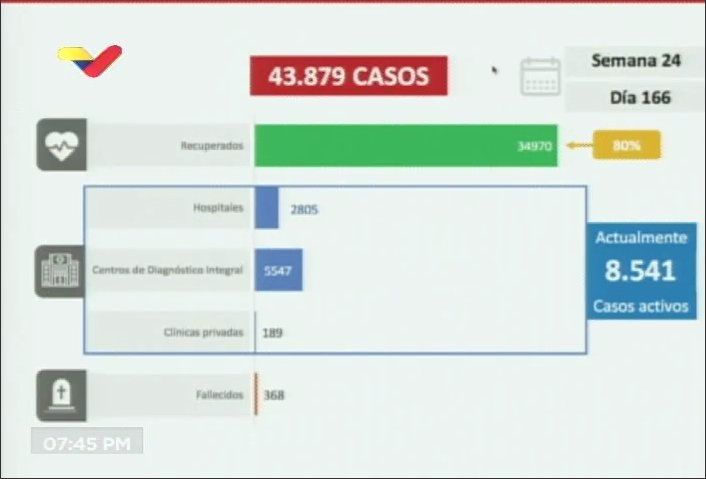 Delcy Rodríguez also reiterated that Covid-19 "is a lethal disease, a highly contagious virus, so the appeal is to individual conscience," she emphasized.
The total from cases since the beginning of the pandemic in Venezuela is 43,879 cases.
Featured image: A new 24/7 testing facility was open also today in "El Poliedro", Caracas. Photo by Prensa Presidencial.
Translation: OT/JRE/EF