Officials of the United Nations system in Venezuela, along with representatives of the Venezuelan Ministry for Foreign Relations, received this Friday the third flight with humanitarian technical assistance sent by the United Nations (UN) in cooperation with the government of Switzerland, with medical materials and water, sanitation and hygiene supplies to respond to the COVID-19 pandemic.
The flight, coming from Switzerland, is part of the airlift established between the Bolivarian government together with UN agencies for the prevention and fight against the pandemic, and in support of the different programs carried out by Nicolas Maduro's government.
The reception of the 94 tons of humanitarian cargo was in the charge of Jorge Arreaza, Minister for Foreign Relations, Yván Gil, Vice Minister for Europe, Peter Grohman, Resident Coordinator of the UN system in Venezuela, and Didier Chassot, Swiss ambassador to the country.
RELATED CONTENT: UN Human Rights Council Approves Resolution Against Racism One Month Later – Concerns About Loose Use of "Terrorism"
Foreign Minister Arreaza insisted that Venezuela, as well as other countries that are attacked, need multilateralism and the United Nations to respond to the peoples at times when attacks and sanctions have increased.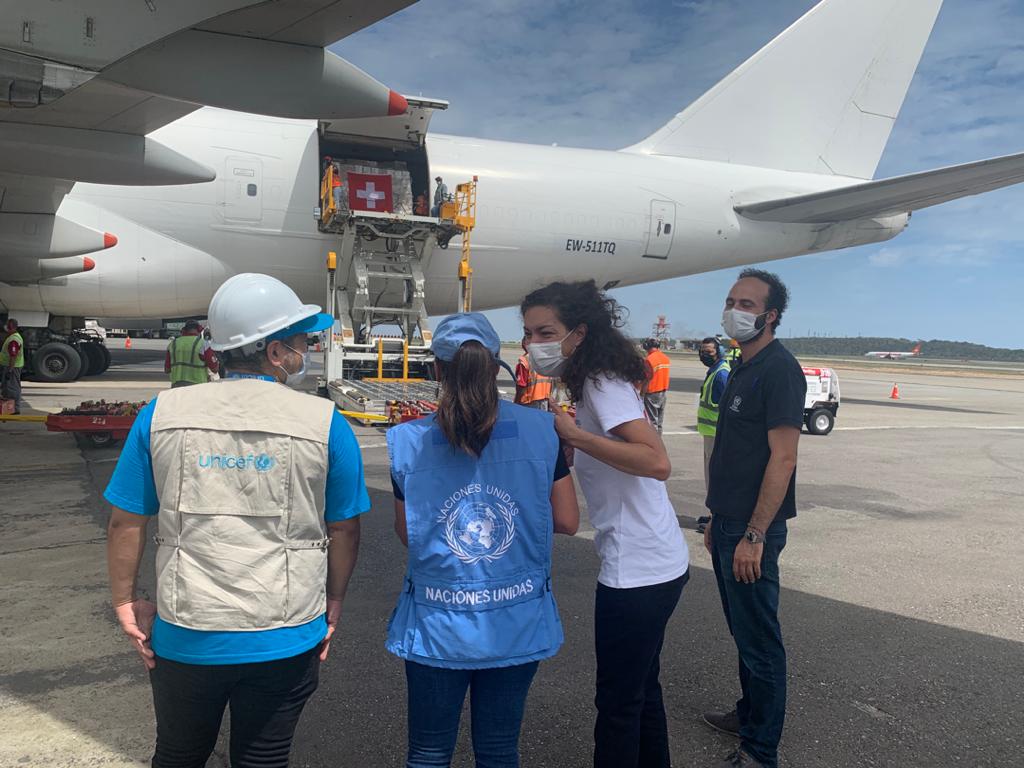 He added that "during these pandemic months, the Secretary General of the United Nations, the High Commissioner for Human Rights, the special rapporteurs, the President of the General Assembly, among other actors, have requested the lifting and relaxation of illegal sanctions and blockades against the countries that are attacked by the United States (…) However, what they [the USA] have done is to tighten and multiply them."
He stressed that in moments of blockade and attacks is when the United Nations must set the example of continuing to assist the peoples, and that is when it must fight for multilateralism.
RELATED CONTENT: US Sanctions Mexican Companies for Their Ties to Venezuela – US Sanctions on Food (CLAP)
During the arrival, the UN representative in the nation, Peter Grohman, thanked the governments of Venezuela and Switzerland for facilitating the delivery of this new shipment of humanitarian assistance.
He specified that 94 tons of humanitarian assistance arrived in the South American country to respond to the contingency generated by COVID-19, thanks to the collaboration of the World Health Organization (PAHO / WHO), of the United Nations Fund to Children (Unicef), the United Nations Population Fund (Unfpa), the International Organization for Migration (IOM), and other humanitarian organizations.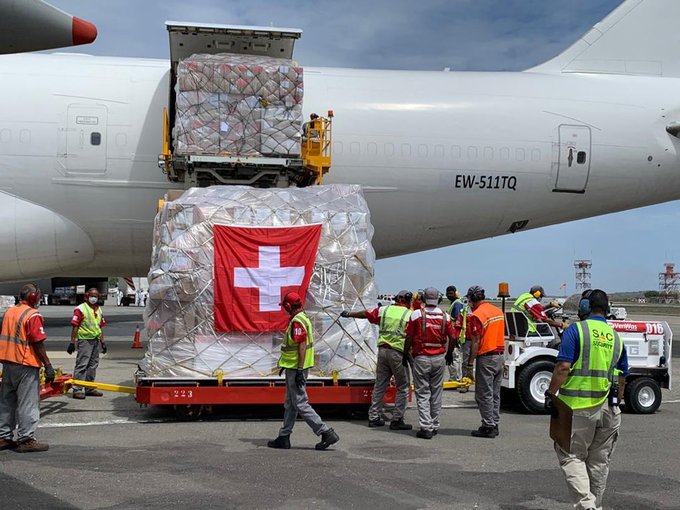 "This third shipment that arrives in Venezuela is thanks to the collaboration of the international community (…) hopefully this can strengthen the health system and can provide assistance to those who need it most, in a transparent manner and responding to their main needs," he pointed out.
For his part, Ambassador Chassot expressed the satisfaction of the Swiss Confederation in organizing the flight with Venezuela and the United Nations. "This operation demonstrates the firm commitment of Switzerland, its humanitarian commitment and good practices (…) It is important that all actors mobilize to support these efforts," he said.
OT/JRE/EF