Exclusive: Jesus Santrich Responds With an Open Letter to All Who Question Him
Note: Originally posted on Sep 10, 2019, 1:12 AM . Republished due to technical issues.
The FARC ex-combatant and promoter of the "new guerrilla" armed uprising announced in a video on August 29, Jesus Santrich, has issued an open letter to which Sputnik has had exclusive access, where he responds, for the first time, to several questions about him.
He accuses former president Juan Manuel Santos of "ordering the shooting of Alfonso Cano in total defenselessness after being captured in combat" and confirms that he returned to the mountain to avoid being extradited. "I knew that my capture was readied for the date of my appearance before the Supreme Court on July 9."
"Fuck his farce!" the FARC leader stressed in part of the letter, his whereabouts are unknown since July this year when he left his security scheme after his extradition was requested by the US for allegedly committing a crime of drug trafficking after the signing of the Peace Accords in November 2016. "It is surely easy for them to accuse us of being the ones who breach the Agreement and the commitment of our word because we are not waiting for them to continue killing us," says the ex-guerrilla in this regard, insisting that this episode about his foreseeable detention "is part of the betrayal" that pushes them to rearmament.
RELATED CONTENT: Bolivarian Continental Movement Supports FARC-EP Decision to Return to Armed Struggle
Seuxis Pusias Hernández Solarte, given name of Santrich, was chosen by the FARC to travel to Havana as a delegate and was one of its three representatives in the CSIVI (Commission for Impulse and Verification of Implementation ) created from the Agreements of Peace between the Government of Juan Manuel Santos and the guerrillas. This entity was responsible for verifying its implementation.
On the meetings in Havana, Santrich assures in this open letter, the first public statement with this level of sincerity and thoroughness in his statements, that "there is no one with a sense of wisdom who can obscure or deny that I personally put all possible effort into the construction and impulse to the implementation of the Agreements." And he adds a significant detail unknown until now on one of the most controversial points during the negotiation in Cuba: the total disarmament of the guerrillas. On this issue he says he never agreed and describes it as a "strange arrangement regarding the delivery of weapons that, certainly, I never shared, and I still do not share."
As one who was a member of the Colombian House of Representatives since June of this year, he affirms that this peace treaty "was evidently betrayed, with breaches stained with innocent blood of people who believed in reconciliation." This statement, as well as the feeling of betrayal of the agreements by the Colombian government, was the trigger for the video issued on August 29 for the number two of the FARC, Iván Márquez, to announce to the world the return of the second Marquetalia (the emblematic place where the FARC were born more than fifty years ago) and "a new stage in the armed struggle." Next to Márquez, in that viral video, Santrich, Hernán Darío Velasquez, aka "Paisa" and another twenty men armed with rifles appeared.
RELATED CONTENT: Are we Facing a War Between Colombia and Venezuela?
In his letter, Santrich uses very hard words against the former presidents Santos and Álvaro Uribe Vélez. "They never wanted peace, not even Nobel laureate Juan Manuel Santos, who ordered the shooting of Alfonso Cano in total defenselessness after being captured in combat; much less the paramilitary of body and soul, Álvaro Uribe Vélez, that yes, drug gangster who helped Pablo Escobar export cocaine to the US by authorizing the operation of airstrips as Director of Aerocivil." For his part, President Iván Duque is being called "pocket wrestler", "inept" and "dangerous for being bungling and easily manipulated."
"All bandits, they and their cronies, who, clothed with false moralism, forged betrayal," says the former guerrilla at the end of his text, assuring that they are not in a warlike attitude but also not in one of resignation, in a more political tone following the line of their last appearance on August 31, in a second video of the organization, and to which Sputnik had exclusive access and where he asked for a new transitional government to begin a new dialogue for peace that includes all the social actors of the country. In that sense, Santrich requests that his recent approaches to "find judicious ways to the political, economic and social problems that are undoubtedly getting worse in the country" be quietly analyzed.
Below is the letter in Spanish: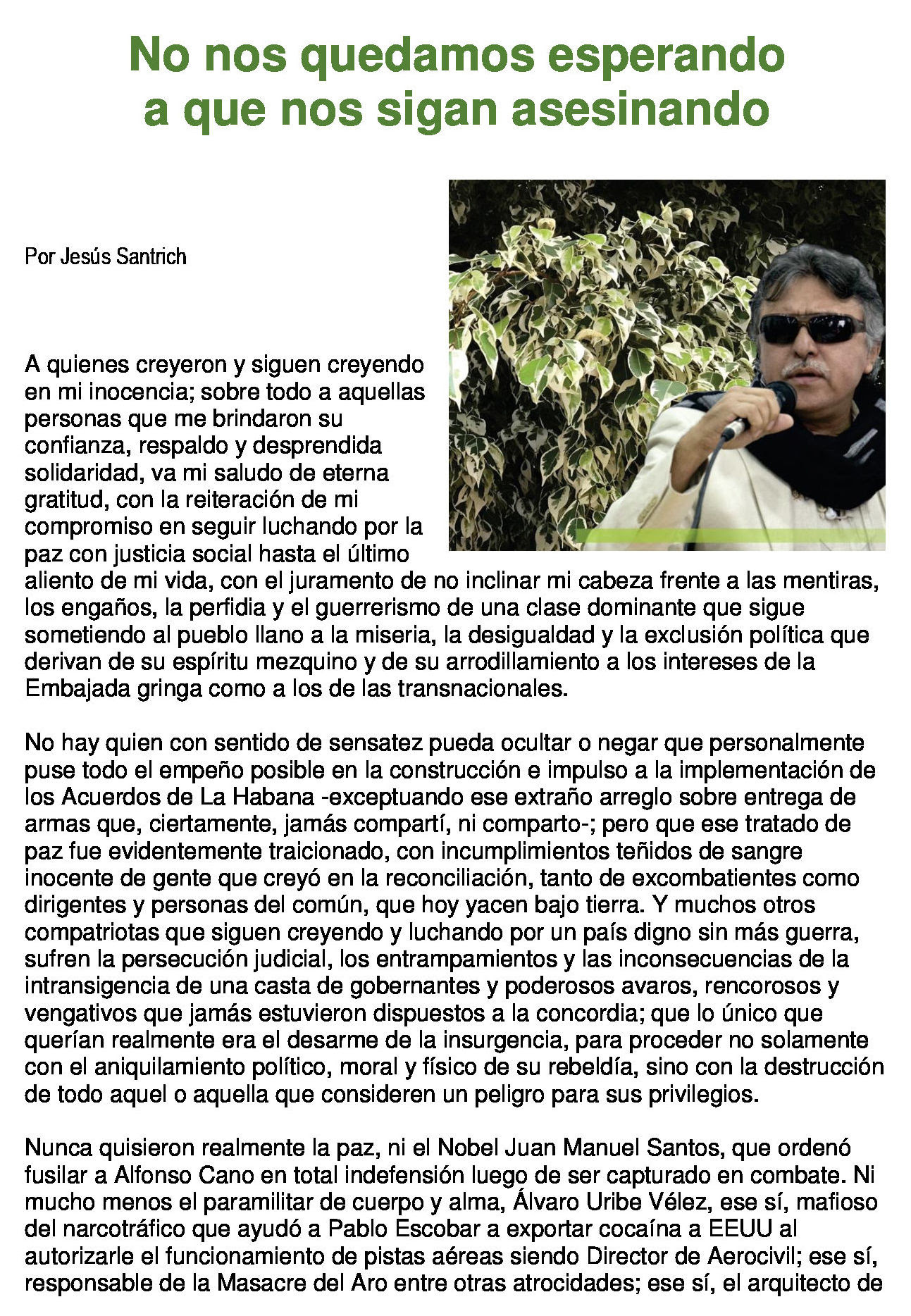 Translated by JRE/EF