The new president of the Plurinational State of Bolivia, Luis Arce, appointed his new ministerial cabinet on November 9, after taking office this Sunday.
Sixteen new officials were appointed, in a ceremony held at the Casa Grande del Pueblo, in La Paz; three are women and thirteen are men, some of them former parliamentarians:
RELATED CONTENT: Venezuela Recovers its Embassy in La Paz (Videos)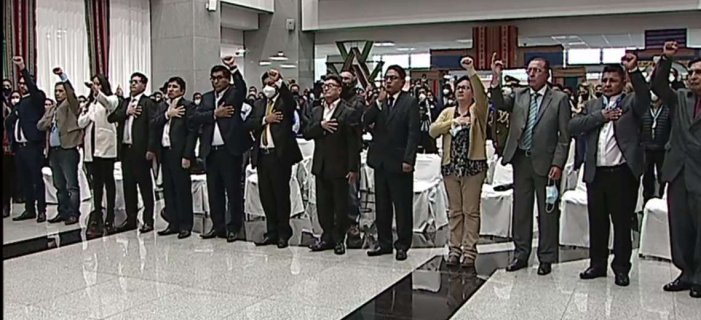 Minister of Foreign Affairs: Rogelio Mayta
Minister of the Presidency: María Nela Prada
Minister of Government: Carlos Eduardo del Castillo
Defense Minister: Edmundo Novillo
Minister of Planning: Felima Gabriela Mendoza
Minister of Economy: Marco Alejandro Montenegro
Minister of Hydrocarbons: Franklin Molina
Minister of Productive Development: Néstor Huanca
Minister of Public Works: Edgar Montaño
Minister of Mining: Ramiro Villavicencio
Minister of Justice and Institutional Transparency: Iván Manolo Lima
Minister of Labor: Verónica Patricia Navia
Minister of Health: Edgar Pozo
Minister of the Environment: Juan Santos Cruz
Minister of Education, Culture and Sports: Adrián Rubén Quelca
Minister of Rural Development: Wilson Cáceres
The directions that the new ministers were received from President Arce in an urgent brief on the status of each ministry, due to the terrible economic and health situation left by the de facto government of Jeanine Áñez.
Featured image: Photo courtesy of La IguanaTV.
Translation: OT/JRE/SL