This Tuesday, after a tour of the National Center for Social Action for Music (CNASPM), headquarters of Venezuela's world-renowned music program El Sistema, Venezuela's first lady and deputy, Cilia Flores, alongside the first lady of Colombia, Verónica Alcocer García, highlighted the will of Venezuela and Colombia to work together to explore the development of El Sistema in Colombia.
During the tour in CNASPM, located in Caracas, Flores stated that Venezuela is eager to expand the El Sistema program throughout Colombia. Within Venezuela, instead of "the first lady," Flores is frequently referred to as "la primera combatiente" (the first combatant).
"We are going to work together so that the orchestras develop much more," said Flores, "with all the support that can be provided from Colombia and Venezuela, all the solidarity with El Sistema's board of directors, all the information and whatever is required. We are all at your service here, first lady, so that you can take this experience to Colombia."
Presidents of Mexico and Colombia Criticize Arms Shipments to Ukraine
In her speech, Cilia Flores greeted the delegation that accompanied the first lady of Colombia, who "is observing and taking note to—together with President Petro—develop [El Sistema] in Colombia and utilize music as a reference for part of the life of Colombia and Venezuela, nations that are so similar in this matter."
Forty-eight years of El Sistema
During the tour, the contributions of the National System of Youth and Children's Orchestras and Choirs of Venezuela to the social development of the Venezuelan people could be witnessed.
"We have seen all along the way how great this extraordinary system is," said Flores. "Its workers have kept this orchestra alive for 48 years."
The tour on the CNASPM was one of the activities carried out by the first lady of Colombia, Verónica Alcocer, on her first official visit to Venezuela.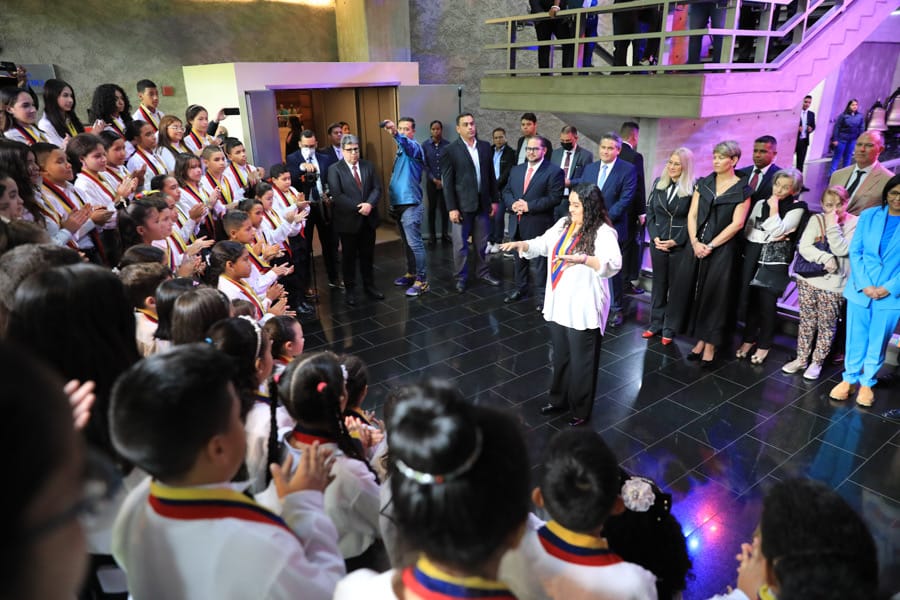 The attendees also enjoyed a varied cultural agenda with music from Venezuela and Colombia. During the tour, different ensembles performed: the Simón Bolívar Symphony Orchestra, Singing Children from Piso Negro,  Alma Llanera Orchestra, and Caracas Big Bam, among other groups, according to a press release .
The event was also attended by the Vice President of Venezuela Delcy Rodríguez, Minister for Culture Ernesto Villegas, and Executive Director of El Sistema Eduardo Méndez, among other dignitaries.
Colombia's President Petro Meets President Maduro for 2nd Time in Miraflores (+ELN)
Meeting with President Maduro
Subsequently, the Colombian first lady held a meeting with President Nicolas Maduro at Miraflores Palace, as reported by local news outlets.
Afterwards, President Maduro posted a message in his social media accounts reading: "Pleasant meeting with Verónica Alcocer, first lady of the Republic of Colombia. We are pleased to receive her and share our perspective on the struggles for equality and justice for women among the new challenges we face."
Grato encuentro con Verónica Alcocer, Primera Dama de la República de Colombia. Estamos complacidos de recibirla y compartir nuestra visión sobre las luchas por la igualdad y la justicia de las mujeres y los nuevos retos que tenemos. pic.twitter.com/GnOTLNxrzx

— Nicolás Maduro (@NicolasMaduro) January 31, 2023
(Últimas Noticias) with Orinoco Tribune content
Translation: Orinoco Tribune
OT/JRE/SL