This Friday, February 26, a total of 92 adults and three infants who were in Trinidad and Tobago in a vulnerable situation arrived in Venezuela on a humanitarian flight of the Vuelta a la Patria program, carried out by the Venezuelan Consortium of Aeronautical Industries and Air Services (Conviasa).
This was reported by the president of the Venezuelan flag-carrier airline, Ramón Velásquez Araguayán, from the Simón Bolívar International Airport in Maiquetía, where fellow Venezuelans were received following strict biosafety protocols established to contain the spread of COVID-19.
He specified that to date 23,113 nationals have returned to the country for free through this humanitarian plan, unprecedented in the world.
#EnVideo 📹 | Un total de 95 compatriotas que se encontraban en situación de vulnerabilidad, arribaron este #26Feb a Maiquetía, procedentes de Trinidad y Tobago 🇹🇹, en una nueva jornada del #PlanVueltaALaPatria.#27FRebeliónVictoriosa pic.twitter.com/xITSWxDYrM

— Cancillería Venezuela 🇻🇪 (@CancilleriaVE) February 27, 2021
RELATED CONTENT: European Union Declares Venezuelan Ambassador Claudia Salerno 'Persona Non Grata'
Venezuelan opposition politicians and "free press" have launched a campaign again trying to criticize the Trinidadian government for delaying permits for the flights to return to Venezuela, while most of the time they say nothing about similar restrictions or difficulties imposed on Conviasa by countries belonging to the pro-United States Lima Group.
In spite of all the obstacles imposed on Venezuela by governments that do not wish to understand the humanitarian vision of the Bolivarian government, in the coming days flights will be scheduled to repatriate Venezuelans from Ecuador, Chile, Peru and Argentina.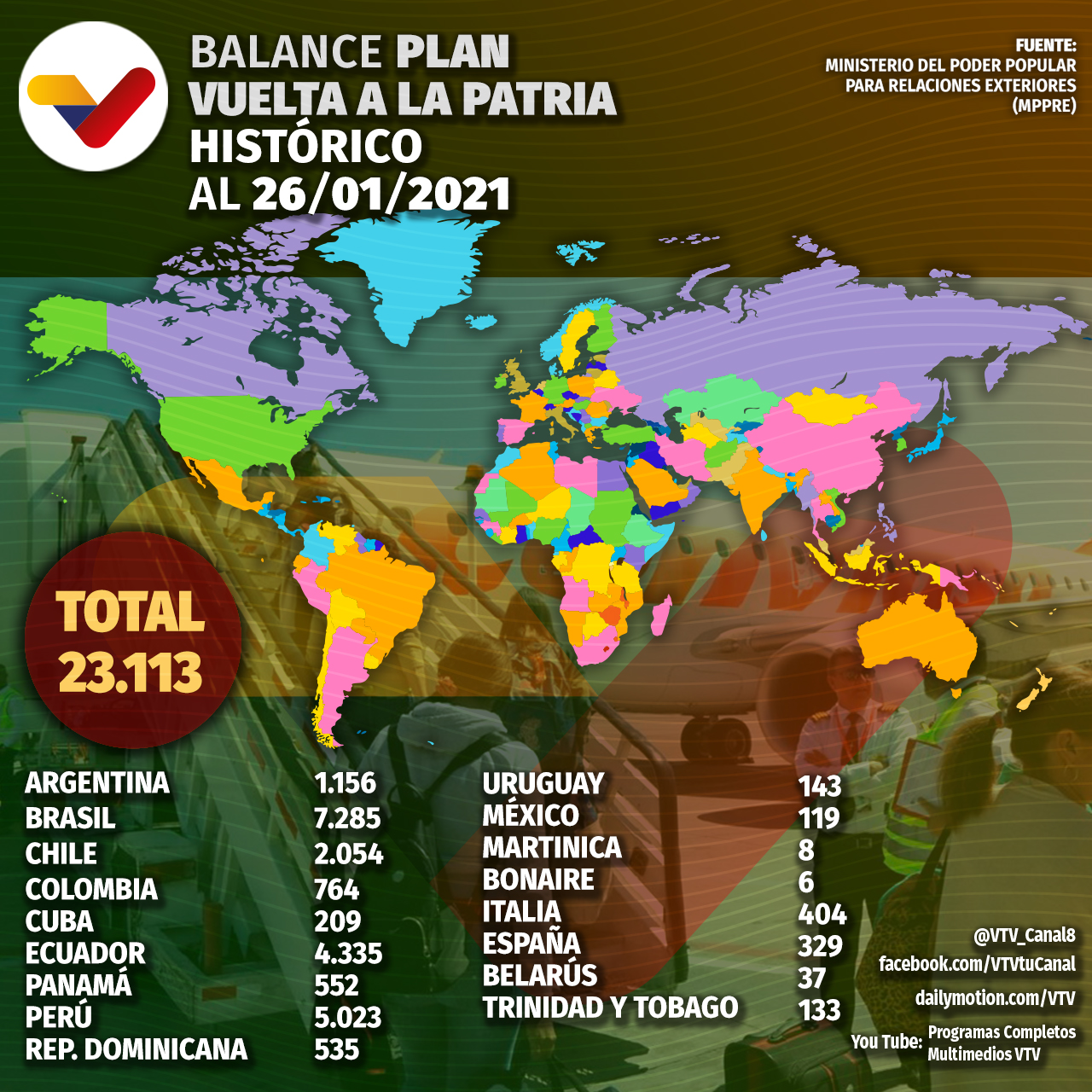 "To all Venezuelans who have requested to return to the homeland through this plan, I ask you to have faith that we are programming and executing the flights necessary to bring you safely to your homeland," indicated the president of Conviasa.
RELATED CONTENT: Gaza Suffers $1.5m Losses as Israel Open Floodgates, Destroys Crops
For their part, the Venezuelans who have returned through this plan expressed their gratitude to the government for this humanitarian initiative that allows them to start over in their land and work for the country.
Conviasa to open flights from Maracaibo to Panama
On Friday, February 26, the authorities of La Chinita International Airport in Maracaibo (Zulia state) congratulated the Venezuelan Consortium of Aeronautical Industries and Air Services (Conviasa) and wished the organization the greatest success for the reactivation of its international operations of this air terminal.
Hoy #26feb @CONVIASA reactiva sus operaciones internacionales en el @AeropuertoZulia, con ruta Maracaibo-Panamá-Maracaibo. Las autoridades del terminal aeroportuario felicitan a la aerolínea por el inicio sus vuelos deseándoles éxitos a toda su fuerza laboral @OmarPrietoGob pic.twitter.com/uTQZiT5TLX

— Aeropuertolachinita (@AeropuertoZulia) February 26, 2021
On its Twitter account, the air terminal specified that said reactivation is carried out with the Maracaibo-Panama-Maracaibo route affected due to the COVID-19 pandemic.
Featured image: Venezuelans returning for free from Trinidad and Tobago thanks the government for free air tickets provided by Nicolás Maduro administration.
(VTV) with Orinoco Tribune content
Translation: Orinoco Tribune
OT/JRE/OH/SC