Gender Equality Guaranteed for 6D Parliamentary Elections
In order to guarantee gender equality in the candidacies for the parliamentary elections of December 6, the president of the CNE, Indira Alfonzo explained that the same mechanism adopted 5 years ago will apply:
"The application of candidacies will be required in a formula of 50% for each sex; and if this is not possible, a band will be applied that will have a minimum of 40% and a maximum of 60% for each sex."
Likewise, the methodology will be applied to all the modalities established for this election — nominal, regional lists and national award lists, added Alfonzo.
Likewise, the information was provided during a videoconference in which women belonging to 23 organizations with political ends participated together with electoral authorities.
En las próximas elecciones se exigirá la postulación de candidaturas en una fórmula de 50% por cada sexo; aplicable a todas las modalidades de esta elección, así garantizamos que puedas elegir entre hombres y mujeres quién te representará en la #AsambleaNacional2020 pic.twitter.com/2KznOZm9Me

— CNE.ve (@ve_cne) July 29, 2020
RELATED CONTENT: CNE Presented Automated Application System for Political Parties (6D Parliamentaries)
Constitutional equality
Also, during the meeting the participants highlighted that through the National Constituent Assembly, organized women were able to introduce their demands into the national constitution.
"New rights contained in international treaties and conventions were incorporated and it was drafted in non-sexist language, which would make women visible and favor the creation of an imaginary of gender equality in the country," said Alfonzo.
Likewise, the Organic Law on Electoral Processes of 2009 establishes in article 3 the principle of equality. In addition, the general regulation of the law of 2010 provides in its article 45 that:
"Applicant organizations will seek an equal and alternate composition of fifty percent (50%) for each sex," she added.
Politics with a woman's voice
Likewise, the virtual meeting participants celebrated the initiative of the electoral power to establish mechanisms for the participation and representation of women.
RELATED CONTENT: Iranian Hypermarket Megasis Opens its Doors in Venezuela With a Variety of 3,000 Items – "Free Press Screams"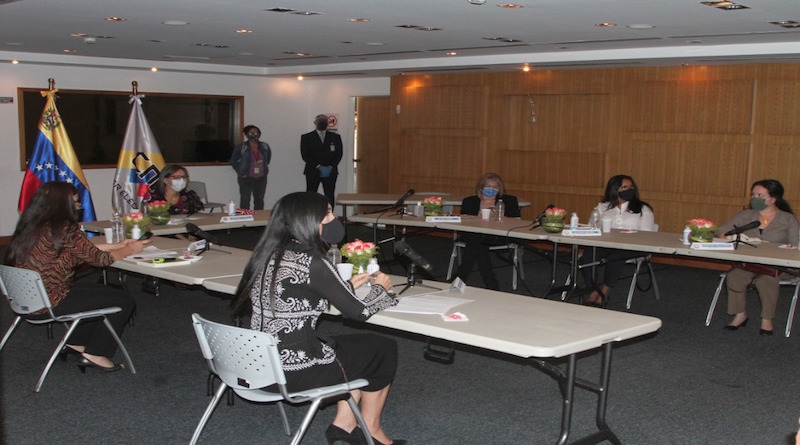 Also, Verónica Brito, representative of Cambiemos, said "Let's try to work in our spaces and political organizations to promote new female leaders."
On the other hand, Nirma Urrieta, from the Venezuelan Popular Unity (UPV) political party, stated that "we have enough leadership and we have qualified women to fill these positions."
Finally, the rector Indira Alfonzo summoned the political parties to "assume the commitment to take a further step with parity and alternation and gender equality in the registration of candidacies."
La Presidenta Alfonzo hizo el llamado a las organizaciones con fines políticos participantes en la elección de la #AsambleaNacional2020, a asumir el compromiso de dar un paso más adelante con la paridad y alternabilidad de género en la inscripción de candidaturas. #CNE

— CNE.ve (@ve_cne) July 30, 2020
President Alfonzo called on the organizations with political ends participating in the election of the National Assembly 2020 to assume the commitment of taking a step forward with gender parity and alternation in the registration of candidacies. #CNE
Fine tuning more details
The list with the names selected to be members of polling stations in the parliamentary elections on Sunday, December 6, has already been published by the National Electoral Council (CNE) on its website.
The election was held on July 23 with the presence of the representatives of the 107 organizations for political purposes in the nation.
Featured image: File photo
Translation: OT/JRE/EF