Guyana Received US Request to Broadcast "Voice of America" Illegally to Venezuela
The President of the Republic of Guyana, David Granger, reported this Friday that he received requests from the United States government to use amplitude modulated (AM) radio frequencies to transmit programs of The Voice of America (international radio and television service of the United States government, considered a propaganda mechanism of said government, with presence in more than 100 countries) from Guyana to Venezuela. Granger said he rejected the request, due to security, health and political risks that Guyana could be exposed to with Venezuela.
"Given the size of the unguarded western border, the influx of refugees, the unresolved territorial issue and the risks to public health, it would not be in our national interest to do anything to contribute to destabilizing relations at this time," said Granger in statements released by Demerara Waves news outlet.
In a correspondence dated April 1, 2020, Guyana's Ministry of Foreign Affairs sought guidance from that country's Ministry of Telecommunications to respond to a request from the US government's board of broadcasting governors, requesting to use a Guyana's broadcast medium wave tower (antenna) to "reach the populations in Venezuela."
RELATED CONTENT: Florida Senator Marco Rubio Lambasted for Honoring Memory of John Lewis With Wrong Photo
The document was published this Saturday by the Venezuelan Foreign Minister, Jorge Arreaza, on his twitter account.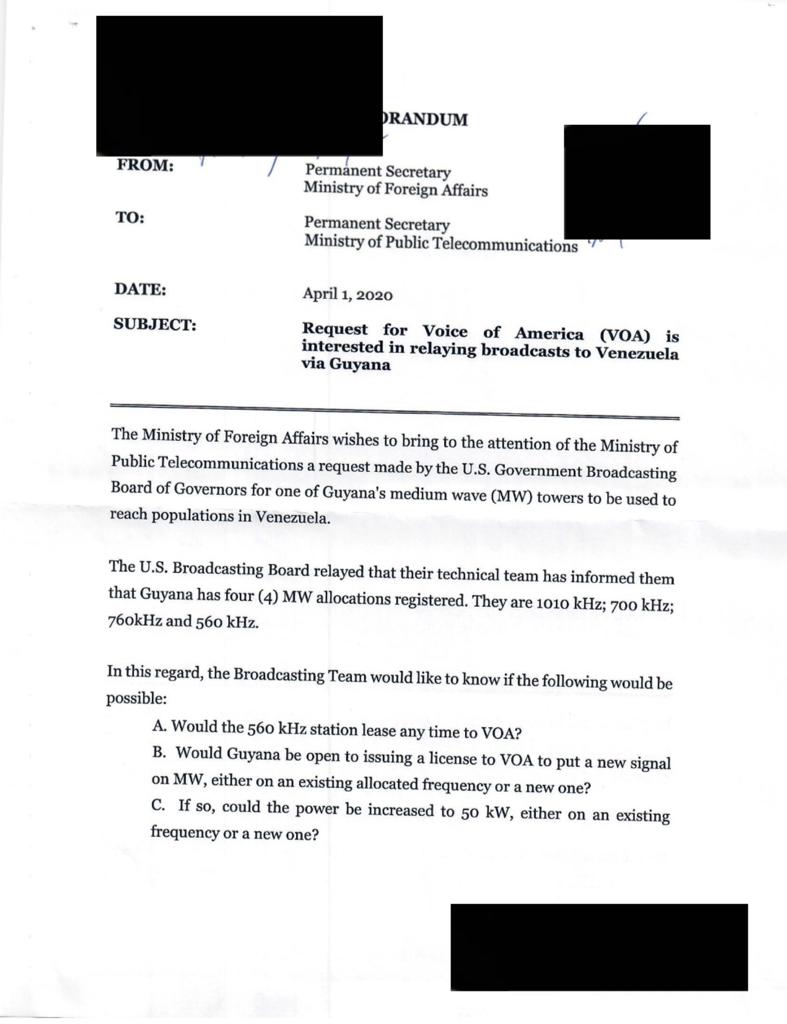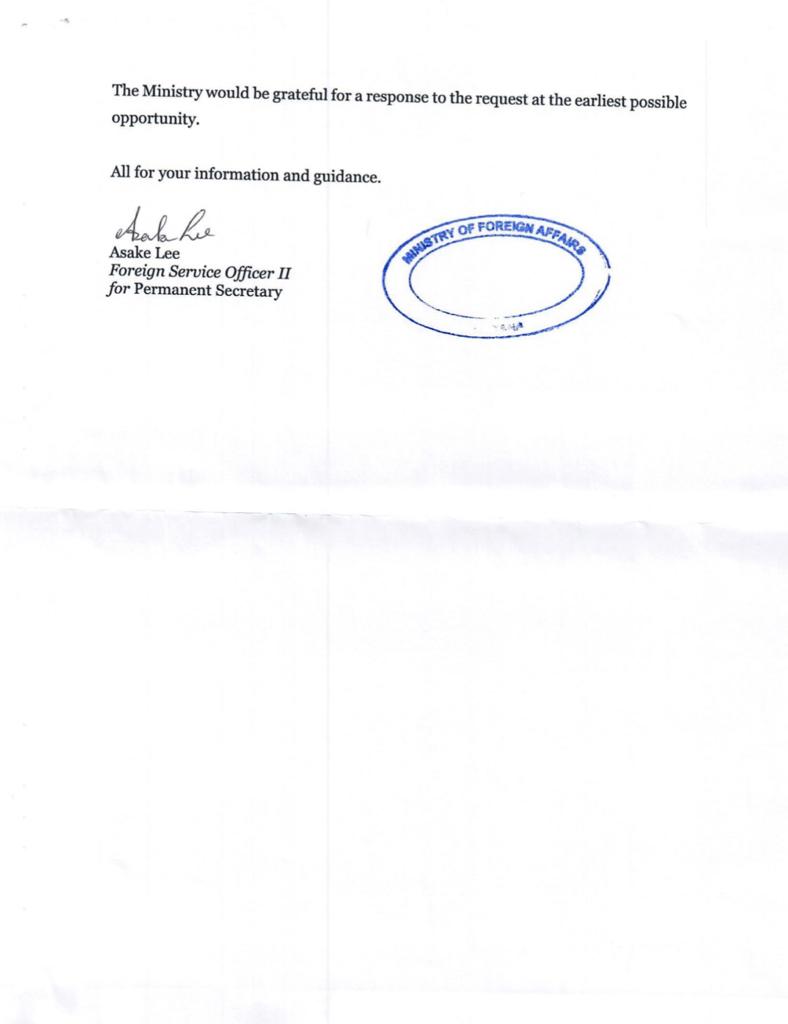 The document states that Guyana has four medium wave antennas (1010, 700, 760, and 560 KHz), the US wanted to know if the 560 KHz station could be leased by The Voice of America, and if Guyana would be open to issue a license to them to put a new signal in medium wave, either on an existing frequency or on a new one, and if so, whether the transmit power could be placed at 50 kilowatts.
Este memorándum del 1 de abril entre la Cancillería de Guyana y el Ministerio de Telecomunicaciones, comprueba que se recibió y estudió la solicitud del Gobierno de EEUU de usar infraestructura guyanesa para transmitir ilegalmente la señal de @VOANoticias hacia nuestro país. pic.twitter.com/gTsNIKvxCg

— Jorge Arreaza M (@jaarreaza) July 18, 2020
The 560 KHz frequency is in the amplitude modulated (AM) range, which can be received on a common radio, and is still widely used in rural sectors of Venezuela. The AM frequency has a much greater range than the modulated frequency (FM), although the audio quality is lower.
A spokeswoman for the US embassy said to Guyana's news outlets that the US government was no longer interested in the project. "The United States Agency for Global Media is no longer actively considering this. It is important that the people of Venezuela have access to uncensored news from credible Venezuelan and international journalistic news sources," she said.
Propaganda
The Voice of America is the international radio and television service of the United States government. It is headquartered in Washington DC, and is considered one of the largest broadcasting groups in the world, being available in more than 100 countries and in more than 60 languages. Scholars and commentators have defined the station as a propaganda tool at the service of the United States government.
The news that the United States wanted to install a Voice of America transmission point in Guyana came weeks after Venezuela's government accused the United States of interfering in its electoral process as part of a very public plan to remove the government of Nicolás Maduro from power. The US ambassador to Guyana, Sarah-Ann Lynch, on Thursday denied the Guyana government's claims and said: "We are focused on Guyana. It has nothing to do with any other country."
Guyana, a country very sympathetic to the US government and US corporate interests, has withheld the electoral results from the latest presidential race that took place more than four months ago, on March 2nd, 2020. This extremely unusual irregularity has not raised attention from mass media, US or European government, nor from the infamous OAS, in contrast with the coverage and attention they give to any incident in progressive governments on these matters.
"Venezuela, disregarding all the propaganda, has free access to information for all, you can read and watch any leftwing or rightwing news outlet via internet (local or international) in Venezuela, so this latest move by the US regime only seems to feed the already exhausted media campaign against Venezuela. Not to mention all the paid propaganda the US regime or extreme right news outlets direct against Venezuela with clear political motivations," a political expert said to Orinoco Tribune.
"Actually US sanctions have to be blamed for the most recent censorship in Venezuela when the US corporation DirecTV unilaterally and illegally decided to shut down operations in Venezuela, leaving approximately 10 million Venezuelans without the chance to watch dozens and dozens of US and international TV channels," he added.
They check illegal US policies
For his part, Venezuelan Foreign Minister Jorge Arreaza said this Saturday that the United States government's intention to transmit content from The Voice of America from Guyana "confirms the complaint by President Nicolás Maduro about the illegal policy announced by US envoy for Venezuela to invade our radio space. The Guyanan government acknowledges that it received Washington's request and refused to lend itself to destabilize Venezuela."
He accompanied the message with the memorandum of last April 1 between the Guyana Foreign Ministry and the Ministry of Telecommunications, where "the request of the US Government to use Guyanese infrastructure to illegally transmit" the signal of the Voice of America, is verified.
Featured image: Medium wave antenna. File photo.
(Alba Ciudad) with OT content
Translation: OT/JRE/EF