Venezuelan President, Nicolás Maduro, reported 408 new cases of Covid-19 registered in the last 24 hours in Venezuela. 396 are of community transmission, 11 are people who returned from Colombia with the infection, and 1 person from contact with international travelers, bringing the total number of infections to 11,891. He also reported 2 deceased. 241 cases are from Caracas (61 percent of today's total).
The President gave some details of the 241 cases in the Libertador municipality of Caracas. He noted that:
38 cases are in El Valle

36 cases in Sucre parish (Catia)

16 in La Vega

11 in Altagracia

8 in Coche

8 at El Recreo

8 in 23 de Enero

7 in Santa Rosalía

There are 45 people who are from other states but were detected in the Capital District
"Caracas is full of coronavirus," said President Maduro.
He also reported 63 cases in the Sucre state:
55 in Cumaná

5 in Carúpano

3 in San Antonio del Golfo
42 were detected in mass screening sessions for contacts of positive cases linked to the Cumaná market.
In the Miranda state there are 46 cases:
25 in the municipality of Sucre (Petare)

6 in Baruta municipality

3 in Guatire

2 in the municipality of Brión

1 in the municipality of Acevedo

1 in the municipality of Guaicaipuro

1 in the municipality of Los Salias

1 in El Hatillo
15 cases in Carabobo state
6 in Puerto Cabello

2 in Valencia

2 in Naguanagua
He also noted 9 cases in Cojedes
5 cases in San Carlos

4 in Tinaquillo
Also:
9 cases in the state of

La Guaira

6 in

Trujillo

4 in

Zulia

2 in

Anzoátegui

1 in

Delta Amacuro
Imported cases
The President reported 11 people who returned from Colombia with the infection, and 1 person was contacted by international travelers, for a total of 12 imported cases.
RELATED CONTENT: Venezuela Receives Humanitarian Aid From Turkey
Deceased
The President explained that there were two deceased:
68-year-old man in the San Pedro parish, in Caracas. Painter. No travel history or apparent contact with travelers. He went daily to an alley in his community to play dominoes. History of lung disease.

39-year-old man from Maracaibo, from the Chiquinquirá parish. Aeronautical technician, resident of downtown Maracaibo, with various per-existing conditions.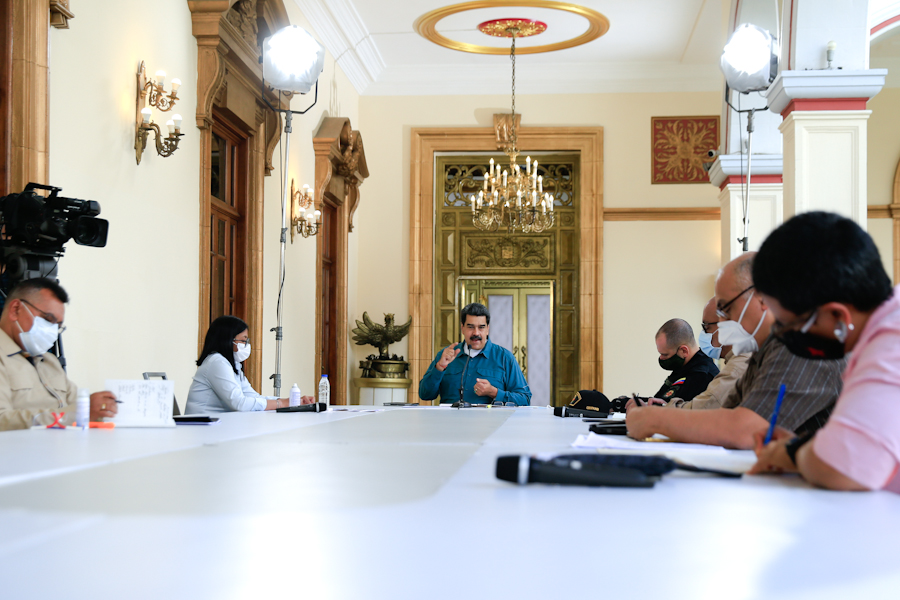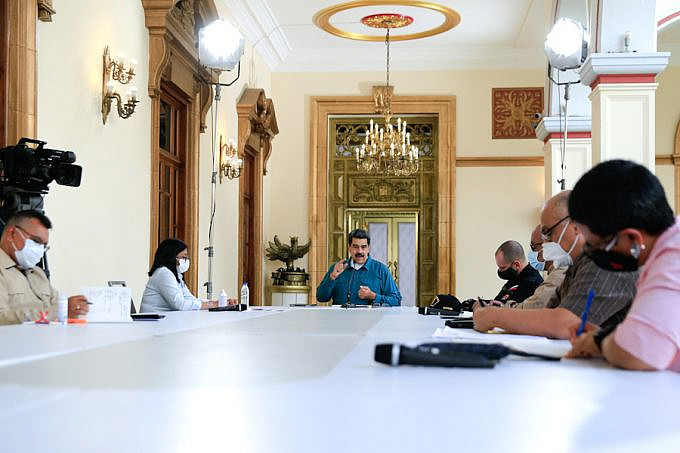 Increase of cases in Caracas
Regarding the significant increase in cases in the Venezuelan capital, Maduro pointed out that they increased in part due to the way some people who came to the country from the PASI (points of comprehensive social care at the borders), were transferred to hotels to quarantine there. But then they took their stay there "as if it was a vacation", receiving visits from family and friends, which helped spread the infections.
He also pointed out that the increase in infections was partly caused by "trocheros" or people who returned to the country on irregular roads, without passing through checkpoints or quarantining.
Another cause – Maduro points out – are the parties and parties that some people and families organize, in which the virus spreads very easily. President Maduro also criticized those who wear the mask incorrectly or refuse to use it, as well as those who believe that the coronavirus does not exist.
Figures
President Maduro also gave data on confirmed cases:
Zulia: 1,341 confirmed cases, 1,059 recovered

Caracas: 1,124 confirmed, 457 recovered

Miranda: 593 confirmed, 491 recovered

Sucre: 403 confirmed, 131 recovered

Bolívar: 283 confirmed cases

Aragua: 195 confirmed cases

Carabobo: 179 cases

Lara: 156 cases

Merida: 172

Anzoátegui: 118

In Apure there are 1,189 cases recovered because it is a comprehensive social access point, where a large wave of people entering the country was treated, explained the Minister of Health, Carlos Alvarado.

I point out that in Táchira there are 825 recovered cases and 200 cases of active patients in PASI. In Zulia there are 235 positive patients. These are "imported" patients (people from Colombia).
Entry of people to the country
During the presentation, the vice president Delcy Rodríguez reported that there are 70,926 people who have entered the posts of comprehensive social care (PASI) legally in Venezuela.
"Due to the illegal passage of more than 30,000 compatriots through the illegal trails, controlled by paramilitaries, drug traffickers and the Colombian government, thousands of sick compatriots have passed without control," Maduro said. "We have called them 'trocheros.' They have brought the virus to entire cities and states."
"We have located over 800 'trocheros.' We estimate that 3,000 to 4,000 entered the country already ill. They have been tested for the safety of themselves and their relatives."
Jorge Rodríguez, Venezuelan Minister of Communication, pointed out that, of the almost 71 thousand people who have returned to the country through legal channels, 4,559 were found to have Covid-19 (6.4%). If another 70,000 people entered the country through illegal trails, "it is most likely that 6% or more are infected with Covid-19," he said. These people, some 4,500, "could infect 120,000 more people in a 21-day period if the controls in the country did not exist. "
Maduro recalled that, according to the Constitution, all compatriots have the right to return to their homeland, complying with the country's legal protocols. That is why the borders cannot be closed or they cannot be prevented from returning, as many have suggested.
"Trocheros"
Faced with criticism from some members of the Catholic Church about the controls applied to those who return to the country, President Maduro recalled that the PCR test, which in other countries is charged at $ 200, is performed in Venezuela for free and is performed 3 times on the people who arrive in the country (the first time on arrival, repeated a few days later and then when they arrive at their ultimate destination)," so that they can reach their family healthy." They are paid for bus and plane tickets, "to make them feel comfortable."
The head of state explained, in the face of criticism for allegedly criminalizing those who enter the country when he has used the expression "Colombian virus", that "we always receive and accept criticism, however unfair it may be. If anyone was offended by any expression that was said, we apologize. The objective was not to offend, but to raise awareness, express concern and take care of the health of Venezuelans.
A
radical quarantine of seven days throughout the country

begins this Monday.

President Maduro announced that this Monday begins the radical quarantine of seven days throughout the national territory under the reopening 7×7 scheme. In this sense, only the essential sectors of food, health, telecommunications and services will be working.
Elliott Abrams plan
The Venezuelan President a nounced that, in the next few days, tweets and pronouncements of famous singers and artists will begin to appear to speak ill and attack Venezuela, a plan announced by Elliott Abrams, alleged "special envoy" for Venezuela appointed by the government of the Stated States.
Given the plan attempted by that country to install an AM radio signal from Guyana to transmit The Voice of America, Maduro said: "Abrams, Venezuela is a free country. Here is the press, radio, television. 80% of Venezuelan television is private and anti-Chavista. 85% of the radios are private and anti-Chavistas. The same for the written press. Social networks are managed by you. Despite all that, you are thinking like in the 80s. Whatever you do, in Venezuela the conscience of the people will prevail, the sacred light lit by Commander Chávez guides us, the truth of Venezuela!"
Featured image: President Maduro during his message to the nation on Sunday, July 19. Courtesy Prensa Presidencial.
Translation: OT/JRE/EF