Mexico's newly-inaugurated president Andrés Manuel López Obrador has ordered the creation of a truth commission to re-examine one of the country's most notorious unsolved crimes: the kidnapping and presumed murder of 43 trainee teachers who disappeared after they were attacked by cartel gunmen and corrupt police officers.
The president promised the commission will investigate all angles of the September 2014 attack in the city of Igualá, 185 km (115 miles) south of Mexico City, which targeted students from the Ayotzinapa college. 
The incident was one of the most infamous crimes committed during the government of López Obrador's predecessor Enrique Peña Nieto, becoming a symbol of rampant impunity and injustice amid the country's militarized war on organized crime.
Families of the missing students repeatedly expressed their frustration with the official investigation, which was based partly on confession obtained through torture, and which was not allowed to examine the activities of the Mexican army on the night of the attack.
"I assure you there will be no impunity in this sad, painful case nor in any other," López Obrador said at announcement in the National Palace.
"I hope that we will soon know the truth. That there's justice and an example is set so never again human rights are violated in our country, so that no other Mexican suffers the disappearance of their children."
Peña Nieto's government attempted to enshrine an official version of the incident –described as the "historical truth" – which found that the missing students bodies were destroyed in a massive fire at a rubbish dump, but independent forensic experts found that there was no evidence to support that narrative.
On Monday María Martínez, mother of missing student Miguel Ángel Hernández Martínez, asked the president to "pull us from this garbage dump Enrique Peña Nieto left us in".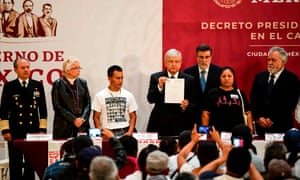 López Obrador was sworn in Saturday in a ceremony rich in symbolism and long on promises. The man commonly called Amlo declared dead Mexico's "neoliberal" era and spelled out a 100-point plan – everything from building trains and refinery to providing students with stipends to calming the country.
López Obrador also received the "staff of command" from Mexico's indigenous communities, whose concerns, the president said, would come first.
He opened the former presidential palace Los Pinos to the public, where thousands poured in to watch his swearing in, stroll the gardens and tour the empty mansion in which López Obrador refuses to live.
López Obrador has made austerity his calling card. He travels in a chauffeured Volkswagen Jetta and takes commercial flights. The presidential aircraft, a Boeing 787, was flown out of the country Monday and will be put up for sale.
On Monday, he held his first early morning news conference at 7am, in keeping with his pledge to end decades of secrecy. "Isn't that a change, that I am here, informing you?" López Obrador asked reporters.
He started the practice as Mexico City mayor, allowing him to dominate TV and radio news – a move compared by some to Donald Trump's tendency to start each day with a barrage of tweets.
On Monday, the US president tweeted his congratulations to López Obrador, saying: "We will work well together for many years to come!"