Paxful Suspends Operations in Venezuela due to US Sanctions (Petro)
Paxful, the peer to peer (P2P) platform for the purchase and sale of bitcoins, announced on Monday, September 14, the total suspension of any transaction with Venezuela, in response to the sanctions imposed by the United States government. "Hello. It's really unfortunate. These are regulations and sanctions related to OFAC (US Office of Foreign Assets Control). We also hope to return soon!" Paxful responded to one of the Twitter users who regretted the platform's decision.
In a message sent this Monday at 2:00 pm (Venezuelan time) to its users in the South American country, Paxful stressed: "Starting on September 16, 2020, we would like to give you 30 days to withdraw your funds. During these days you can do it without any type of fees or charges. We will notify you directly with more details on how to do this.
"Venezuelan users who have completed the address verification and confirm that they are living abroad, will be able to continue making transactions in Paxful," the communication adds.
RELATED CONTENT:Venezuela Works on Foreign Debt Payment Under US Siege with a "Conditional Offer" (PDVSA + Electricidad de Caracas)
The platform does not clarify whether the suspension is due to the measures that the United States has implemented against the Venezuelan government. However, it points out that due to increasingly severe restrictions it is impossible for them to continue operations in Venezuela.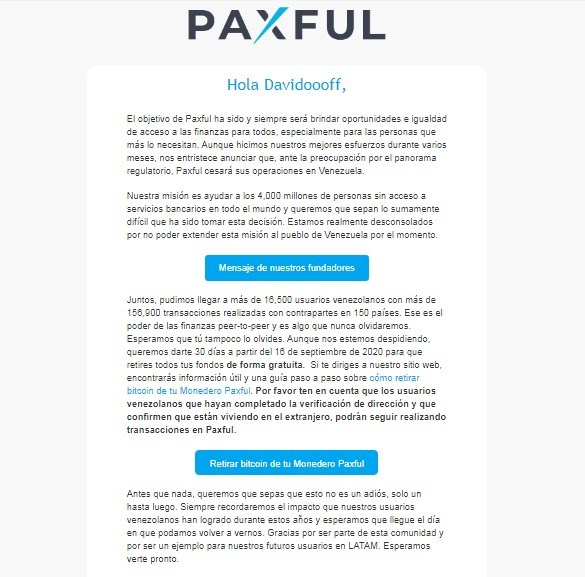 To its more than 16,500 users in the country, it said: "This is not goodbye, just a see you later," and "we hope the day will come when we can meet again."
RELATED CONTENT: Venezuela Arrests "CIA Spy" on Oil Refinery "Stakeout"
Paxful, a platform based in the United States, a country that maintains a financial and economic blockade against the South American nation, had already suspended its payment services with the "Banco de Venezuela," the website Morocotacoin reported on June 10. "Offers that mention or refer within the method of bank payment transfers to "Banco de Venezuela" will be deactivated," Paxful reported in a statement sent to its clients via email.
Paxful and other suspensions amid the blockade
Since the United States decided to impose an economic and financial blockade against Venezuela, various exchange platforms among other companies began to distance themselves from the Caribbean nation.
A Venezuelan user of the Paxful platform received an email on August 3 of this year where they informed and warned him that from that moment on he was not allowed to "trade" with exchanges that are related to the Petro. "This is to remind you that Paxful does not allow its users to trade anything related to the Petro cryptocurrency. Our compliance team works with third parties to monitor this, so please do not receive or send funds to or from your Paxful account to any exchange that is related to the Petro," Paxful reported.
The Petro cryptocurrency was launched by President Nicolas Maduro to deal with US sanctions and the US blockade but a few days after its approval it was subjected to US sanctions by the US Treasury. Besides US sanctions, the Venezuelan official cryptocurrency has evolved and is currently accepted by local and international crypto exchanges.
Paxful warned that if it detected a transaction with the exchanges related to the Petro, it would suspend the user's account "and may report the information to US authorities."
Featured image: File photo.
Translation: OT/JRE/EF