Guaido's Chief Strategist Admits US Involvement in Failed Mercenary Operation in Venezuela
In an interview on CNN this Wednesday night, the chief strategist for Juan Guaido, Juan José Rendón reported, without intending to, the involvement of the US government in the paramilitary incursion on Sunday, May 3 on the Venezuelan coast. When asked about the contract signed between him, the opposition deputy Juan Guaidó and Jordan Goudreau, owner of the US mercenary firm SilverCorp to hire their "services" and execute an armed incursion against Venezuela, Rendón admitted that the document, signed in October 2019 "was an exploration to see the possibility of capture and delivery of justice for members of the regime who have an arrest warrant " However, the arrest warrants were issued 5 months later, in March 2020, implying that cooperation with the US Department of Justice was required to execute the plan.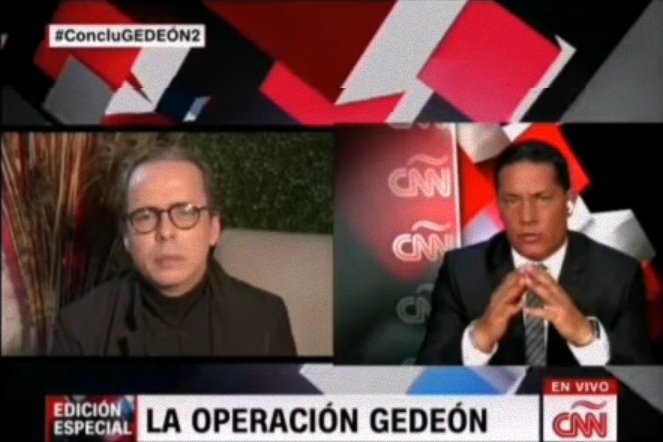 This was reported by the vice president of communication of Venezuela, Jorge Rodríguez, at a press conference this Thursday, where he offered new information about the failed incursion on May 3.
Rendón, a fugitive from Venezuelan justice and specialist in black operations, was interviewed this Wednesday, May 6, on the Conclusions program broadcasted by the CNN en Español news network. When questioned by the journalist Fernando del Rincón about the signing of the contract last October 2019, he expressed that he signed it and it "was part of a preliminary agreement that did not become effective but it is my signature (…) In what did it consist? It was an exploration to see the possibility of capture and delivery to US justice members of the regime with arrest warrant.
RELATED CONTENT: Is Juan Guaido Being Sacrificed? Revealing the Key Politics of the Failed Mercenary Incursion
⚫️JJ Rendón reconoce que contrataron a mercenarios para atacar a Venezuela.
• Con esto deja al descubierto y en ridículo al propio Guai$ y su equipo político y de periodistas.
•JJ reconoció su crimen en dos templos del periodismo para la oposición: CNN y The Washington Post pic.twitter.com/Qo93h4lJuB

— Tania Valentina Díaz🏠😷 (@taniapsuv) May 7, 2020
In this regard, Jorge Rodríguez argued: "You (Rendón) say that you signed that contract in October 2019, and you signed it to carry out an action against people prosecuted by the US justice. How did you know about the bounty in advance, if the barbaric bounty offer from the US Department of Justice is from the month of March of this year ? How did you guess that this was going to happen?"
As it will be remembered, on March 26, 2020, the US Department of Justice issued arrest warrants against the Venezuelan President, Nicolás Maduro; Diosdado Cabello, Tareck El Aissami, Néstor Reverol, Joselit Ramírez, Luis Motta Domínguez and other Venezuelan officials and former officials, asking for rewards of between 10 and 15 million dollars for some of them. It also issued arrest warrants against Clíver Alcalá and Hugo Carvajal, who were officials of the Venezuelan government but are sought for different crimes by the Venezuelan justice system.
The arrest warrants were issued on March 26, a day after Jorge Rodríguez issued a press conference in which he denounced the existence of camps in Riohacha, Colombia, in which characters such as Clíver Alcalá, Antonio Sequea, Robert Colina and two US advisers trained a significant number of paramilitaries to attempt a coup in Venezuela.
In this regard, Venezuelan Foreign Minister Jorge Arreaza tweeted this Thursday : "The pieces fit. Signatories to the famous October 2019 contract confess that the objective was to arrest members of the government with arrest warrants. Those unfounded orders of the US Justice were announced on March 2020. That was the green light for acts of violence."
Without these arrest warrants, the mercenary incursion in Venezuela would not have made sense, so there must have been some type of coordination, cooperation or communication between the US government and the Goudreau-Rendón-Guaidó team in order to execute the contract.
Criminal incursion was a "Trial balloon"
Rendón also gave an interview for the US newspaper The Washington Post, where he indicates that, for October 2019, the terrorist plan managed to advance with the signing of the document subordinated to other conditions, including financing.
RELATED CONTENT: China Will Not Accept Any US Invasion in Venezuela: Spokeswoman Hua Chunying
He claimed that the document was only a "scan" or a "trial balloon" to demonstrate Goudreau's capabilities. They say that it was not approved, despite the fact that everyone had already stamped their rubrics, including Guaidó. The newspaper cites that it was "an operation to capture, arrest and eliminate Nicolás Maduro (…) eliminate the current regime and install the renowned Venezuelan president, Juan Guaidó."
Although it was only a "trial balloon" for Silvercorp's, Rendón said they consulted with a dozen lawyers to learn about the legality of the mission. For this, he says that they used the "universal enemy" argument, which in times of World War II, was a method of prosecuting pirates.
Likewise, he assured that they investigated and put together a dossier on the failed attempt by the Bay of Pigs to free Cuba from the Fidel Castro government.
This plan, in addition to having the goal of capturing and sending Maduro to the United States, had as its purpose to hire the Silvercorp company to train and advise Venezuelan deserters, to execute said operation. The first steps of this failed paramilitary incursion, the US media reports, were carried out at the Rendón residence, in which Guaidó participated by videoconference.
The meetings began in September 2019. By October 16, 2019 it was finalized, as stated in the contract.
The expenses for this operation would have a value of more than 200 million dollars, which would come from future Venezuelan oil exports under a government of Guaidó.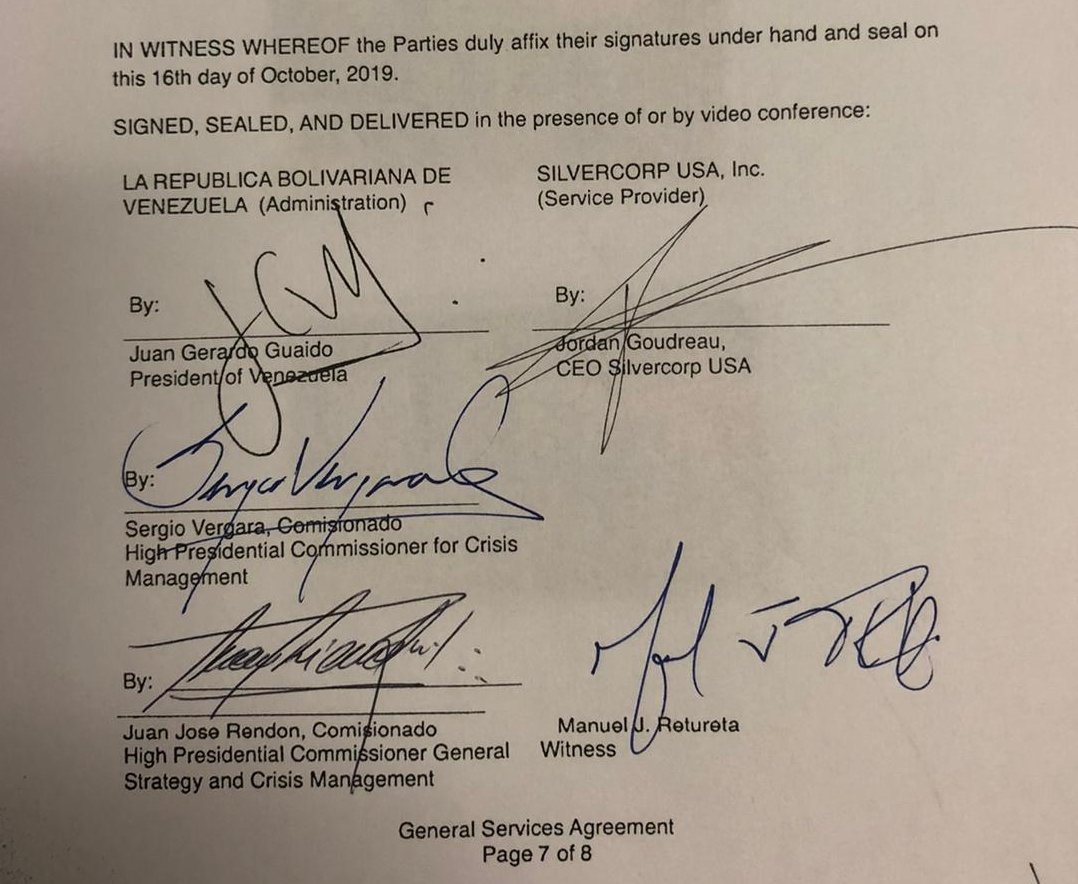 Featured image: Chief Guaido's Strategist based in Colombia, JJ Rendon and deputy Juan Guaido shaking hands a few month ago. File photo.
Translated by JRE/EF