This Saturday, March 27, marked the 377th day of Venezuela's fight against the COVID-19 pandemic. The country reported 758 new infections within the past 24 hours including 755 community cases and three imported cases, in addition to 12 deaths. The details were announced by the Executive Vice President of the Republic, Delcy Rodríguez.
With this update, Venezuela brings their total to 155,663 infections and 1,555 deaths from the viral respiratory illness during the course of the pandemic, now over a year long. Of these, 9,879 are reported as active; 9,610 receiving free care in public health system, and 269 in private hospitals.
The percentage of recovered cases remains at 93%, with 144,229 Venezuelans having overcome the disease. Rodríguez also announced 755 community cases, 400 women and 355 men, among whom 39 minors stand out.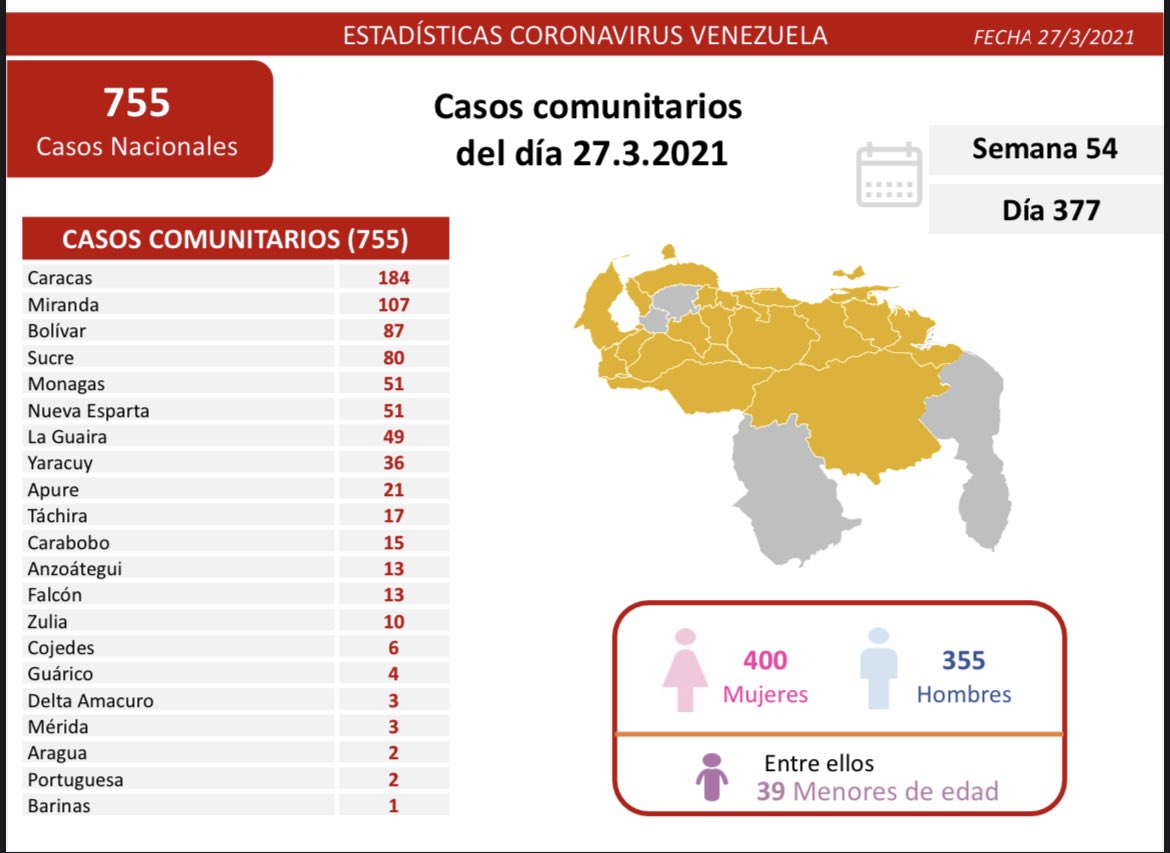 Case breakdown
Caracas is the state with the most new cases with 184. It is followed by Miranda (107), Bolívar (87), Sucre (80), Monagas (51), Nueva Esparta (51), La Guaira (49), Yaracuy (36), Apure (21), Táchira (17), Carabobo (17), Anzoátegui (13), Falcón (13), Zulia (10), Cojedes (six), Guárico (four), Delta Amacuro (three), Mérida (three), Aragua (two), Portuguesa (two), and Barinas (one).
RELATED CONTENT: Venezuela and WHO Discuss Access to COVAX Vaccines (Carvativir)
The capital city reported new infections in 19 of its 22 parishes. The positive cases recorded during the past 24 hours mainly originated in the parishes of Sucre, (38), El Valle (29), Altagracia (19), Antímano (18), Coche (11), La Vega (10), and 23 de Enero (10).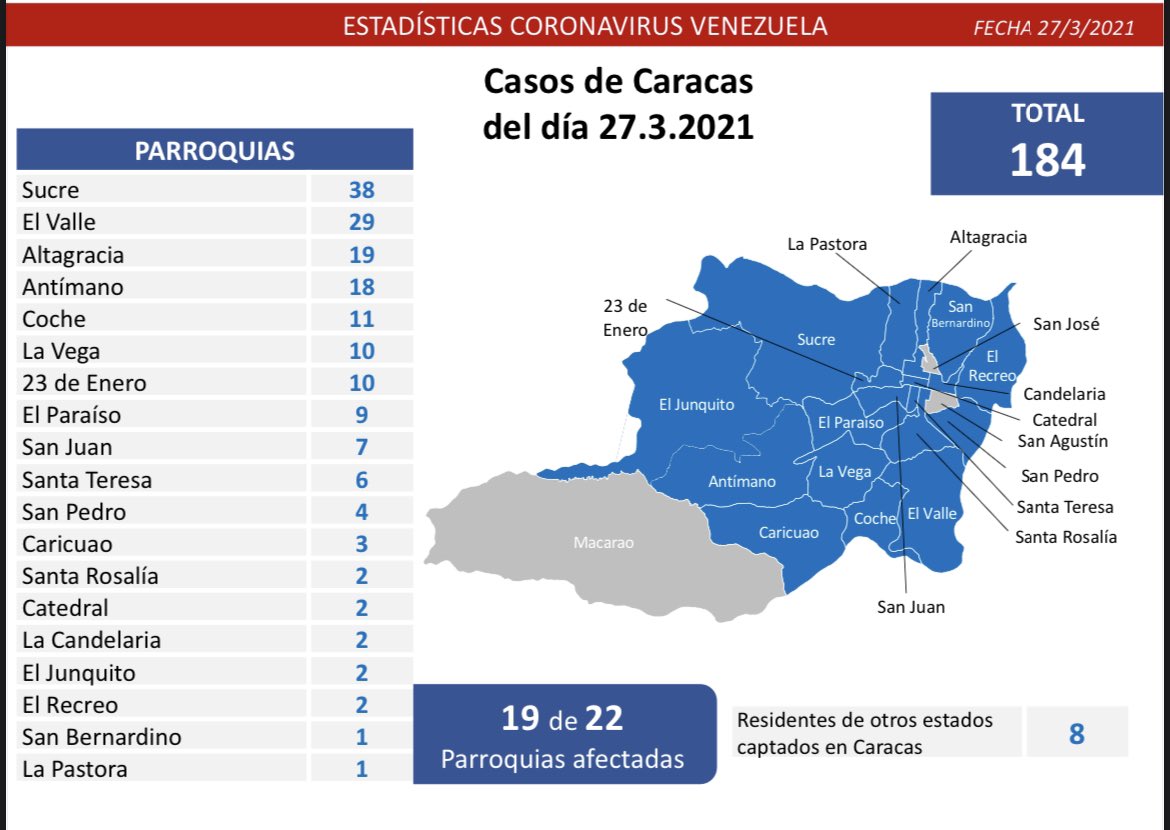 In Miranda, with the second-most new cases among states, the municipalities with the greatest number of new cases were Guaicaipuro, with 37 cases; Sucre with 27, Baruta with 11, and the Tomás Lander municipality, where nine new cases were counted.
Likewise, three imported cases were reported: two travelers from the Dominican Republic and one that arrived from Mexico. All entered through the state of La Guaira, and they include two females and one male; one is a minor.
Deaths
On day 377, for the second consecutive day, 12 deaths were also reported, bringing the total in the South American nation to 1,555 deaths due to the lethal action of this virus. Thus, Venezuela mourns the death of a 54-year-old man in the state of Miranda, a 62-year-old woman in Falcón, and a 56-year-old woman and 66-year-old man in the Capital District.
RELATED CONTENT: Venezuela Reports 30% Increase in Active COVID-19 Cases in Past Week – Two Weeks of Quarantine (Holy Week)
Venezuela also regrets the loss of two men aged 61 and 68 years in Sucre state, one man of 62 and one woman of 54 from Aragua, one 49-year-old woman and one 78-year-old man in Yaracuy, as well as one 68-year-old woman and a 67-year-old man who lived in Lara.
Taking care of the people
Vice President Delcy Rodríguez mentioned on her Twitter social media account that, in the midst of the COVID-19 pandemic, and despite the criminal blockade, President Nicolás Maduro continues to offer the Vuelta a la Patria program.
"Through this initiative 23,518 Venezuelans have been repatriated and treated free of charge by the Bolivarian Government," wrote Rodríguez. "Solidarity is the spirit of our people!"
6/7 En medio de la pandemia de la #COVID19 y pese al bloqueo criminal, el Pdte. @NicolasMaduro avanza con el Plan #VueltaALaPatria. 23.518 venezolan@s han sido repatriados y atendiendos gratuitamente por el Gobierno Bolivariano. ¡La solidaridad es el espíritu de nuestro pueblo! pic.twitter.com/HSWiSqh01C

— Delcy Rodríguez (@drodriven2) March 28, 2021
She also reported that the head of state has secured the supply of vaccines through the COVAX initiative, with the cooperation of the World Health Organization (WHO) and the Pan American Health Organization (PAHO).
She recalled that through a video conference she thanked, on behalf of the Venezuelan government and people, the Director General of the WHO, Tedros Adanom, "for his support in this tough battle against COVID-19."
Featured image: Venezuelan current strategy against COVID-19 is based on mass vaccinations—already launched—a radical but voluntary social distancing scheme, and constant epidemiological cleaning of public transportation systems, public places, and hospitals. File photo.
(RedRadioVE) by Jose Manuel Blanco Diaz
Translation: Orinoco Tribune
OT/JRE/SL