Venezuelan Government Assigns New Subsidy Through the Homeland System
Through a text message from the number 3532 of the Carnet de la Patria, the Pueblo Libre Bonus is arriving, the website of the Ministry of Popular Power for Communication and Information reported. The voucher must be accepted on the homeland system website and does not require scanning. According to its Twitter account, the bonus is 50 thousand bolivars.
This message is accompanied by this text: "Here is a PEOPLE who decided to be FREE. Let's raise our flags of struggle with dignity and courage to face adversities."
RELATED CONTENT: Foreign Intervention Still Alive: OAS Council Approves Human Rights Resolution on Venezuela (+Votes)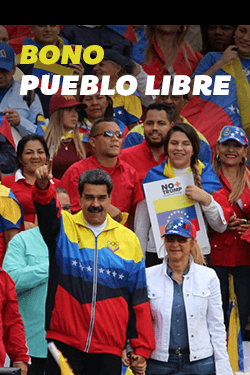 It is the third bonus that the Venezuelan government gives during the month of August (together with the Holiday Bonus and the Pueblo United Bonus ), amid a sharp rise in the parallel dollar and the official dollar, followed by a sharp increase in the price of foods. The three subsidies delivered in August have had a value of Bs. 50 thousand each.
The bonus system granted by the Bolivarian Government is a way to combat the Economic War that the right has been making to the country since President Nicolás Maduro was elected Head of State in April 2013.
RELATED CONTENT: Self-proclaimed Guaido: "There is No New Date for Resuming Norway Talks"
The Homeland System implemented by President Maduro in 2017 has registered almost 19 million Venezuelans over 18 years old. All of them -disregarding political preferences- receiving the bonuses (direct subsidies) designed by the Bolivarian Government to alleviate the harsh conditions created by US Sanctions and blockade.
Source URL: Alba Ciudad with OT content
Translated and edited by JRE/EF