On Tuesday, February 14, demonstrations took place throughout Colombia in support of President Gustavo Petro and his proposed reforms, as well as to celebrate 200 days since his arrival at the Casa de Nariño as president.
Meanwhile, the Colombian opposition announced mobilizations for Wednesday, February 15, in rejection of Petro's administration.
Marches took place amid negotiations with the National Liberation Army (ELN) to outline a permanent truce after signing a ceasefire protocol with the FARC dissidents.
The issue of peace was peripheral during President Petro's campaign. Themes of inclusion, poverty, environment and corruption were much more prominent in his message of change. However, since he launched his Total Peace policy, this became his government's priority.
Hoy los espero a las 4 pm en la plaza de armas y la plaza de Bolivar y en todas las plazas públicas del país.

Quien ganó fué el pueblo y el pueblo quiere el cambio de Colombia

Vamos por los cambios hacia un país democrático y en Paz.

Favor un RT a este mensaje. pic.twitter.com/jVnKyA9N7e

— Gustavo Petro (@petrogustavo) February 14, 2023
200 days in government
Gustavo Petro's government is the first leftist government in 200 years of Colombia's independent existence. As such, it is firmly committed to social change.
The current cabinet promotes labor, pension and health reforms to lessen the existing social disparities.
#Bogota ➡️ Así se vive la marcha a favor del Gobierno de Gustavo Petro en la capital de Colombia. Miles de personas salieron en apoyo a las reformas. #ReformaALaSalud #14february pic.twitter.com/zQNLolTkkj

— HSB Noticias (@HSBnoticias) February 14, 2023
"Petro's government changed the ruling elite in Colombia," international analysts say. "Others are in charge, with a logic different from that of the elites, and that is a gigantic advance in terms of the system's political legitimacy."
If those who voted for him wanted different people to have "their turn," Petro has delivered. His government more closely reflects the ethnic, political, regional and age composition of Colombia, and the mere change in power has legitimized institutions and democracy, they said.
Since taking office, Petro has shown that his priority is the working class and that he wants to govern from below, hand-in-hand with the communities.
This has been shown in multiple ways. In Catatumbo, Petro invited cocaleros to present their proposal for a new drug policy. The security policy is being drawn up based on the inputs communities in the regions most affected by illegal groups give the defense minister. Petro has also said that he will make a development plan based on the inputs that emerge from the binding regional dialogues.
President Petro has managed to maintain the support of those who voted for him. According to a survey by the National Consulting Center, he registers a favorability close to or greater than the 50% of the country that elected him. Iván Duque did not achieve this.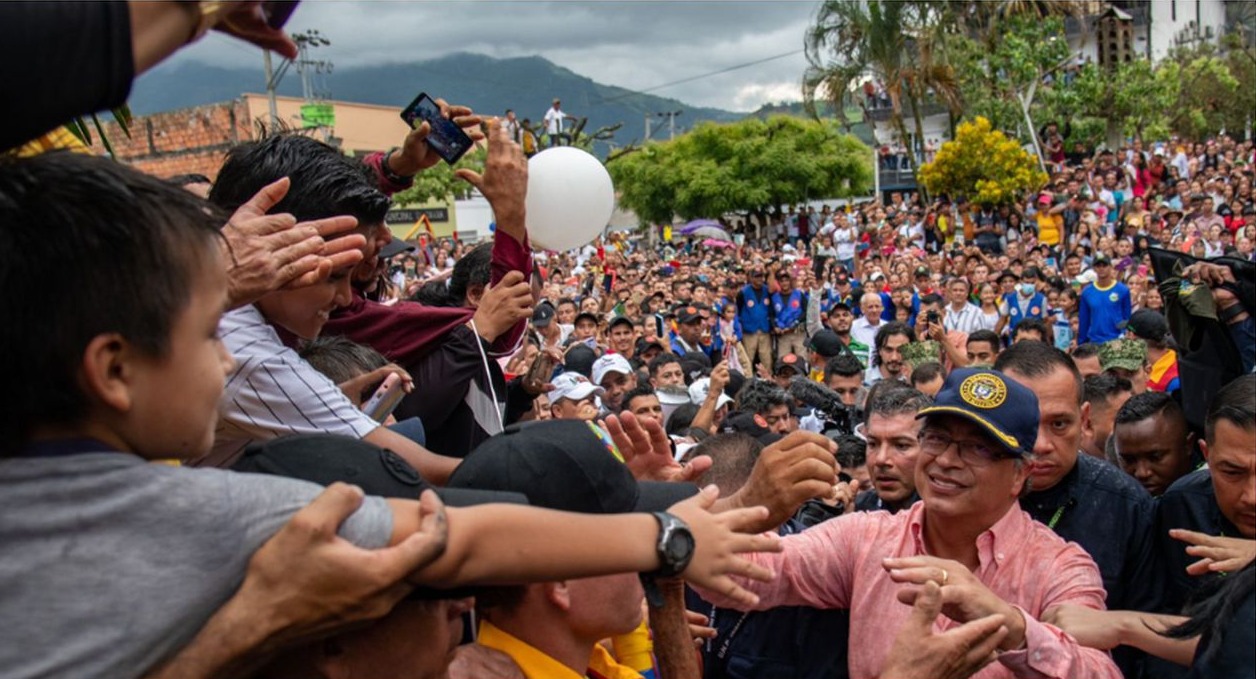 What does healthcare reform involve?
The reform of the healthcare system is considered one of the most important proposals Petro's government included in its Total Peace policy.
On Monday, February 13, the Colombian government presented the healthcare reform that, if approved in congress, aims to strengthen primary care and disease prevention and bring healthcare to all corners of the country.
Aquí el texto completo de la Reforma a la Salud. https://t.co/iFRMUeELXc

— Gustavo Petro (@petrogustavo) February 14, 2023
The proposal, called The Change towards Health for Life, consists of 152 articles and is governed by the principle of universality.
President Gustavo Petro indicated that his administration's reforms will be universal so that no Colombian is excluded.
(RedRadioVE) by Dubraska Esteves
Translation: Orinoco Tribune
OT/JRE/SF