A new fake news operation was launched on some social media platforms by local and international far-right outlets regarding Venezuelan President Nicolás Maduro's visit to Brazil, when a journalist working for said outlets falsely spread the idea that President Maduro's security team supposedly attacked a Brazilian journalist.
The event was reported this Tuesday night, May 30, at the Itamaraty Palace in Brasília—the building housing the Brazilian Foreign Ministry—at the end of the Summit of South American Presidents, called for by Brazilian President Luiz Inácio Lula da Silva. At the end of the summit, an irregular situation arose between the security personnel stationed in Itamaraty Palace and a number of journalists trying to get a statement from the Venezuelan head of state.
A ver , en que momento el escolta del Presidente Maduro le da el "Puñetazo en el pecho " a la Periodista , si el esta de espaldas ?
Ya empezaron con el show , queriendo sabotear .
🤡🤡🎪 https://t.co/FaWc7EEoS7

— La Nen@ (@LaKstaana) May 31, 2023
A video began to spread on social media platforms in which a group of journalists, confirmed to be without accreditation, are seen pushing past others to try to enter the building and reach President Maduro. However, Brazilian security agents prevented them from doing so.
The unaccredited journalists forced a struggle between Brazilian security agents and and the group of reporters. The controversy began immediately afterwards, when Brazilian journalist, Delis Ortiz, accused one of the guards of punching her in the chest.
President Maduro Advances Busy Agenda in Brazil (+Argentina's Statements)
"The Foreign Ministry regrets the incident in which there was aggression against press professionals," read a statement made by the Brazilian Foreign Ministry regarding the controversies, "at the end of the meeting of presidents of South America. Proceedings will be undertaken in order to determine responsibilities."
Did Maduro's security team attack a journalist?
After the video went viral, the far-right media reported that it was Maduro's security team attacked the O Globo journalist. However, in actuality, the actions in the video were committed by officials of the Institutional Security Office (GSI) of Brazil.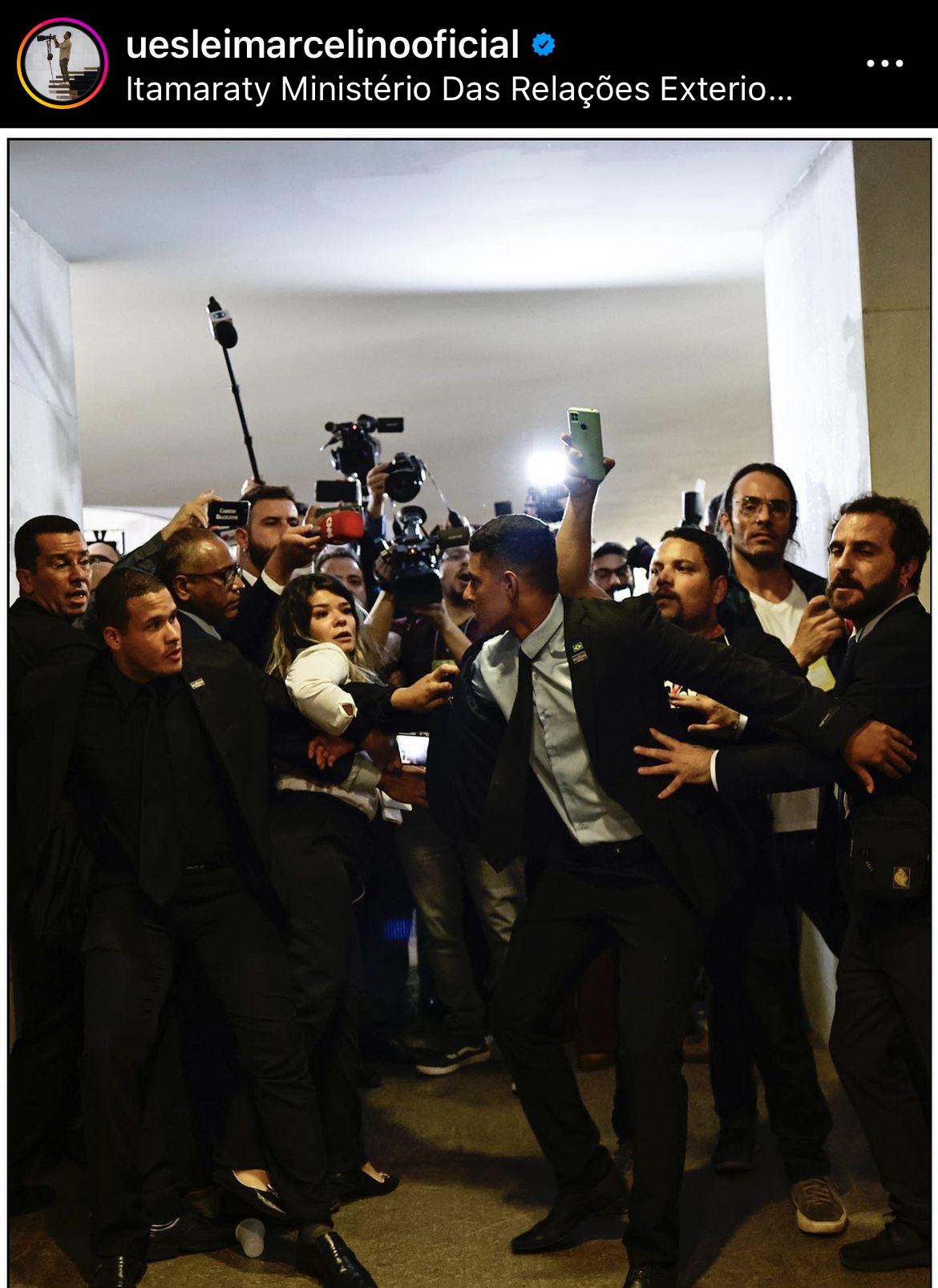 This was evidenced by Reuters photojournalist Ueslei Marcelino in his images of the incident, in which he clearly documented that the security of the event was the responsibility of Brazilian officials and not of Maduro's security team. In a photo published by Marcelino online, one of the agents involved in the incident can be seen wearing a pin with the Brazilian flag on his jacket.
In these types of events, it is normal for security to be a priority given the nature of the participants involved in the summit, so protective agents are instructed on a specific series of protocols to follow in order to protect diplomats and foreign dignitaries. Furthermore, this incident occurred inside Itamaraty Palace, which is where the GSI had denied entry to the journalists, but the reporters tried to enter by force, hence the struggle initiated.
(RedRadioVE) by Ana Perdigón
Translation: Orinoco Tribune
OT/JRE/AU