PSUV Wins Parliamentary Elections with 68.4% of Votes According to First CNE Reports, and 31% Voter Turnout (Romania's was 30%)
In the early hours of Monday morning the President of the National Electoral Council (CNE) of Venezuela, Indira Alfonzo, issued the first report of results from the 6D parliamentary elections. She indicated that the Great Patriotic Pole (GPP, an alliance that groups together the United Socialist Party of Venezuela (PSUV) and other Chavismo parties) obtained 3,558,320 votes (67.6% of the total), with 82.35% of votes counted, or 5,264,104 ballots. Voter turnout was 30.46% of the registered voters. Voter turnout for Romania's parliamentary elections, also held on Sunday, were 30%.
Usually the first CNE report after an election is posted between 10:00pm and 12:00 am. In this election the report was made at 1:45 am on Monday. Local media reported that the delay was the result of problems with electric power in some voting centers. Venezuela's electrical grid has been heavily affected by US sanctions, and also by bad management.
The results for that first report were:
• The Great Patriotic Pole (PSUV/GPP) obtained 3,558,320 votes (67.6% of the total)
• The Democratic Alliance, made up of the opposition parties Acción Democrática (AD), Copei, Cambiemos Movimiento Ciudadano (CMC), Avanzada Progresista (AP) and El Cambio (Javier Bertucci's party), obtained 944,665 votes, 17.95% of the total.
• Venezuela Unida, an alliance made up of the Primero Venezuela party (PV, split from Primero Justicia), Voluntad Popular (VPA) and Venezuela Unida, obtained 220,502 votes (4.19% of the total).
• The Communist Party of Venezuela (PCV) and the Popular Revolutionary Alternative obtained 143,917 votes (2.73%).
• Others: 357,609 votes (6.79%).
Alfonzo asked all the winners to "assume their assigned results with responsibility, humility and strict respect for the Constitution and State institutions." The authority specified that it was an "impeccable election day," and thanked voters and workers for their "civic behavior" on election day.
On Monday night a second report was issued by the CNE providing more accurate details after processing 98.63% of the electronic votes. The updated turnout was 30.6% and the total number of voters raised to 6,251,080. As is customary the CNE posted detailed results of the election on its website.
RELATED CONTENT: Successful Electoral 'Fiesta' in Venezuela Today – 6D Parliamentary Elections (Photos)
#ENVIVO | CNE de Venezuela informa sobre resultados de las elecciones:

Transmisión de las actas: 98.63%

Participación: 30.50%

Votos validos: 6.251.080

GPP: 4.277.926

AD, Copei, CMC, AP, El Cambio: 1.095.160.

VU, VP, VPA: 259.450

PCV: 167.743

OTROS: 405.017 pic.twitter.com/EavcEobctD

— teleSUR TV (@teleSURtv) December 7, 2020
PSUV/GPP votes grew to 4,277,926, representing 68.43% of ballots cast and giving the ruling party absolute control over the Venezuelan National Assembly (AN). The Democratic Alliance's vote changed to 1,950,170, or 17.52 percent.
The Venezuela Unida alliance, made up of Primero Venezuela and Voluntad Popular, obtained 259,450 votes, equivalent to 4.15 percent, the Communist Party of Venezuela accumulated 168,743 votes for 2.7 percent. The remaining political organizations that participated in the electoral process obtained 405,017 votes, which corresponds to 6.48 percent.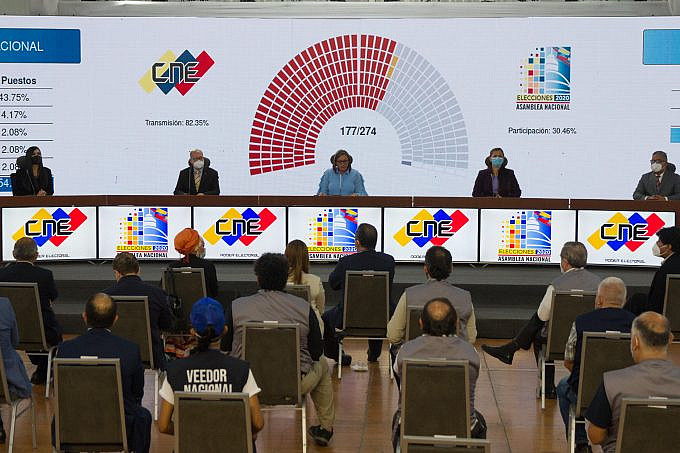 Irreversible Trends
• Of the nominal positions—based on the first report—corresponding to the 87 constituencies scheduled for the election, 81 of them have "a stable statistical trend and no possibility of change in the final result" (i.e. the trend is irreversible).
• Of the 24 positions on the regional lists, 9 also have a "stable trend and no possibility of change in their final results."
• Of the 48 positions for national award lists, 26 positions have a "stable trend with no possibility of change in their final results."
RELATED CONTENT: Webinar Tomorrow: Venezuela Votes in Defiance of US Calls for Election Boycott: The Meaning of the Results (Tuesday December 8th)
Of the latter, the following candidates are already counted as winners:
• GPP, with 43.75%, will include elected deputies Diosdado Cabello, Cilia Flores, Tania Díaz, Maria Iris Varela, Jesús Farias, Vanessa Montero, William Benavidez, Ileana Rosa Medina, Gilberto Giménez, Ricardo Sánchez, Didalco Bolívar, Henry Hernández, Luis Reyes, Nohely Pocaterra, María León, Luis Fernando Soto, Jesus Rafael Martínez, Gladys Requena, Asia Villegas, Mario Silva and Anthony Cohelo.
• Acción Democrática, with 4.17% and confirmed candidates José Bernabé Gutierrez and Amelie Camaño.
• El Cambio, with 2.08%, electing candidate Alfonzo Enrique Campos
• First Venezuela, with 2.08%, electing candidate José Brito.
• Progressive Advanced, with 2.08%, electing candidate Luis Augusto Romero.
The president of the governing body authorized the Regional Electoral Boards to total, award and proclaim the positions of the regional lists and constituencies that are adjudicable.
President Maduro congratulates the winners
After the results were revealed President Nicolás Maduro congratulated the GPP parties for the victory obtained and the Venezuelan people "for the great democratic vocation" expressed during the elections.
"We know how to win and lose, and today we had to win," said Maduro. "A change of cycle is coming, a cycle of work, of recovery for the country, of the economy, with sovereignty, with independence, in peace." Maduro added that the Chavista forces will also prepare to win the elections of mayors and governors scheduled for 2021.
"I congratulate and acknowledge the courage of the 14,400 men and women who ran," emphasized President Maduro. "I also congratulate the 277 Principal Members and 277 Alternate Members. Soon we will see each other to continue and plan the next battle, so that our country can recover the joy it had, in peace. I thank God. I send all my good wishes and my congratulations, and my embrace to all who participated."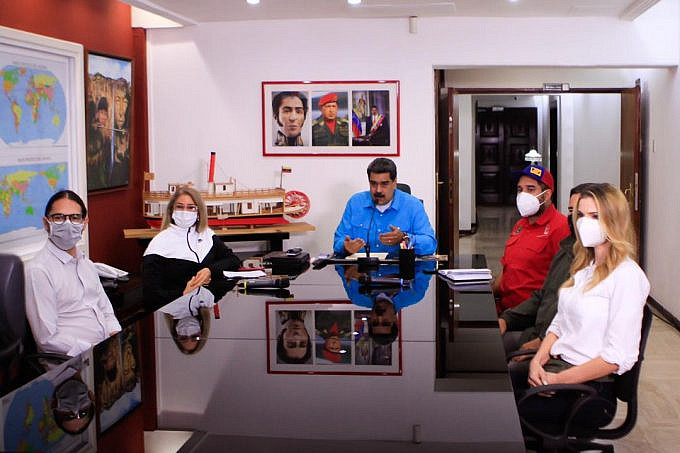 "For the health of all our people, we have produced a victory for democracy," added the Head of State. Congratulations to all the people because all that we have is for the people, all that we have is with votes and without bullets."
"We are preparing for the next battles," continued Maduro. "Twenty-two years ago, on a day like today, December 6, 1998, Commander Chávez won the presidency for the first time in Venezuela, because we are democrats trained in popular struggle," added Maduro. "Now comes an Electoral Schedule for the renewal of the power of participatory and leading democracy. Each Venezuelan election is different: it has its own characteristics and its own personality."
Guaidó's reaction
Meanwhile, opposition deputy Juan Guaidó, representing the most radical wing of the Venezuelan right that decided not to join the electoral process, assured that the 30% turnout is "pure falsehood" and that is why, in his opinion, Maduro decided "not to show himself in public."
At the same time, Guaidó is promoting a so-called "popular consultation", whereby citizens are asked if they reject the elections this Sunday and request "the international community to ignore it."
The "consultation," which is not endorsed by the CNE, and will not have audits or international observation, consists of a digital survey via Facebook, WhatsApp and a web page, which will culminate on Saturday, December 12, "in the streets" of the country.
This Sunday, more than 20.7 million Venezuelans were summoned to participate in the parliamentary elections, in 14,221 voting centers distributed throughout the country. One of the keys to these parliamentary elections lay in the fact that the number of deputies to be elected increased from 167 to 277, that is, 66% more than in the previous election. 52% of seats are a list vote (designated by the parties) and 48% by a nominal process, meaning by the candidate's name.
For this event 14,000 candidates from 107 organizations with political ends were nominated. In addition 1,500 national observers and almost 300 international observers from 34 countries participated.
Featured image: CNE's Indira Alfonzo presenting the results of 6D Parliamentary Elections . Photo courtesy of Juan Carlos De La Cruz, AVN
(Alba Ciudad) with OT content.
Translation: OT/JRE/SL