This Wednesday, April 14, Venezuelan Minister for National Commerce, Eneida Laya, informed about the beginning of the commercial sale of the antiviral Carvativir, and that people will be able to purchase up to 4 units in different public and private pharmacies nationwide.
"On the instructions of President Nicolás Maduro, Carvativir is distributed in all the private pharmacy chains in the country, as well as in the public network. Sales of the drug are controlled. The purchase limit is 4 units per person and there is a data record when making the purchase in order to prevent possible resale," said Laya.
Various sources have stated that the broad spectrum antiviral is already available in various pharmaceutical chains. Farmatodo, Farmahorro, Farmarket, Locatel and Farmapatria, among others, already have the drug available to Venezuelans.
RELATED CONTENT: Venezuela and WHO Discuss Access to COVAX Vaccines (Carvativir)
Las gotas Carvativir ya están en Farmatodo pic.twitter.com/rHjJIq4rBC

— Jorge Rodríguez (@JRodriguezPSUV_) April 13, 2021
The Minister also added that at the time of acquiring the drug, a record of the person will be kept, to keep statistics that allow them to corroborate its performance. He assured that the Ministry of National Commerce works so that businesses maintain prices in accordance with the sale of supplies and treatments against Covid-19.
RELATED CONTENT: TOMORROW April 15 Webinar: Armed Conflict on the Venezuela-Colombia Border – The Battle of Apure (Translation to be Provided)
"As for Carvativir, pharmacies must sell the drug at the real price. It is a contribution that they are making to the people," said the Minister of National Commerce.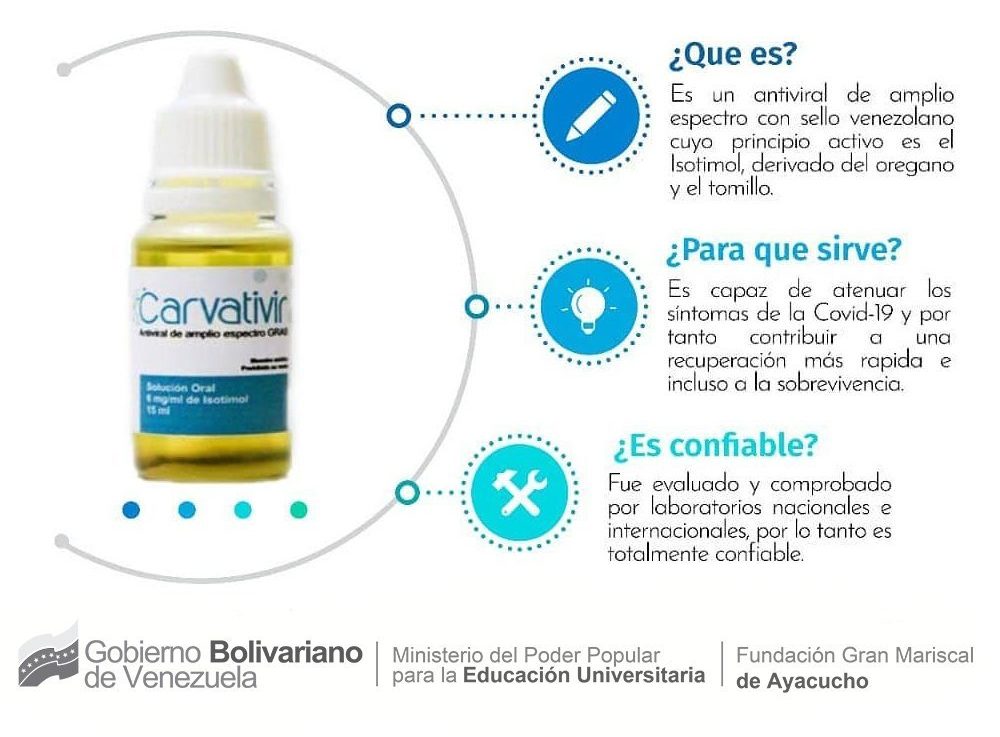 The Ministry of Popular Power for National Commerce, carried out the distribution in conjunction with the Caracas Warehouse. 100,000 units of Carvativir were distributed in the network of public and private pharmacies. This action adds to the efforts of the Bolivarian Government to contain the Covid-19 pandemic in the country.
Featured image: Carvativir already for sale in Venezuelan pharmacies. Photo courtesy of Ultimas Noticias.
(RedRadioVE) by Patricia Ferrer
Translation: Orinoco Tribune
OT/JRE/OH