The Great Patriotic Pole (GPP) Simón Bolívar started the campaign in Caracas towards the parliamentary elections scheduled for December 6, refers a VTV broadcast. Together with their candidates, they held a rally in the Plaza Diego Ibarra of the Libertador municipality, with part of their militancy.
The national head of the Darío Vivas campaign, Jorge Rodríguez, expressed that they will seek to reverse the actions promoted by the National Assembly (AN) in contempt against Venezuela. "The people of Venezuela has been keeping score for five years, noting down the sanctions, the guarimbas, the coups d'états, the murder of worthy men and women; it is time to collect that debt. We are going to collect the debt," he said.
Rodríguez explained that they will tour the country promoting a set of bills for the defense of the family; the environment, animals and other rights of the people, since they have "dozens and dozens of ideas" that various social sectors have sent, which they will seek to implement in the new parliament.
RELATED CONTENT: President Maduro: United States has to Deal with its Own Electoral System – Where is Almagro?
"The people have to enter the AN on January 5, they have to come with us, and we are going with you. You cannot leave us alone," he added.
For her part, the national list candidate, Cilia Flores, stressed that this election is the most important in the "new times." "It is a historic date, today the history of Venezuela begins to change internally and externally, 33 days before the electoral party, we have to unite, we have to call each other from now on," she added.
RELATED CONTENT: Anti-Chavista Henri Falcon: We are not Going to sell Fantasies, here the Change Comes Through the Vote (6D Campaign)
December 6 will be, of these new times, the most important election that we are going to have, it is a vote for sovereignty and independence, she stressed. In addition, the candidate for circuit No. 1 in Caracas, Pedro Infante, invited the youth to join in with their proposals and encouragement to retake the AN.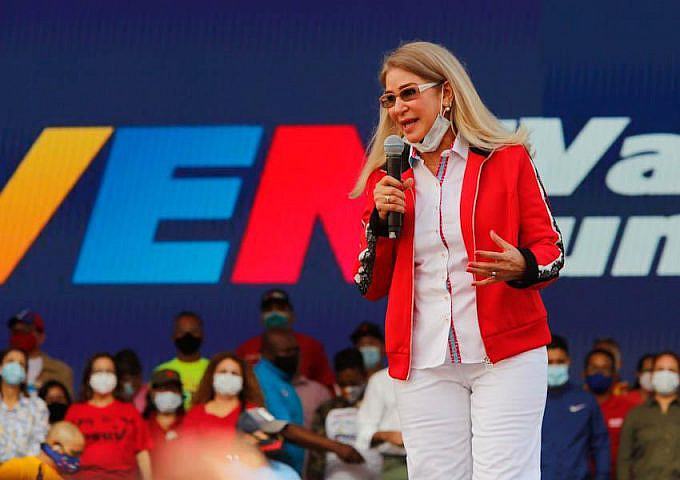 The nominal candidate for circuit 5, Juan Carlos Alemán, also stressed that with this election they will demonstrate to the world the democratic spirit of Venezuela. "We start by saying that we are not going to allow interference. We are going to victory hand in hand with our people," he said.
The electoral campaign began on November 3 and will run until December 3. In this period, 107 political organizations participate. In relation to this, the National Electoral Council (CNE) detailed that 30 are nationals; 53 regional; six national indigenous and 18 regional ones. All activities and public meetings during the campaign will be regulated by the bio safety protocol in force for the Covid-19 pandemic.
Featured image: Photo courtesy of Alba Ciudad.
Translation: OT/JRE